The country of Gabon announced this week that it would protect 26 percent of its ocean territories in a new reserve, the largest in Africa.
Overfishing by international fleets has been severely damaging the incredible underwater ecosystems of West Africa for decades.
But on Monday, the country of Gabon took a crucial step to correct the destruction, announcing the creation of the largest network of ocean reserves in the continent.
The protected areas — which are home to 20 species of dolphins and whales as well as the largest breeding populations of two different sea turtle species — will include 20 different marine parks and aquatic reserves, covering 26 percent of Gabon's ocean territory (20,500 square miles).
The new program also establishes separate zones for commercial fishing, which experts applauded as the most sustainable fishing plan in the region.
"In the span of a few decades, the waters of West Africa have moved from being a cornucopia of marine life to something that is far reduced from that," Callum Roberts, a marine conservation biologist, told National Geographic. "Protection is urgently needed to rebalance fish resources."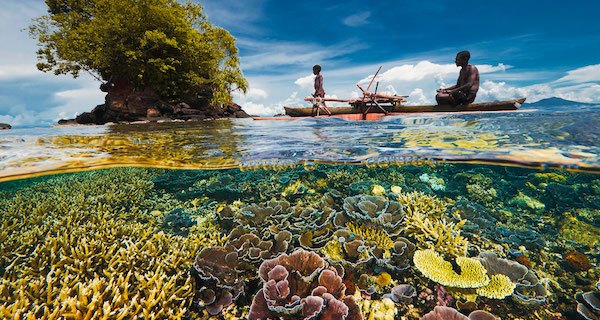 Overfishing is currently the biggest threat to our oceans, Roberts said. But global warming is catching up quickly.
More reserves like this will be necessary to protect sea creatures from the rising water levels and temperatures, because healthy reefs have been proven to better withstand ocean warming.
Similar projects in other countries have seen great success. A coral reef in the Indian Ocean, for example, had lost 90 percent of its coral to bleaching in 1998. After being protected in a reserve, however, it saw a full recovery by 2010.
The new Gabon reserve will join 11,212 existing marine protected areas. Though that sounds like a lot, these only protect about 2.98 percent of the world's oceans.
Even within that three percent, not all of the reserves fully prohibit mining and fishing. Using that qualifier, only 1.63 percent of the ocean's are truly protected.
The United Nations would like to see that proportion rise to ten percent by 2020. In Gabon, they've already surpassed that goal by 200 percent three years before the proposed deadline.
"This is a big deal and an example for other countries," Enric Sala, a marine scientist who helped develop the country's reserve plan, said. "If Gabon can do it, why can't European countries, for example?"
Here's a video about the 2012 expedition that inspired Gabon's government to create the reserve:
---
Next, check out the massive coral reef discovered at the mouth of the Amazon River. Then, read about the 38 million pieces of trash recently found on the shores of an uninhabited island.