A grand jury declined to bring charges against the officers.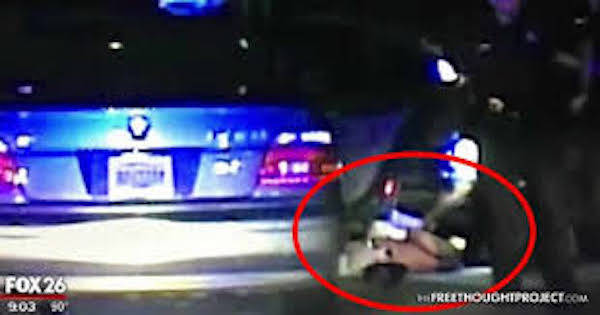 Charnesia Corley, a 21-year-old from Houston, was pulled over for rolling through a stop sign last summer.
A few minutes later, female deputy Ronaldine Pierre stuck her fingers in Corley's vagina on the ground of a gas station parking lot.
According to the officer's dashcam video, Corley was made to lie there, naked from the waist down, for nearly 11 minutes.
"I felt like they sexually assaulted me," Chorley told ABC. "I really do. I felt disgusted, downgraded and humiliated,"
Despite this footage — which was the key piece of evidence in a suit accusing Pierre and another officer, William Strong, of official oppression — a Harris County grand jury declined to bring an indictment against them.
"Harris County Sheriff's Office policy prohibits deputies from conducting strip searches without a warrant. In cases in which a warrant is obtained, strip searches must be conducted in a private, sanitary, and appropriate facility," Harris County Sheriff Ed Gonzalez wrote in a statement on Monday.
"Criminal charges are no longer pending against two of the deputies involved in this case. Deputy W. Strong, who did not actively participate in the search of the suspect in this case, will be allowed to return to patrol duties. Deputy R. Pierre, who initiated the search, will remain in her current assignment within the Communications and Technology Bureau."
This is pretty bizarre, since he starts by saying what the two officers did directly violate policy: they did not have a warrant for the strip search and a gas station definitely doesn't qualify as sanitary or private, but will nonetheless keep their jobs.
Corley was initially charged with resisting arrest and possessing 0.2 ounces of marijuana. Those charges were dismissed in light of the controversy.
"After the trial prosecutor investigated the facts in Ms. Corley's case, she found that the search was offensive and shocking, and this office immediately dismissed the charges against Ms. Corley," the DA Devon Anderson's office said in a statement.
It remains unclear why the grand jury didn't indict, since the trial proceedings were meant to be private.
Corley's attorney, Sam Cammack, said the prosecutors failed to present any new or sufficient evidence proving the cops' innocence and maintains that Corley's rights were violated.
"If what those officers did to Ms. Corley is not mistreatment, does not amount to rape, I don't know what is," he said at a press conference, according to Houston Press. "It's disgusting. It's something that should never happen. This is a women's rights issue."
Corley and Cammack have now filed a civil rights lawsuit, which will go to trial in January.
"They're supposed to protect you," Corley said of the police. "They're supposed to keep you safe. Not rape you. That's how I feel. I feel like I was raped."
---
Next, read about why it took police 16 years to realize that dentures found at a rape scene had the attacker's name on them. Then, watch a video of a cop planting drugs – from his very own body cam.