Clay Higgins, a GOP Congressman from Louisiana, incited controversy after saying America should hunt and kill suspects of Islamist extremism.
Clay Higgins is a freshman in the U.S. House of Representatives — having ridden the 2016 wave of nationalism from Louisiana to Washington, D.C.
A former sheriff's department spokesman, Higgins gained Internet fame by making candid Facebook videos — delivering a tough-on-crime message in a growling Southern drawl.
Now, the Republican Army veteran is in hot water for that same aggressive candor, after his response to the June 3 terror attack in London incited national controversy: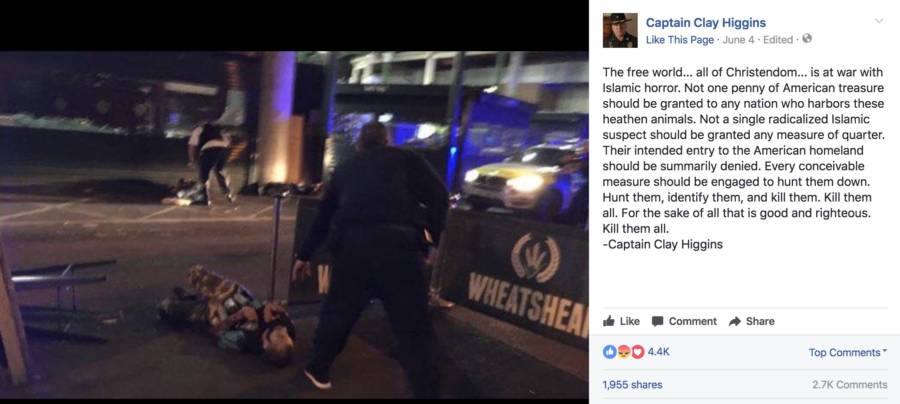 Many took particular issue with the suggestion that lethal force should be used against all those "suspected" of having "radicalized Islamic" views — people who haven't been tried or found guilty of plotting terrorist crimes.
"Wow, you are no better than a terrorist," commenter Misty Johnson wrote. "I'm more afraid of people like you than a refugee who was vetted for 2 years by 7 intel agencies. I think we need better vetting for our representatives. You are an unhinged lunatic and playing right into what ISIS wants."
"This is extremely hateful," Tyler Thigpen agreed. "I didn't vote for you, but you represent me and I'd like to hear a lot less hateful speech from the politicians that serve me. Your disparaging rhetoric is disheartening and it's prime propaganda verbiage for the folks you're advocating we kill."
Speaking to The Washington Post, Higgins said he was surprised by how upset people were by his words.
"I can tell you that there weren't many Muslims in that part of Louisiana, but those that I have met have been very cool and very loving," he said. "Many Muslims are American citizens and I'd give my last life's blood for any one of them, but that doesn't mean I'm not going to speak out boldly and from my heart about the threat we face as a nation and as a world."
By "Christendom" he meant the Western World, he clarified. Not Christianity.

Even so, Clay Higgins' post used the word "Islamic," rather than "Islamist" — the correct term for extremists, the word "suspects" instead of "criminals." The word "kill" instead of "stop."
Some activists say that any clarifications made after the fact are too little-too-late attempts at justifying the rash and inappropriate spread of hate by public officials.
"Unfortunately, we see this each time after one of these tragic incidents," the Council on American-Islamic Relations communications director, Ibrahim Hooper, told the Post.
"In particular, an elected official at the national level should not be making emotional statements, but should respond to tragedy with well-thought out statements that don't make the situation worse," he added.
Since his arrival in Congress, Higgins — nicknamed the "Cajun John Wayne" — has been an outspoken defender of Donald Trump's travel ban currently being fought over in the Supreme Court.
In a recent promotional video, Clay Higgins wears a SWAT vest, fires an assault rifle, and tells Americans to "rise up."
---
After reading about Clay Higgins, read about when Pope Francis said its wrong to equate Islam with terrorism. Then, meet the new GOP Congressman who physically assaulted a reporter the night before he won the election.