ESPN really stepped in it.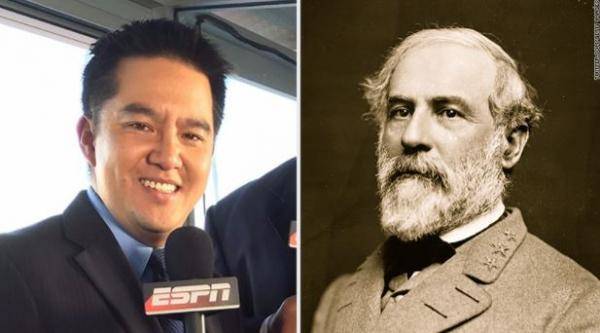 Sometimes, it seems reality is hellbent on putting The Onion out of business.
EPSN has announced that it is pulling one of its sportscasters from from its Sept. 2 broadcast of the University of Virginia football game in Charlottesville because his name is Robert Lee. Apparently the network is worried about offending or "triggering" people who are so fragile that they find it hard to distinguish between a Confederate general who died in 1870 and a congenial Asian-American sportscaster of the same name.
Pursuant to this act of lunacy, ESPN released the following statement:
"We collectively made the decision with Robert to switch games as the tragic events in Charlottesville were unfolding, simply because of the coincidence of his name. In that moment it felt right to all parties. It's a shame that this is even a topic of conversation and we regret that who calls play by play for a football game has become an issue."
Let's be clear: this wasn't a "topic of conversation" or an "issue" for the network made its decision. To put it in football terms, ESPN just fumbled the ball without anyone touching them.
Earlier this month Charlottesville was the scene of a white supremacist and neo-Nazi rally in which marchers protested against the removal of a statue of Robert E. Lee. That rally was met with counter-protesters, one of which — 32-year-old Heather Heyer — was killed when a white supremacist rammed his car into a throng of people.
That statue — and this can't be emphasized enough — was not of Robert Lee the sportscaster, but Robert Lee the defender of slavery who rebelled against the United States. While it's understandable that ESPN would want to be sensitive to the white-hot cultural climate in Charlottesville right now, the general consensus is that this was a rash decision at best, and political correctness on steroids at worst.
After the predictable firing-squad-by-internet ESPN received for the move, it released another statement asserting that its decision had nothing to do with political correctness: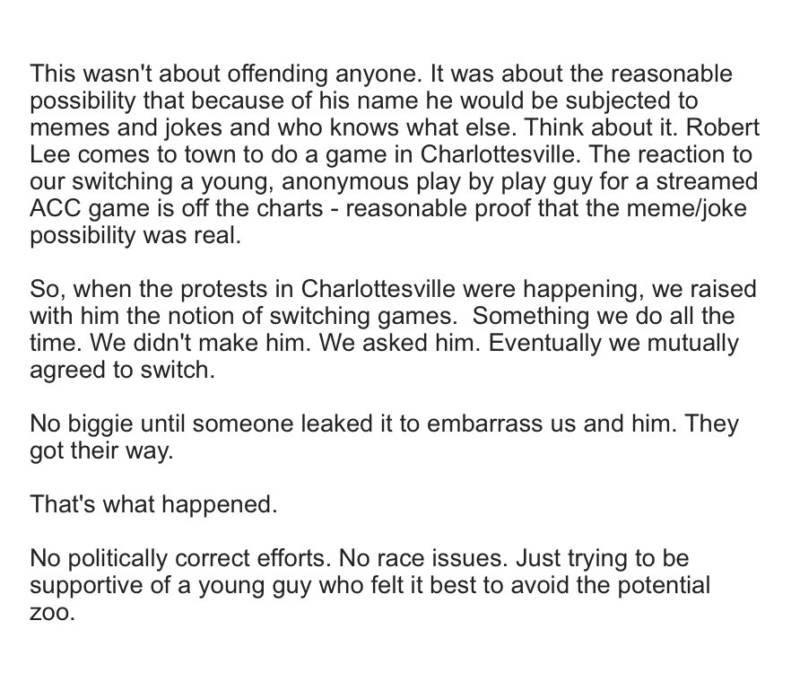 Generally speaking, suggesting your audience is a "zoo" isn't the best approach. But hey, ESPN looks like they've got this under control.