Under the careful hands of Chris Maynard, feathers that have been discarded or shed are transformed, cut, and shaped to become incredible feather art.
Using feathers as his medium of choice, Chris Maynard has joined the ranks of artists like Tanaka Tatsuya and Seon Ghi Bahk, who are known for creating art from unique materials and methods. Under the careful hands of Maynard, ordinary feathers are sliced and trimmed until they create miniature scenes dotted with birds in flight and on perches.
In fact, each feather shadowbox is its own masterpiece, giving viewers a glimpse at the actual bird from which the feather originated.
Maynard has been working with feathers since he was a child. To him each feather is a "small bit of perfection," the pinnacle of nature's achievement.
While he has only been exhibiting work since 2010, Maynard has already caught the attention of people from all over the world. Playing with texture, color, and negative space, Maynard creates feather shadowboxes that explore the relationship between nature and art.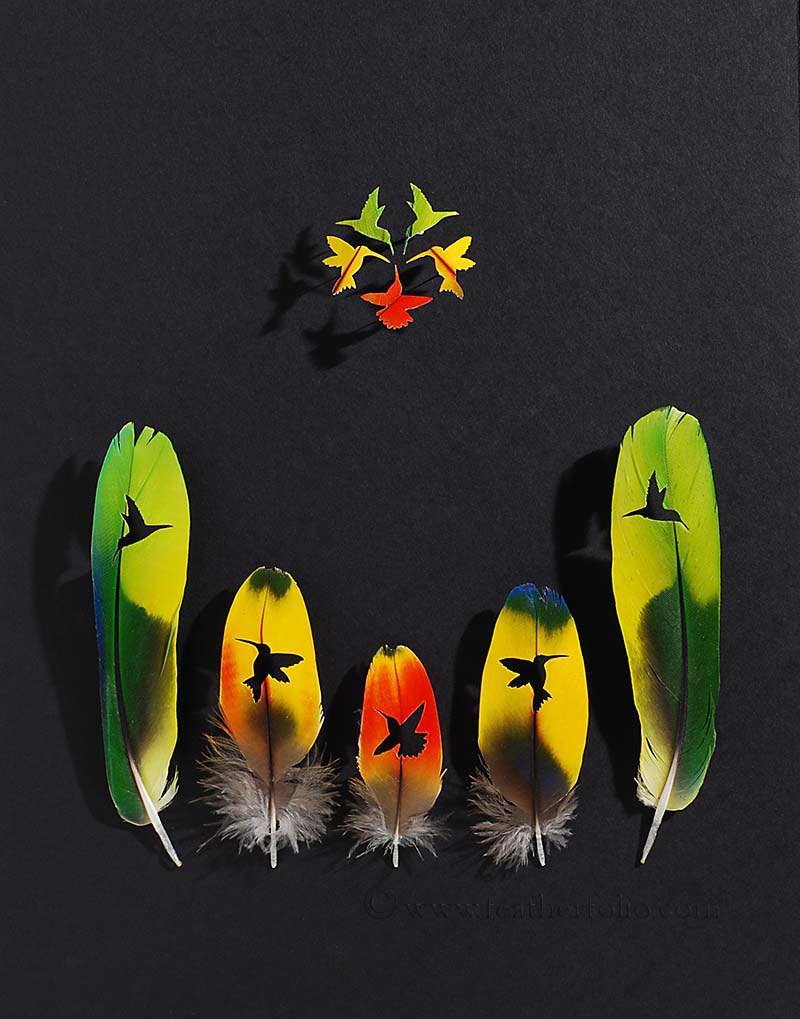 Maynard gets his feathers from private aviaries and zoos, usually using feathers from birds that are not native to North America. By using feathers that have been discarded or shed, Maynard upcycles them into feather art. In the wild, feathers serve a number of important purposes: they protect birds from the elements, aid in flight and are used to differentiate genders and species.
Like a doctor, Maynard requires an arsenal of specific tools to create each feather masterpiece. Eye surgery scissors, forceps, and magnifying glasses that were passed down from his family are all needed to create art from a simple feather. For more on Maynard and his awesome feather art, check out his new book, Feather, Form, and Function.