Dozens of arrests have been made regarding the bogus homeopathic remedy.
There's a quickly growing trend in India of people buying and eating lizard genitalia.
Except these unsuspecting customers don't actually know they're snacking on dried reptile penises. Instead, they think they've bought magical plant roots — rumored to bring happiness and good luck.
The scammers selling the black market "medicine" have named their product "hatha jodi," meaning clasped hands in Hindi. They claim it comes from rare plants in Buddha's birthplace of Nepal.
Investigators, however, are telling a different story.
They first heard the rumors in 2016, when an informant brought the Wildlife Trust of India a sample product and reported seeing poachers club monitor lizards to death, making incisions to remove their two-pronged hemipenes (which, like those of many reptiles, stay hidden in a pouch when not in use), and chopping them off and drying them in the sun.
"We couldn't believe it," Jose Louies, a wildlife crime investigator, told National Geographic. "I've heard about tiger penis being used, but that's a charismatic species. Here you are talking about a bloody lizard!"
Further investigation showed that hundreds of the fake roots were being sold on eBay, Amazon and other sites for anywhere from $5 to $70.
This is an issue — and not just because gullible people are unknowingly chewing up lizard junk.
Though monitor lizards are not endangered, they are protected under Indian law due to their important role in catching rats. They've already been the target of poachers for their meat and skin, and this additional threat worries conservationists.
Law enforcement began an investigation into the trade. When they went into shops undercover, they were told that the "roots" worked best when dipped into a honey-milk mixture and chanted over at midnight.
They took some back to the lab and confirmed their initial suspicion: lizard penis.
Since then, Indian law enforcement has made around 10 to 15 arrests, one of which resulted in the confiscation of 210 lizard penises.
Perhaps even more oddly, the investigators found that some of the vendors were selling plastic molds of lizard penises and still managing to pass them off as roots.
There are still ads for the product online.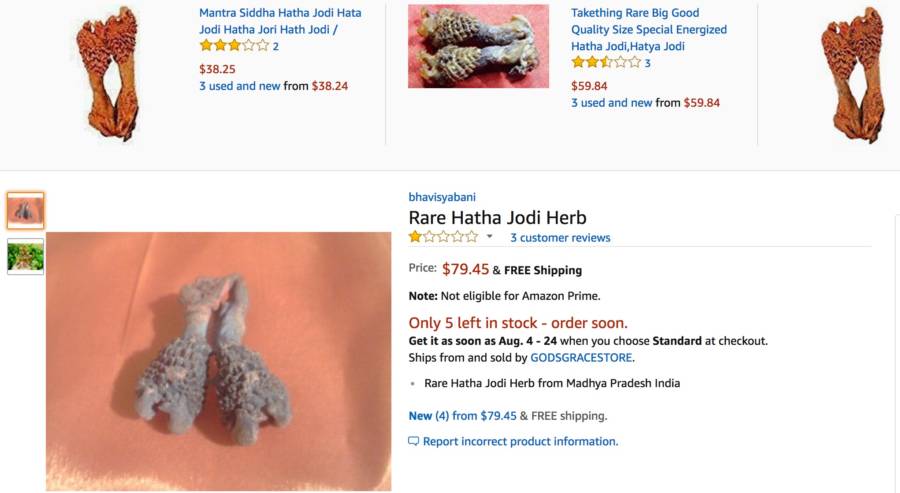 "Hatha Jodi is a wonder of nature, in which two hands are joined together, as in a prayer," one Amazon ad currently reads. "This is actually root of a very rare plant in the shape of folded hands. This, too,should be kept in oil bath because it absorbs oil. Hatha Jeri blesses the worshipper with wealth and good luck, guards against accidents and bad influences of any TANTRIC effect.
It also increases the attraction power of a person, since it has the powers of 'Vashikaran' or hypnosis. It is very useful in winning favors or winning trials. Hatha Jodi is a plant…The forest tribes just cut it out (uproot) and sell it."
Investigators remain curious as to what kind of person could have come up with such a bizarre scam.
"Right now," Neil D'Cruze, an advisor for World Animal Protection, told National Geographic, "we really have no idea who came up with this devious plan that involves the illegal poaching of thousands of monitor lizards."
Until they can track down all of the sellers, conservationists hope to spread awareness about what hatha jodi is really made of.
Dr. David Ballard commented on the purported sexual benefits of the lizard genitalia on Twitter.
"Another bogus treatment for a-reptile dysfunction?"
---
Next, meet the parasitic worm named after President Obama. Then, read about the new and incredibly sad way poachers are targeting elephants.