Proving that even the most mundane items can inspire incredible works of art, Nick Albertson reminds us that the 9-to-5 misery is of our own creation.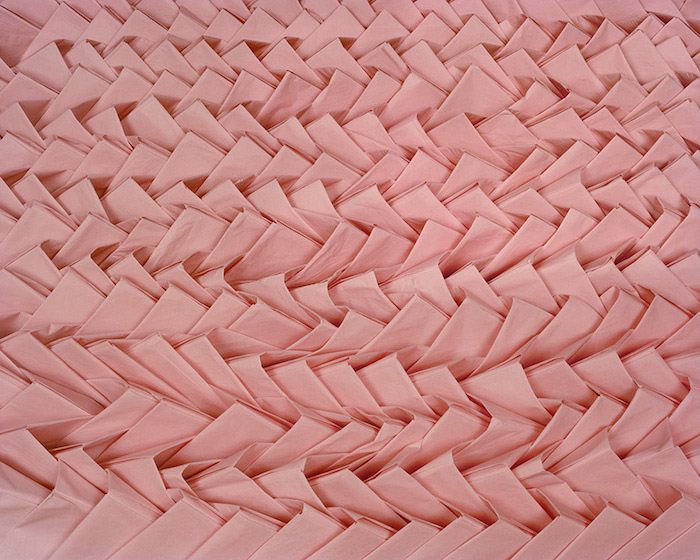 Have you ever wondered what happens to all those office supplies at work? You go to get some paperclips out of the supply cupboard and lo and behold, they're missing.
Unless you suspect that some of your coworkers are dabbling into kleptomania for cheap, on-the-clock thrills, it's conceivable to think that you might be sharing office space with Nick Albertson. Livening up even the most mundane of office objects, the Chicago-based photographer has made it his mission to create intriguing art from an environment that otherwise siphons every last drop of creativity and inspiration from our marrow.
His series, "Work in Progress", is the result of hours of meticulously arranging every day office supplies into patterns that create a kind of abstract art that wouldn't be out of place at the Tate Modern.
Having used everything from paper napkins, brown bags, paperclips and even masking tape in his work, the photos provide an apt commentary on modern art and how it relates to economies of scale. Somewhat turning the Warholian concept of mass-producing the individual on its head, says Albertson, "the artist's hand is supposed to translate their artistic genius, so what happens when the gesture has been created by a mass-produced object?"
But he hasn't stopped there. Aside from the "9 to 5"-inspired photos which have been displayed in art collectors' homes across the world, he also uses the mix of mundane objects to create videos.
Toilet paper suddenly transforms into a wave of unending fabric, and if you scroll the play bar along the video below, a forest of matches catches fire and burns to the ground. A clever comment on the masochistic monotony of working life, perhaps? Whatever you take away from the photos, there's no doubting that beauty can be found in the most austere of environments. Just don't invite him to a conference; you might lose all of your pens.