Still, the pizza owner says that if it weren't for his pizza counter, he doubts he'd be alive today.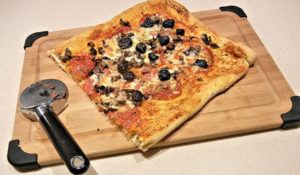 We cannot pick and choose when we fall into danger, but we can choose how we respond to it.
And for Shlomi Madar, that response involved a pizza platter.
Late Monday morning, the 24-year-old was working in his pizza kiosk in Petah Tikva — a town just east of Tel Aviv — when he heard something unusual: people shrieking.
"I heard screams coming from the shwarma shop two stores down and I immediately understood what was happening," Madar, 24, told The Times of Israel.
"What was happening" involved a 21-year-old Palestinian man stabbing an Arab bus driver who, according to the Times, the young man mistook for a Jew.
Then, according to Madar, the assailant made his way to his kiosk, Pizza Nepolita.
"When he ran in front of my shop and I saw the knife, I quickly swung down the counter-top so he couldn't get to me," Madar said.
After three attempts to stab Madar, who was alone in the kiosk, he decided to take matters into his own hands.
"At that point, I picked up the pizza platter and slammed it into his nose as hard as I could. He fell backward, dropped the knife and started running away," Madar said of the incident.
Madar chased after the assailant, who domestic security agency Shin Bet said had served in Israeli prison between 2015 and 2016 for violent activities.
According to the assailant — whose name has not been identified and was eventually apprehended by police — he was driven to violence because of Israel's recent activities in the Temple Mount of Jerusalem (to Muslims, the site is known as the Noble Sanctuary). Following a fatal shooting of two police officers by three Palestinian men, in mid-July Israeli officials decided to install metal detectors at the site's entrances. In response, Palestinian militant group Hamas called for a "day of rage."
As many residents fear that increased terror attacks in the region are likely Madar considers himself to be lucky — though not necessarily because he had the platter.
"Had it not been for the counter-top, I don't know if I would still be here," he told the Times.