"It's a travesty for these girls," said the team's manager. "Yes, they screwed up, but I don't think the punishment fit the crime."
Little League does not mess around when it comes to sportsmanship.
This was made clear after a team of girls ages 12 to 15 was banned from the Junior League World Series softball game after posting an inappropriate photo to social media. The photo showed them flashing middle fingers intended for Kirkland while wearing their uniforms in the dugout.
Players on the Atlee team from Richmond, Virginia sent the image via Snapchat on Friday, after defeating the series' host, Kirkland, in a close 1-0 semifinal game.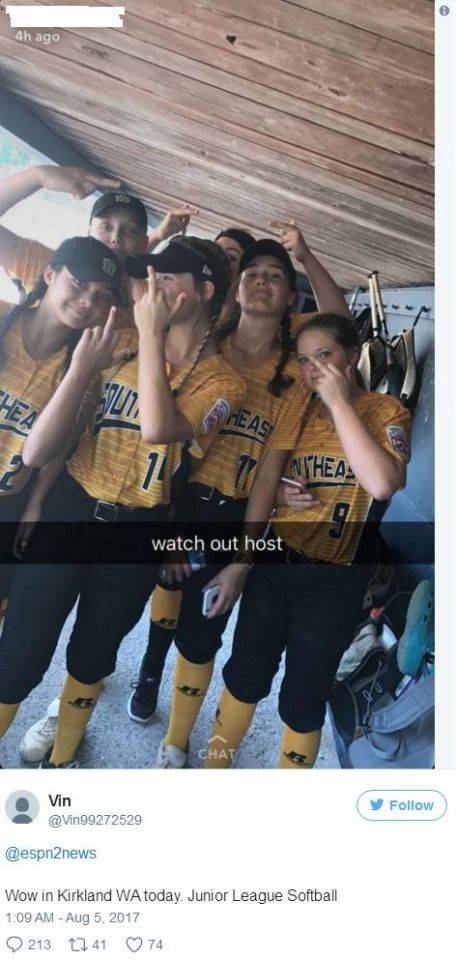 Just hours before taking the field in the nationally televised championship game, the girls were informed that they had been disqualified and Kirkland would take their place in the finals.
"After discovering a recent inappropriate social media post involving members of Atlee Little League's Junior League Softball tournament team, the Little League® International Tournament Committee has removed the Southeast Region from the 2017 Junior League Softball World Series for violation of Little League's policies regarding unsportsmanlike conduct, inappropriate use of social media, and the high standard that Little League International holds for all its participants," a statement from the tournament's committee said.
Though he admitted the behavior was inappropriate, Atlee manager Scott Currie thought the decision was too harsh.
"It's a travesty for these girls," he told the Richmond Times-Dispatch. "Yes, they screwed up, but I don't think the punishment fit the crime."
https://twitter.com/barstoolsports/status/894558782381973506
Currie said he had been made aware of the photo earlier in the week and made sure the girls deleted it. They had arranged to apologize in person to the Kirkland players and had been under the impression that the issue was resolved.
Coach Chris Mardigian said the message had been in response to some unsportsmanlike behavior from the Kirkland girls, one of whom had been ejected from Friday's game after stealing signals from the Atlee team and relaying them to the batter.
A Kirkland coach also had been ejected from the heated match.
"We are deeply disappointed this social media post did not reflect the core values of Little League International or Atlee Little League," Atlee Little League president, Jamie Batten, wrote in a statement. "We expect Little League International will take the time to fully investigate the matter, and we will comply with this investigation by providing all information about unpleasant interactions including the social media post and the time leading up to that event – not all of which were on the part of those on the Atlee softball team.
---
Next, read about whether social media is to blame for record suicide rates among teen girls. Then, check out the the 26 most unbelievably sexist ads we've ever seen.