Animals have been known to exhibit strange behavior during total solar eclipses, but there is relatively little scientific documentation.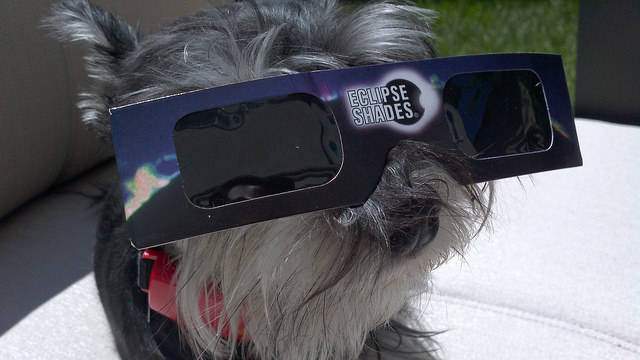 The total solar eclipse on August 21 is quickly approaching. Maybe you've had it marked on your calendar for weeks. Maybe you've already staked out the perfect spot from which to witness it. Maybe you've planned to watch the truly "meta" moment in which Bonnie Tyler performs her hit "Total Eclipse of the Heart" during a real live total eclipse.
Wherever you are going to be, biologists and astronomers want to enlist your help.
Ecologist Rebecca Johnson, along with a team of scientists at the California Academy of Sciences, designed a project called Life Responds, housed on the smartphone app iNaturalist, where "citizen scientists" can document behavioral responses in species near them when the eclipse occurs. "We created this project that very simply asks people wherever they are — whether they are under totality or partial eclipse — to spend some time outside looking at animals and observing their behavior before, during, and after the eclipse," Johnson told National Geographic.
Animals have been spotted engaging in unusual behavior during eclipses for centuries. During the few minutes of total darkness, cows retreat to their barns, giraffes have been seen wildly scampering around their habitats, and whales have breached above water. But because eclipses are so rare, the evidence of patterns in animal behavior during such events is largely anecdotal.
"If you really want to study behavior in a comprehensive way, you have to spend a lot of time in the field observing and have rigorous protocols in place," Johnson said. "If you are an animal behavior ecologist setting up to just study effects of solar eclipses, it can be near impossible."
This is where the power of crowdsourcing comes in. With input from eclipse viewers around the country via Life Responds, Johnson and her team aim to gather enough data to detect concrete patterns in behavioral changes of specific species. Ideally, the data will help scientists enhance and expand their research on the subject.
"The collection of observations and looking for patterns is where science begins, and we hope to bring scientists to the data to spur their research moving forward," Johnson said. "Hopefully we'll end up documenting something that no one has ever seen before."
To contribute to these hopefully historic animal sightings, the Life Responds team recommends that observers decide where they'll be watching the eclipse in advance, and on the day of the eclipse, choose what specific organisms they will monitor. People watching from urban or suburban areas will likely be in closest proximity to urban invertebrates like spiders, who have reportedly taken down their webs during solar eclipses. Who knew? — by resisting the urge to squash the pesky ants that swarmed the French fry you dropped in your backyard, you could be part of a momentous scientific discovery.