Responding to reporters questions on why Sean Spicer had stopped doing recorded press briefings, Steve Bannon responded, "Sean got fatter."
Daily press briefings have been a White House tradition for years in one form or another.
Under the Trump administration, though, reporters have seen their main line of contact with the president slowly narrow, only to be replaced by a stream of contradictory 140-character Tweets.
First, Press Secretary Sean Spicer became a rarer and rarer sight, giving shorter briefings less frequently. The meetings were then re-characterized as less formal "gaggles."
When cameras were no longer used, reporters wondered why the switch.
"Sean got fatter," White House chief strategist Steve Bannon explained in a text message to The Atlantic.
Obviously, Spicer himself had a different reason — though not a more sensical one.
"I've said it since the beginning–the president spoke today, he was on camera," he told press members at a 33-minute gaggle that was not allowed to be recorded on film or audio. "He'll make another comment today at the technology summit. And there are days that I'll decide that the president's voice should be the one that speaks, and iterate his priorities."
Reporters said that Spicer did not answer any of their questions on the most important issues of the day.
As of Tuesday, it will have been eight days since Spicer has addressed reporters on camera.
Though he is scheduled to finally address reporters later this afternoon, rumors are circulating that his days behind the podium are numbered. Reports from the White House suggest that Spicer will get a new role overseeing the communications department rather than speaking to press.
The new gig has been described as a promotion, despite former speculation that Spicer would soon be fired for numerous gaffes, including suggesting that Nazis did not use chemical weapons, accidentally tweeting his own password (twice), and claiming that Donald Trump does not own a bathrobe.
This new revelation of fat-shaming within the upper tiers of White House staff does explain why Spicer hid in the bushes after James Comey's unexpected firing, as The Washington Post reported:
After Spicer spent several minutes hidden in the darkness and among the bushes near these sets, Janet Montesi, an executive assistant in the press office, emerged and told reporters that Spicer would answer some questions, as long as he was not filmed doing so. Spicer then emerged.

"Just turn the lights off. Turn the lights off," he ordered. "We'll take care of this. … Can you just turn that light off?"

Spicer got his wish and was soon standing in near darkness between two tall hedges, with more than a dozen reporters closely gathered around him. For 10 minutes, he responded to a flurry of questions, vacillating between light-hearted asides and clear frustration with getting the same questions over and over again.
Several 1500-word stories about Spicer have failed to capture what his post-pub phone calls are like better than this correction does. pic.twitter.com/IWQheEBjVS

— Tom McGeveran (@tmcgev) May 11, 2017
What it doesn't explain is why the president and Bannon himself, who both sport similarly corpulent figures, are still making public appearances.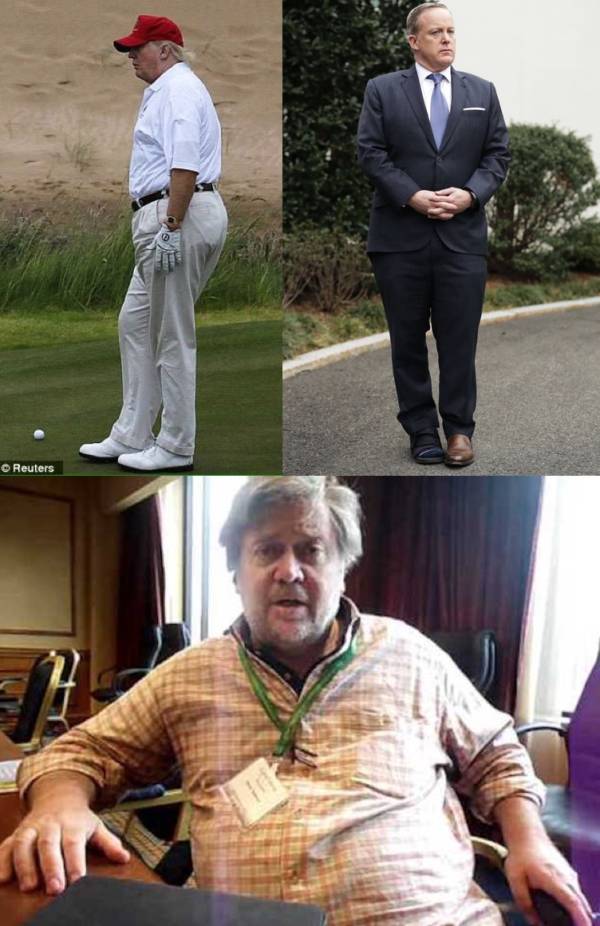 ---
Next, read about the time that John McCain said Obama is a better leader than Trump. Then, learn why Steve Bannon was kicked off the National Security Council.