Since 1999, the rate of suicide has climbed 30 percent in the U.S. – and as high as 58 percent in some states.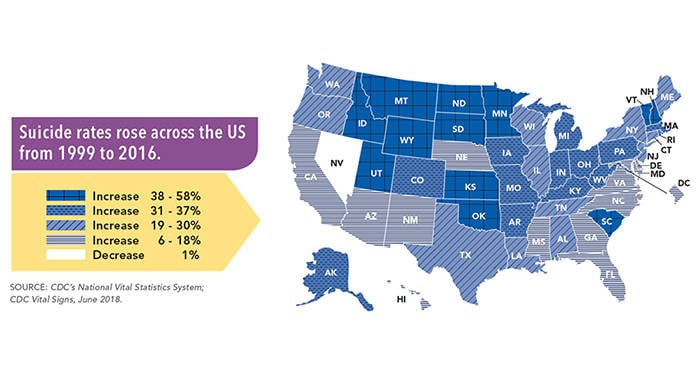 The deaths of fashion designer Kate Spade on June 5 and celebrity chef and author Anthony Bourdain on June 8 have once again put the spotlight on suicide prevention and awareness. Their deaths happen to coincide with a concerning new study released Thursday showing that while suicides may seem like a rare occurrence, the rate of self-inflicted deaths has been climbing over the last 20 years.
According to the Centers for Disease Control and Prevention's latest Vital Signs report, the rate of suicides in the United States increased in 49 of the 50 states between 1999 and 2016. In some states, the increase was as low as six percent, but in others, it increased by more than 57 percent. About half the states reported increases of more than 30 percent. Nevada was the lone exception, with the rate decreasing by one percent, though the C.D.C. points out that its rate is still relatively high.
The report examined suicide rates state by state from 1999 to 2016, and noticed that over time, the rates skyrocketed. In 2016 alone, 45,000 people died by suicide, which was more than twice the amount of those who died from homicide.
Researchers also found that more than half of those who died from suicide during between 1999 and 2016 did not have a known mental disorder. As such, suicide is not always brought on by a diagnosed mental condition, as is a common belief. It also shows that suicide can often be the result of multiple factors, such as relationships, financial, legal, or job stress, and substance abuse can all contribute to suicide risk.
The C.D.C. points out that while a large majority of suicide prevention efforts focus on mental health conditions and access to treatment, there are other ways to help prevent this tragedy.
"If we only look at this as a mental health issue, we won't make the progress that we need," said C.D.C. Principal Deputy Director Anne Schuchat in a press conference.
"Suicide is a leading cause of death for Americans – and it's a tragedy for families and communities across the country," Schuchat said. "From individuals and communities to employers and healthcare professionals, everyone can play a role in efforts to help save lives and reverse this troubling rise in suicide."
The C.D.C. also released a comprehensive guide to suicide prevention that it hopes will help people learn to recognize signs in people in their families and communities. The guide contains a list of warning signs, prevention activities, and contact info for the National Suicide Prevention hotline.
---
Next, read about the opioid crisis, another epidemic facing Americans. Then, read about the history of homicide in the United States.