The White House Easter Egg Roll, which now brings over 35,000 people to the White House, is a rich tradition that's existed for more than a century.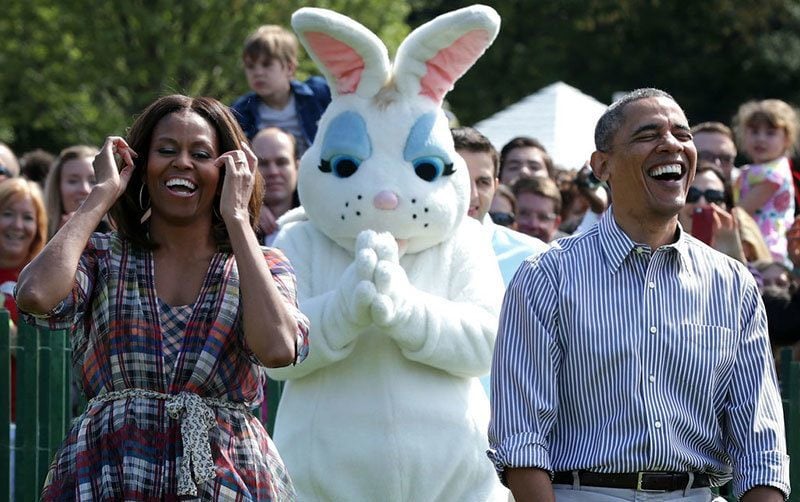 Easter is just a few days away, and with it comes the 137th-annual White House Easter Egg Roll. This year's theme is #GimmeFive, a challenge that's meant to honor the fifth anniversary of the First Lady's Let's Move! program. On April 6, 2015, more than 35,000 people will gather at the White House to celebrate this tradition that spans more than a century.
Though people had been participating in egg-rolling events for much of the 1800s, the official White House Easter Egg Roll didn't begin until 1878. Organized games, egg-rolling races, petting zoos, performances, cooking demonstrations, Easter egg hunts and maypole dances have all been part of the Egg Roll over the past century.
The Easter Egg Roll celebration remains one of the country's largest free public events—so large, in fact, that tickets are now distributed via an online lottery. Usually the President and First Lady, along with their children, grandchildren, and pets all attend the event. Of course, the Easter Bunny—aka a White House staffer in a bunny outfit—is always in attendance.
The White House has hosted the Easter Egg Roll since its official inception, though during World War I, World War II, and the Truman renovation of the White House, the event was either canceled or held elsewhere. One time the Egg Roll took place at the National Zoo.
In addition to the Easter Egg Roll, the White House also releases a limited number of keepsake eggs—a tradition that dates back to 1981, when Ronald Reagan and his wife hosted a special Easter egg hunt that used wooden eggs emblazoned with the signatures of famous actors, politicians, and athletes.