Unbelievably massive cliffs spring from the water along Ireland's western coast, reaching exactly 702 feet high at their tallest point. Called the Cliffs of Moher, these stunning land formations stretch nearly five miles wide, making up one of Ireland's grandest natural wonders. Consisting primarily of Namurian sandstone, shale and siltstone, the cliffs create a unique landscape whose intricacy rivals even that of the Grand Canyon.
The Cliffs of Moher were created more than 300 million years ago during the Upper Carboniferous period. Since their creation, the cliffs have been the source of various local fables and mythology. In the 1st century BC, early dwellers built a fort on the headland of Hags Head, which remained until sometime around the early 1800s. Moher Tower now stands where the fort once existed.
While the soaring cliffs are no doubt what draws millions of visitors to the Cliffs of Moher each year, the land's towers are also highly visited. In 1835, Cornelius O'Brien, a descendant of the High King of Ireland, constructed O'Brien's Tower in an attempt to put the local community on the map and revive the it with tourism. O'Brien's Tower was originally used as a vantage point for tourists visiting the cliffs.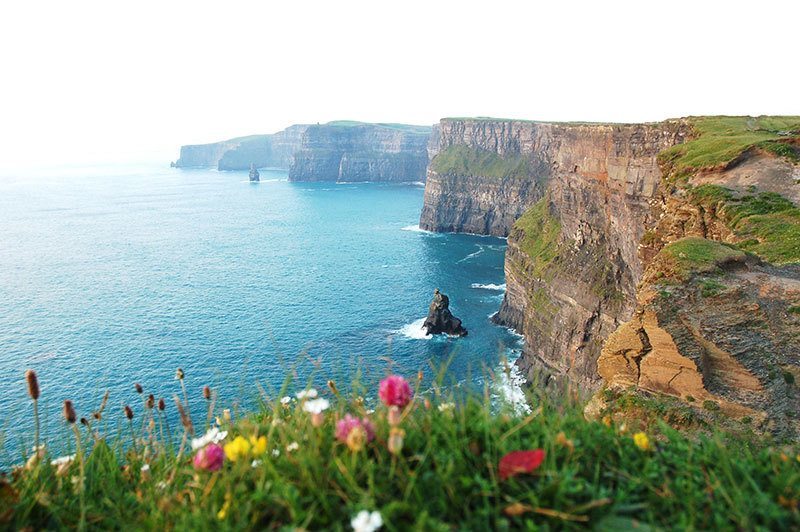 Each year during nesting season, an impressive 30,000 seabird pairs call the Cliffs of Moher their home. Representing a number of species such as Razorbills, Puffins and Peregrines, the birds can often be found nesting on the lower sections of the cliff. Down in the water, visitors can likely spot surfers, who enjoy waves that range from 10-30 feet tall. Check out the incredible surfers in this short video about the cliffs: