The inspiring story of Dion Diamond, a civil rights activist who took his charge against Jim Crow right into the heart of the nation's capitol.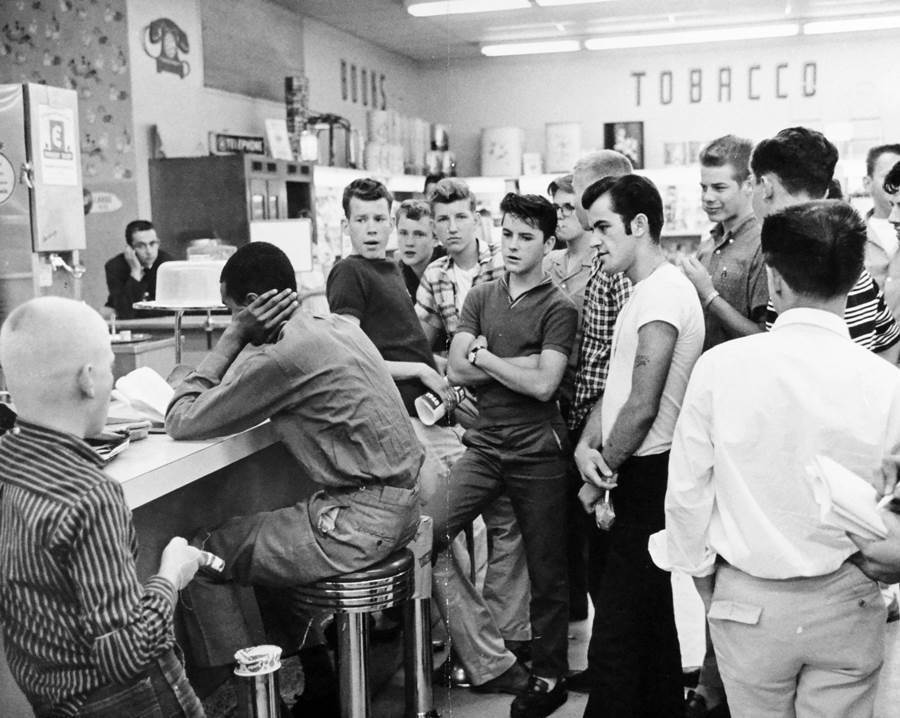 Featured above is Dion Diamond, a civil rights activist who took his charge against Jim Crow right into the heart of the nation's capitol. Diamond was one of thirteen individuals–seven African Americans and six white–who were refused service at a People's Drug Store in Arlington, Virginia, 1960.
They then moved to another drug store, soon to be surrounded by a crowd of white teenagers who harassed them. And yet, the group persisted. Two weeks later and a number of sit-ins later, five major businesses announced the end of their segregation practices–soon to be followed by Alexandria and Fairfax County.
An incredible story about Diamond can be read below:
Dion Diamond Freedom Rider Mugshot: 1961 Dion Diamond mug shot after Freedom Ride arrest in Jackson, Mississippi May 1961. I had a lot of experience in jails since this time. But this one? Whoa, it was unforgettable. This one was very, very strange.

We're in the cell, unable to get to sleep. About two o'clock in the morning we hear footsteps approaching. I turn over to see a young white cop staring at us. He's holding a pump-action shotgun, which he loads. As he does this, he's staring at us and cursing. Dion and I exchange glances. Now what?

"So you the two _____ ______ _____ little sons of bitches who started this, huh? Wal, tonight you some dead niggers. I'ma kill yore black _____ _____ _____."

He cocks the gun, cursing all the while. His eyes are bloodshot and staring as he moves the gun back and forth. First on me, then on Dion.

We are frozen. Dion in one corner of the cell, me in the other. The gun swings from one to the other. The cop is ranting and cussing. I'm stiff as a board trying to watch the guy's eyes, his trigger finger, and the yawning muzzle of the shotgun at the same time. I watch as it swings away and back over to Dion. Then I hear Dion's mouth, I cannot believe my ears.

"Come on, you cracker so-and-so, shoot. Pull the damn trigger. Ain't nobody scared of you. Shoot. I'm ready to die if you bad enough. Shoot, white man. Do it."

Dion just goes off, and as I see from the corner of my eyes, he's steadily advancing on the gun. A veritable torrent of language flowing out of his mouth, defiant, challenging, non-stop language. Talk about putting me through some changes.

One minute I'm sure I'm dead, the next I'm absolutely certain that I've gone out of my mind. I can't believe Dion. I remember thinking, "F" God's sake, Dion, shut up. Please. This man is drunk. He's crazy. You fixing to get us killed, Dion."

The cop stares at Dion, begins to tremble, and swings the gun back over to my corner. What could I do? Having no choice, I start up too.

"Yeah, cracker, go ahead. Pull the _____ trigger. We ready to die. Are you? Pull the trigger."
The policeman really started to shake then. Which was, if anything, worse. Now two voices are coming at him. Silently he lowers the weapon, turns, and walks away. I sink down on my bunk, listening to the footsteps recede.

I can't describe the range of emotions. Fear. Anger. Disbelief. Relief, then exultation, then anger again. At Dion. I will not repeat exactly what my first words to him were—in effect, Dion, you crazed so-and-so….that's my life you messing with. You understand that your crazy self damn near got us killed?

"Me," said Dion. "Me crazy? Negro, we alive, aint't we? Did he pull the trigger? Boy, you should be kissing my feet for saving yo' shiftless life. Best you never forget this, Negro. When in doubt, jes' follow me. Always follow the kid."

For some reason, I found myself laughing. "You de man, bro, I'ma follow you. I'ma follow you. Crazy-assed Dion Diamond.