One look at any of these surreal photos and you might be quick to think that you're taking a sneak peek at stills from the set of an upcoming Michel Gondry film. It's easy to imagine areas in these photos Kate Winslet and Jim Carrey skipped about in Eternal Sunshine of the Spotless Mind Part Two; the difficult bit is realizing that such a spellbinding place doesn't exist solely in the mind of a French director. No, this place is not made of dreams–it's made of salt. And on top of that, it's located in Bolivia at the Uyuni Salt Flats.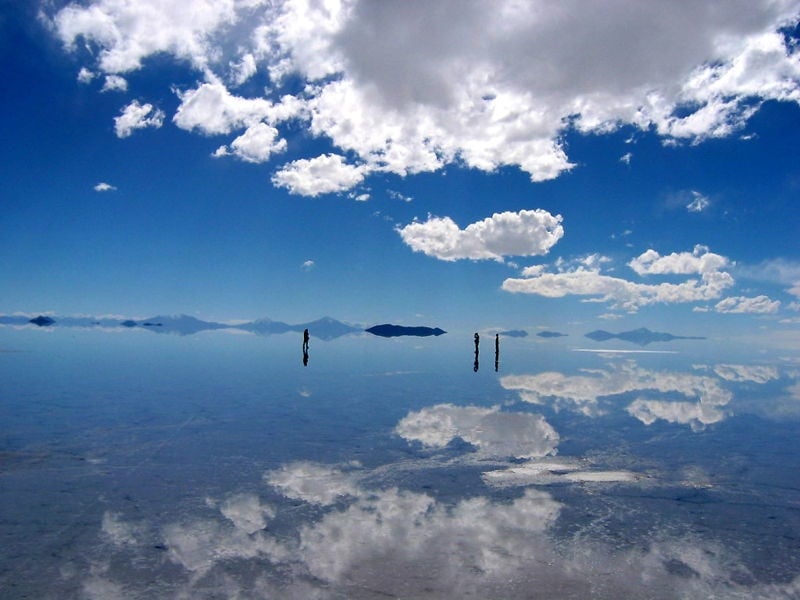 Given its nearly 12,000-foot elevation at the crest of the Andes Mountains, the Uyuni salt flats ethereal charm is palpable. As it's known in Bolivia, the Salar de Uyuni is the incredible result of prehistoric lake transformations in the southwest part of the country.
And while the flat does possess a substantial amount of aesthetic charm, it is also a trove for things of more practical concern. First and foremost, the brine that underpins the flat's "crust" contains 50 to 70% of the world's supply of lithium, a key element for most electrically-powered tools–especially the emerging market of electric cars.
Beyond that, Uyuni's astonishing degree of flatness, clear skies and sheer size (Uyuni is the world's largest salt flat), make it an ideal locale for Earth observation satellites to measure their distance from the planet.
If pictures don't sate your appetite for the visually surreal within the confines of physical reality, you can always visit the Uyuni salt flats. For $15 a day, you can stay with locals and experience Bolivian culture–llama-shearing and all–in the midst of one of the world's most mystical destinations.