Albert Cashier was born Jennie Hodgers and would become a top-notch private for the Union Army during the American Civil War.
On Wednesday morning, Donald Trump tweeted an announcement that trans people would no longer be able to serve in the United States military.
The response was overwhelming from across the political spectrum. But the fact of the matter is that trans people have always contributed to civic life and collective security — what has changed, however, is popular acknowledgment of it.
Becoming Albert Cashier
Albert Cashier was born as Jennie Hodgers in Ireland in 1843. At some point early on in life, Cashier abandoned Ireland for greater opportunities in the United States.
Presenting as a woman, however, shut the door on many of them. Women couldn't vote and lacked access to higher education, and as such often were often confined to low-paying jobs — if they could find them at all.
These bleak prospects could help explain why some women — often poor immigrants like Cashier — made the decision to "become" men.
"A private in the Union Army made $13 a month, which was easily double what a woman would make as a laundress or a seamstress or even a maid," Deanne Blanton, co-author of They Fought Like Demons: Women Soldiers in the Civil War, told NPR.
It also helped that when Cashier enlisted in 1862, times were desperate and the military would take just about anybody they could get.
"They didn't conduct physical exams in those days, the way the military does now," Rodney Davis, a retired professor of history at Knox College in Galesburg, Illinois, said. "What they were looking for was warm bodies."
Cashier was one such warm body for the 95th Illinois Infantry — and one which Union forces would take to the Battle of Vicksburg, a pivotal confrontation that saw Confederate surrender and which some historians believe marked a turning point in the Civil War.
The Irish immigrant played an important part in Union victory at Vicksburg, but his service did not stop there. At one point in the 40-plus battles or sieges in which historians estimate he fought, Cashier was captured during a reconnaissance mission, but escaped after attacking a guard and stealing his gun. At another point during the war, the New York Times writes that Cashier scurried up a tree to re-tie the company flag — all while snipers shot at him.
According to the Times, Albert Cashier's peers viewed him as a "modest young man who kept his shirt buttoned to the chin, hiding the place where an Adam's apple should be," and noted that the soldier "resisted sharing a tent with anyone."
Despite that, Cashier did become close with fellow soldiers and at one point after the war owned a business with one of them.
Discovery And Outrage
While exact numbers will never be known, it is true that many women dressed as men to participate in the war effort. Still, Cashier was unique in that he maintained that identity far after it ended — a fact which has led many contemporary scholars to argue that Cashier may have been or was in fact trans.
Still, some of that may have been motivated by the post-war economy, historians have said. Unable to read or write, if Cashier returned to womanhood he would likely be condemned to a life of poverty. Instead, Cashier — now accustomed to being a man — maintained the name and eked out a humble existence in Saunemin, Illinois, as a janitor and handyman.
Decades later, that life came to a halt. In 1914, the elderly and hospitalized veteran was transferred to the Watertown State Hospital for the Insane after showing signs of dementia. Upon examination, doctors there discovered that Cashier was biologically a woman, and thus stripped Cashier of his pension. The state soon prosecuted Cashier for impersonating a soldier.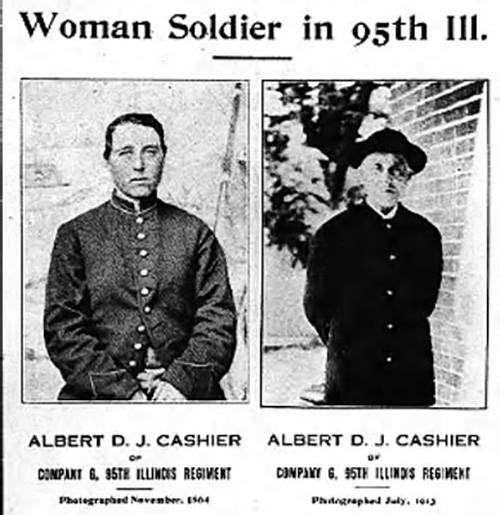 But that wasn't the only thing hospital officials took away from Cashier. They demanded that Cashier wear skirts, which according to LGBTQ activist Nick Teich Cashier found restrictive and humiliating.
These impositions also directly affected Cashier's physical health: not accustomed to wearing women's clothing, Cashier tripped while in a skirt and broke his hip. The veteran never fully recovered from the break, and was bedridden until his death in 1915. Cashier was 67 years old.
An Enduring Legacy
These days, some Saunemin locals have pushed for the town to celebrate Cashier's story, thinking that it will serve as a boon to the 402-person person town's tourism industry.
Others aren't so sure that the town wants its name associated with such a figure. "[Some] people, I think, frankly, would rather everybody not know we had a cross-dresser in Saunemin," Dina Schulz, a Saunemin resident, said.
"The town was not especially proud of Cashier," Cheryl O'Donnell, a Saunemin church secretary, added.
Though locals may not want to share Cashier's legacy, many in today's LGBTQ community do. This August, Albert Cashier's story will hit Broadway in "The CiviliTy of Albert Cashier."
Of the production, director Keaton Wooden and cast member Delia Kropp wrote, "In so many ways, Albert's story is a true American one — a soldier who served their country and wanted nothing more than personal liberty to live life as they wished to."
And fundamentally, they say, this play isn't about gender, but self-determination.
"Albert fought to define themselves on their own terms," they wrote. "In Albert's time (and possibly in ours) there may have been no words to describe who Albert wanted to be."
But Cashier's efforts to live authentically and freely, they note, yielded nothing short of tragedy.
"In the end," Wooden and Kropp wrote, "Albert became an outlaw for simply existing."
Sounds familiar.
https://twitter.com/realDonaldTrump/status/890193981585444864″
….Transgender individuals to serve in any capacity in the U.S. Military. Our military must be focused on decisive and overwhelming…..

— Donald J. Trump (@realDonaldTrump) July 26, 2017
….victory and cannot be burdened with the tremendous medical costs and disruption that transgender in the military would entail. Thank you

— Donald J. Trump (@realDonaldTrump) July 26, 2017