Given its dynamic properties, the face has often been used as the subject--not the canvas--of a portrait. Alexander Khokhlov does both.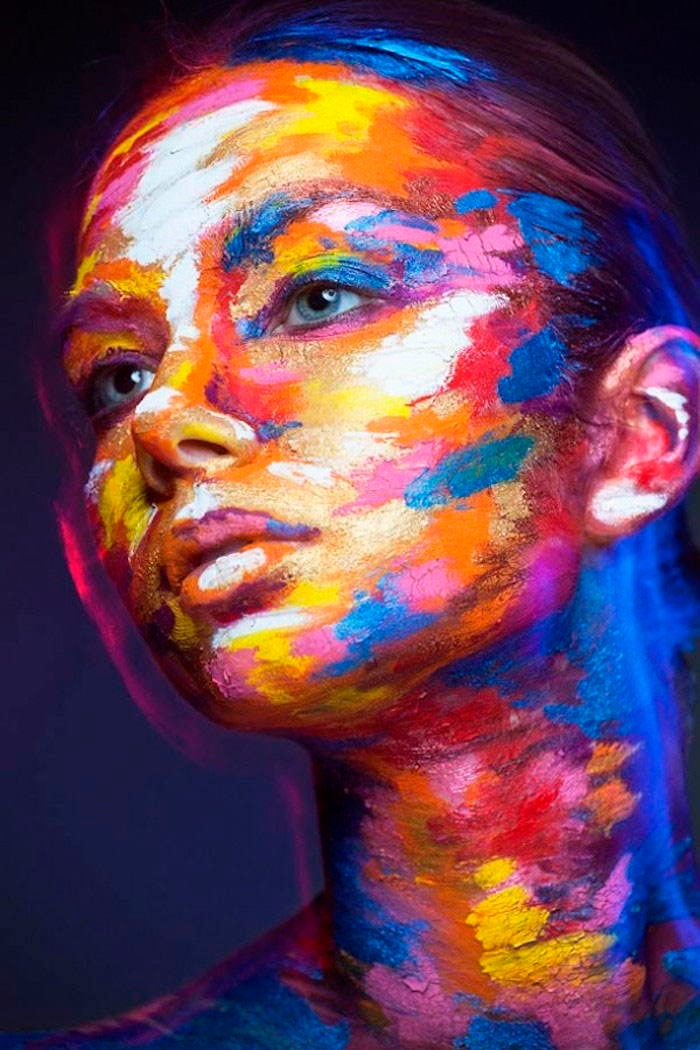 Many have borrowed from William Shakespeare's famed "To be, or not to be" line in their work, even those living beyond the literary world's borders. Alexander Khokhlov is one of them. Fitting up the phrase for the 21st century, '2D or Not 2D' is Khokhlov's latest series of photos that brings traditional painted portraiture to life. Using a little post-production trompe l'oeil trickery and crafty make-up techniques, the photographer turns traditional 3D portraits into a living replica of 2D art.
The Russian photographer first discovered his love for all things visual back in 2007 and has spearheaded photo shoots for musicians, fashionistas and families alike from across the world.
From crazed alchemists to models wearing little more than a cling film dress, Khokhlov is no stranger to experimenting with the medium, and '2D or not 2D' is just the latest in a long line of conceptually creative portrait projects.
He released his first installment of the 'Art of Face' series in 2012, in collaboration with seasoned make-up artist Valeriya Kutsan.
By approaching the way makeup is used in photography under an artistic lens, the duo created a striking set of images called 'Weird Beauty', which saw surreal two-tone logos and illusions applied to the face of female models. 2D QR codes were given over to the contours of a 3D canvas and the black and white body paint allowed the Russian dream team to draw beauty out of our every day signs and symbols.
Now turning his attention away from the monochromatic and toward the concept of colorful close-ups, Alexander Khokhlov has transformed traditional portraits into forms we might recognize in art galleries. Along with Kutsan, he's replicated a pixelated Mona Lisa in the flesh, a punchy pop art design on a modern pin-up and even a take on Obama's election poster. Originally inspired by Andy Warhol's portraits, the photos have given birth to a whole new medium of their own.
As the face is the most obvious device that channels our emotions outward, many don't view it as an ideal subject, not a canvas. Alexander Khokhlov wants us to rethink that. Why can it not be both?
As he told Yahoo, "We want to say that our faces are the big space for new creative." Khokhlov has deemed his work 'alive posters', and encourages others to pick up the face paint in the name of color coating their own living portraits.
Spanning thirteen different artistic techniques from oil paint to water color, the portraits tread a fine line between second and third dimensions; so much so that if it weren't for the whites of the models' eyes, many could be fooled into thinking they were paintings.
Each image takes up to six days to create with several hours set aside for make-up, an hour to shoot the modern masterpieces and then a few days to retouch and produce the portraits. At the end, one question remains: are they 2D or not 2D?