Both stylish and environmentally friendly, we take a fantastic look of some of today's best green designs that are helping build for a sustainable future and combat climate change.
These days, environmentalists aren't only interested in saving the earth. They're also consumed with finding ways to make green living affordable, stylish, and fun. From moss bathmats to re-imagined architecture, eco-friendly designs now rival traditional design schools of thought in appearance and functionality. Below, we explore some of today's best green design trends:
Green Design Trends: Incredible Roofs
Green roofing has been around in some communities for decades, but only recently has it caught on as a worldwide trend. These eco-friendly roofs are visually pleasing, but also incredibly kind to the earth.
They can reduce a phenomenon known as the urban heat island, a troubling trend where urban areas measure higher temperatures than surrounding rural areas, and the roofs can also reduce the building's energy consumption.
Green roofing designs vary greatly. All follow the basic requirement of having a roof at least partially covered by vegetation and a growing medium. Beneath the top layer sits a waterproof membrane, root barrier, and drainage and irrigation systems, all of which make the green roof possible. This construction allows the roof to filter carbon dioxide and other pollutants out of the air and rainwater. Green roofing also provides a habitat for many local animals.
Green roofs are becoming more and more commonplace as design teams all over the world work to create sustainable architecture. Some of the most famous green roofing projects include Fukuoka Prefectural International Hall in Japan, Chicago City Hall, and Singapore's School of Art and Design (shown below in their respective orders).
Cargotecture
Cargotecture refers to buildings made from intermodal containers. Also called ISO shipping containers, these rectangular structures range from 8 to 56 feet wide and make for convenient, eco-friendly living spaces. Though the cargo containers themselves fail to leave much of an impression on the eye, designers have used them to create plenty of architecturally intriguing buildings.
Cargotecture is environmentally friendly for many reasons. The sturdy containers are extremely resistant to natural disasters, and greatly reduce heating and cooling costs. The homes are easily installed (it only takes a few hours to install the simpler types), and because they sit lightly upon the ground, there is little disturbance to the surrounding environment.
Since cargotecture is relatively inexpensive, durable, and easy to maintain, some see it as a solution for the lack of proper housing in poor countries. To see just how versatile these homes can be, check out the two videos below. The first shows how a shipping container can easily be transformed into a cabin, and the second follows a team as they install cargotecture in Maui.
http://www.youtube.com/watch?v=U6ShrYIBMmU
Green Designs: Reusing Old Structures
Sometimes, one of the best–and easiest–ways to go green is to simply reuse materials that would otherwise go to waste. Reusing an item might have started with only function in mind, but these days, architects, design groups, and builders are looking for ways to repurpose materials into something better than the original.
On Lindisfarne (Holy Island) between the shore and the castle, fishermen recycle their old boats by turning them upside down and creating shelters that can be used as storage spaces or to house people (above). A couple in Benson Ford chose to repurpose a boat with a very different aesthetic. The ship itself was once owned by Henry Ford, and when the couple came across its beautiful interior, they floated the ship's cabin to an island and used it as their home.
Creating a house from repurposed materials significantly reduces the home's cost and environmental impact. It also prevents construction materials from making their way into landfills. Creative, earth-friendly types have repurposed grain silos, run-down airplanes, and a variety of civic buildings into homes.
Tree Houses
You may have thought that tree houses were little more than a childhood playhouse. Yet designers focusing on sustainability and reducing carbon footprints have created some decidedly grown-up and eco-friendly tree houses. These tree houses range from one bedroom tree forts to visually stunning, intricate living spaces.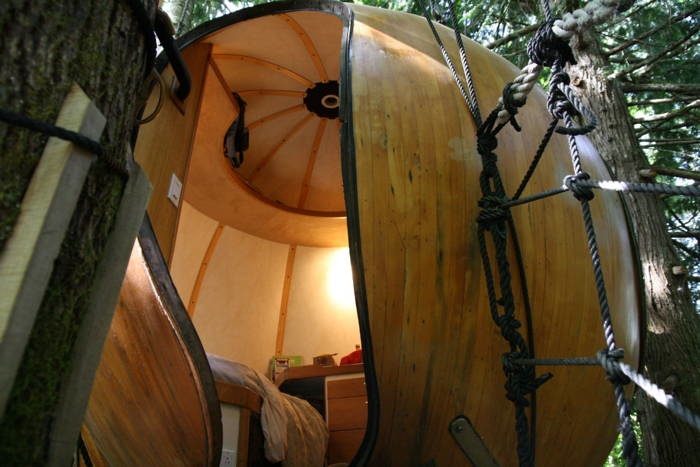 One of the most impressive is the Free Spirit Spheres, located in Vancouver Island, Canada. The concept for these spheres came primarily from sailboat construction and rigging practices.
Every spherical unit is suspended in the air by three ropes, each tethered to a specific tree. By suspending the spheres, the builders were able to avoid clearing any ground space, and used no cement in the construction. The spheres sway gently in the breeze, and can be rented out on a per night basis.
Because they take up little space, use salvaged materials and equipment, and become part of the surrounding environment, tree houses are a perfectly mature and eco-friendly alternative to the traditional home.
In the greenest tree houses, rainwater is collected and recycled, windows are carefully installed to maximize energy efficiency, and often solar panels provide electricity.
Green Interior Design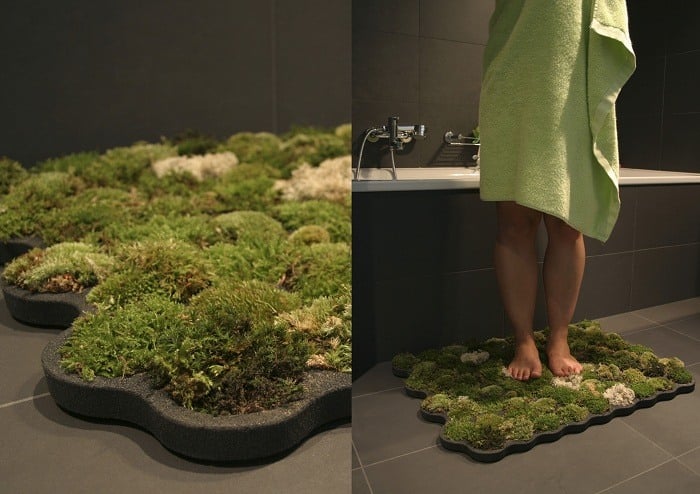 Green design extends beyond the construction of one's home. Stocking a house with eco-friendly decorations and furniture completes any green design. In the past, earth conscious options were few, but these days there's an eco-friendly alternative for nearly everything. Much of the time, the alternative is even better than the original.
Moss is known to thrive in moist, wet places. Designer La Chanh Nguyen kept this in mind when creating a moss-padded bath mat. She's also responsible for the "Kitchen Garden" seen below. By allowing plants to grow along the side of the container, people can easily add homegrown sprouts or herbs to any dish.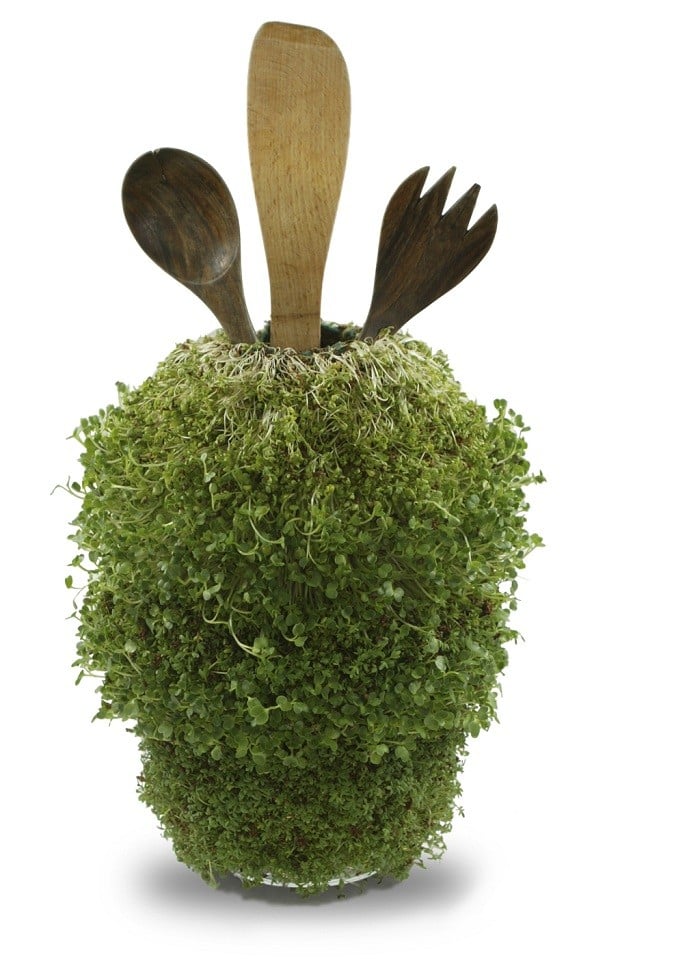 While they might not be functional to those who find grass itchy, people who love picnics on the lawn will love these grass sofas and benches. But buyer beware: it may take some creativity to find a way to "mow" them!
There are ways to incorporate green design into every household. For example, one might complement an outfit with a wearable planter, or light the house using lampshades covered in grass. One of the coolest products currently on the market is an organic clock that requires no additional power to function. Why? Chemical reactions between the mud and the metal electrodes work to keep time moving.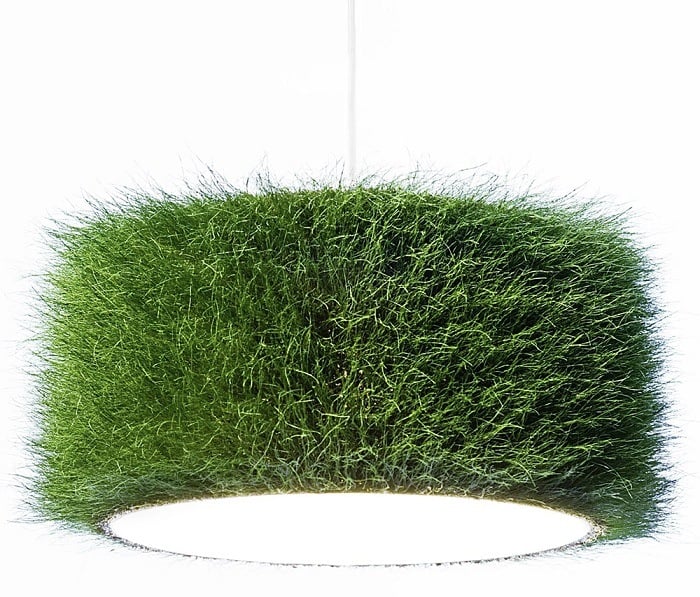 These and countless other eco-friendly products and structures show just how important and accessible green design trends have become in our current world.