Yes, the Playboy mansion grotto was featured in a Weezer music video. But that spectacle pales in comparison to the natural splendor of Italy's blue grotto.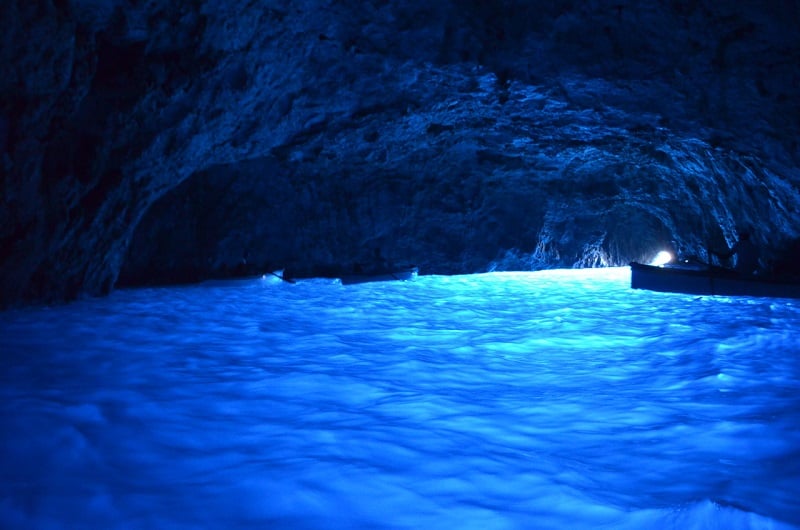 While the Playboy mansion's infamous grotto might get the most attention in the pop culture realm, natural grottos off the coast of Italy (and around the world) are a source of wonder for millions and a major tourist hotspot.
Italy's Blue Grotto and Emerald Grotto are natural sea caves that illuminate seawater with a mystical glow with either bright blue or deep green hues, respectively. This natural light filtration creates otherworldly tones that look anything but ordinary.
The Blue Grotto (Grotta Azzurra) is located close to Capri, a small island off the coast of southern Italy. Thousands of visitors make their way to the cave each year, hoping to be wowed by the grotto's mystical blue water. There are two sources of light in the Blue Grotto, a small hole and meter-and-a-half wide opening that is used as the cave's entrance. Together, these light sources give the water its characteristic cerulean "glow."
When accessing the Blue Grotto, visitors must hire a rowboat to navigate to the small sea cave. Unlike other caves that have above-ground openings, the Blue Grotto is only accessible via the ocean.
Since the entranceway opening is so small, visitors must duck down as the boat slides through the minuscule entrance hole. Once inside, the cave is plenty large for people to move around and absorb the colorful sight in all its glory.
The Emerald Grotto, known as the Grotta dello Smeraldo, is located on the Amalfi coast in Conca dei Marini, Italy. Like the Blue Grotto, the Emerald Grotto lacks a natural outlet above the waterline, though it can be accessed by a manmade above-ground entrance. The water's beautiful emerald hue stems from refracted sunlight entering the cavern from below the water, where there is a small opening in the rock.
Since most of the visible spectrum is absorbed by the seawater–save for green–it is that verdant shade that continues to astound visitors every year. When the cave was above the water level, a number of stalagmites and stalactites formed.
Due to bradyseism (the gradual ascent or descent of the Earth's crust due to filling or emptying magma chambers), the cave's aesthetics continue to change each year.