Even though their livelihoods and customs are being lost to time, Burano's rich history can be seen on its very technicolor walls.
The Venetian island of Burano, Italy is the home to a shockingly bright and intricately planned city.
Originally drenched in highly-saturated tones so local fishermen could see them to navigate through fog, the colors are now part of Burano's appeal as an oft-visited retreat from Venice.
Burano is just four miles from Venice, which makes it an ideal escape for those who feel crowded in the more popular water-navigated city. Small shops and authentic restaurants make up the town center, with everything found within walking distance. In fact, the island is more accurately described as an archipelago of four islands interconnected by bridges.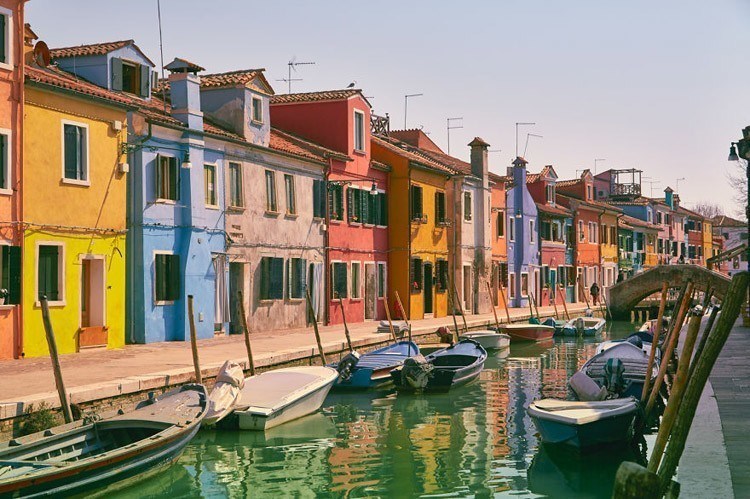 Burano houses must adhere to a strict code and color pattern that is believed to have been in place since the city's developmental peak. For example, if a homeowner wishes to repaint their property they must first send a letter to government officials outlining their request.
City officials will then respond to the request, taking into account the designated colors that are approved for each individual lot of homes.
In addition to the colorful houses, the island is also known for the intricate needle lacework that the women of Burano have been making for centuries.
In 1481, Leonardo da Vinci visited the island and purchased a cloth for the main altar of the Duomo di Milano. Soon the same fine lacework would be being exported and sold throughout Europe.
Though lace production and sales still compose a large part of the area's economy, few today practice the traditional methods of lacework as it's very labor intensive–and therefore costly.
Even though their livelihoods and customs are being lost to time, Burano's rich history can still plainly be seen on its very walls.