Back in the 19th century, Cerro Gordo was a lucrative mining town — that averaged a murder a week. Now, it sits abandoned and possibly haunted.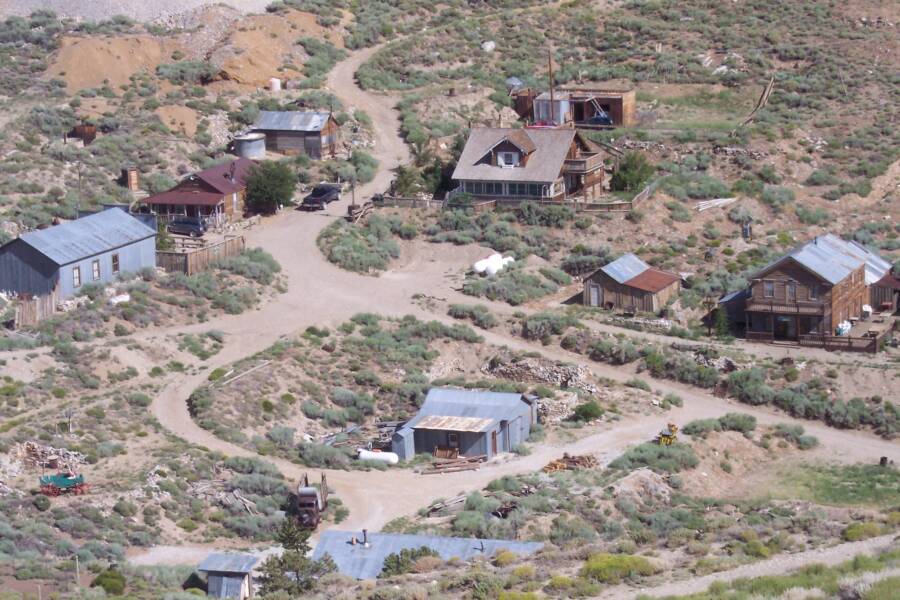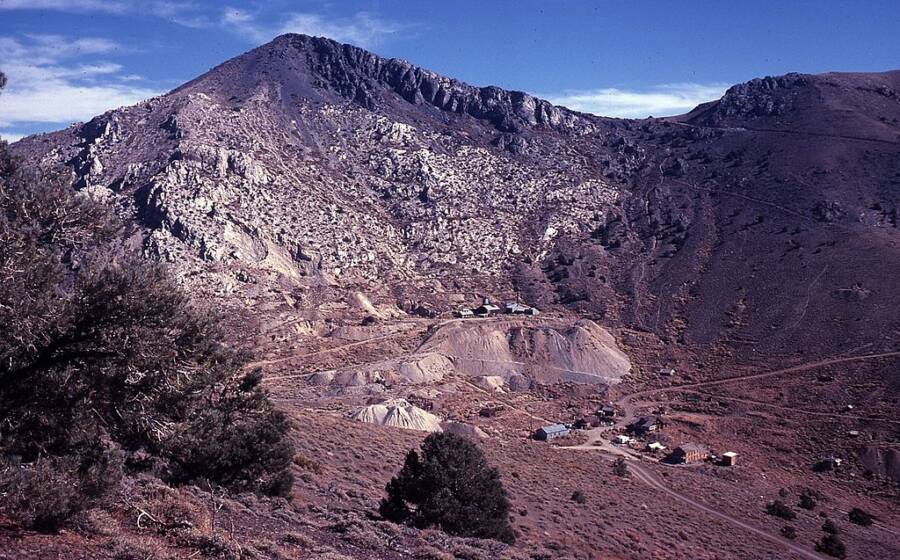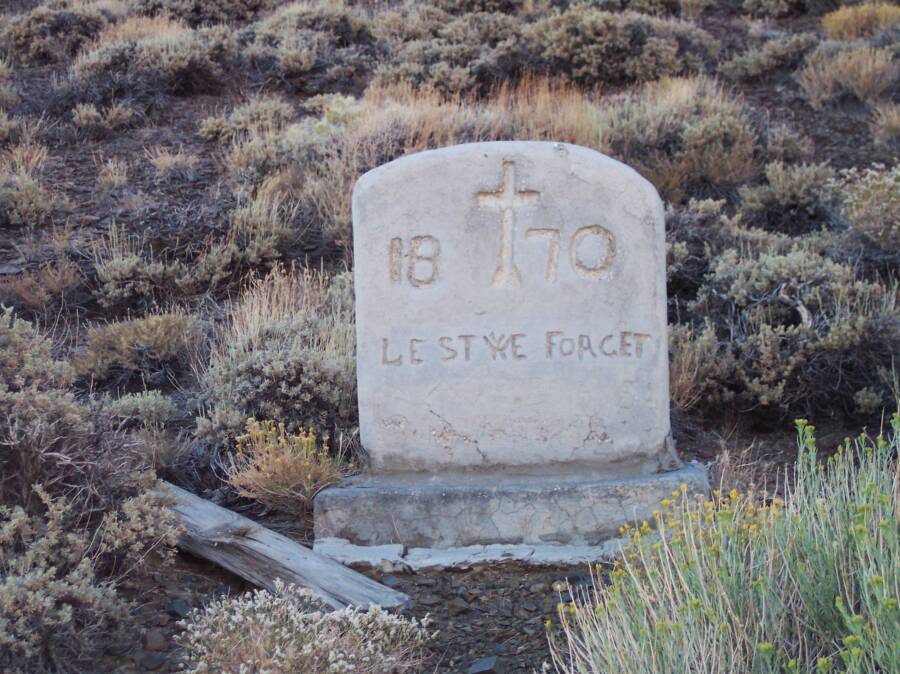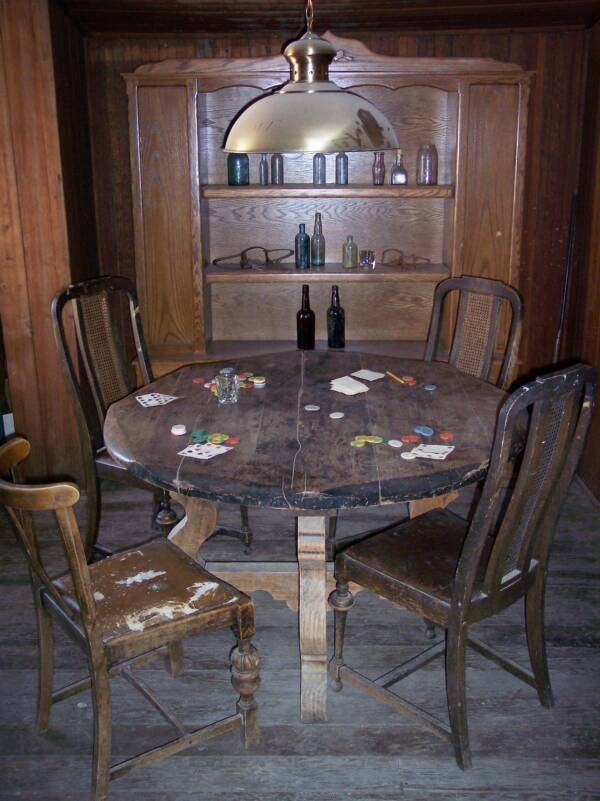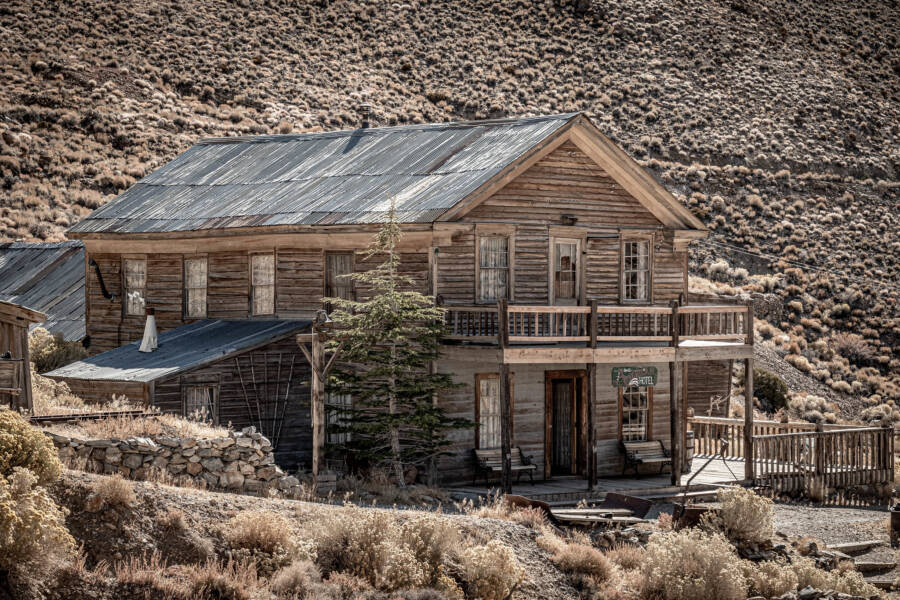 Deane and Natasha Schulze/Flickr
Cerro Gordo was once a thriving, albeit violent, California mining town. It was a major producer of silver, lead, and zinc, but over the last century, it has become a ghost town with only one resident — its groundskeeper.
In 2018, a couple of young entrepreneurs bought the property for $1.4 million in an effort to revive its sordid past. Among their favorite buildings is one bloodstained saloon riddled with bullet holes.
The town has more recently made headlines after one of its new owners, Brent Underwood, became trapped there alone in a snowstorm. As of this writing, Underwood appears unshaken as he continues to live off canned foods on the 300-acre property under five feet of snow.
Indeed, he seems unbothered by Cerro Gordo's haunted past, where residents once died at a rate of one per week.
The Bloody History Of Cerro Gordo
Nestled in the Inyo Mountains of California, roughly 200 miles north of Los Angeles, lies the forgotten town of Cerro Gordo.
It may be abandoned now, but back in the 19th century, Cerro Gordo was once a bustling hub for mining silver. It was founded in 1865 following the discovery of silver in the area by a man named Pablo Flores.
The town's name is Spanish and translates to "fat hill." Once Flores set up silver mining productions in Cerro Gordo, it became a flourishing mining town.
In fact, Cerro Gordo was so successful that it eventually grew into the largest mining site for silver and lead in California. Despite this, Cerro Gordo never fostered a vibrant community.
This was largely due to its remote location. Even today, the closest grocery store is about 25 miles away in Lone Pine, and 10 miles of that journey is still mostly dirt road.
At its peak, there were about 5,000 residents living in Cerro Gordo. But with no quick access to law enforcement — and plenty of access to booze in the saloons around town — violence governed the community. The town's miners made a habit of putting sandbags in their bunks to top stray bullets from killing them at night.
Becoming A Ghost Town
As the criminal situation in Cerro Gordo worsened and the price in silver fell, the town's mining production slowed. Luckily, high-grade zinc was found in the area in the early 1900s, and the local economy once again boomed as Cerro Gordo became the largest producer of zinc carbonates in the U.S.
By 1938, Cerro Gordo fully transitioned to producing zinc but the mines soon closed for good. This, in turn, caused a decline in the town's population as residents began to move out to look for jobs elsewhere. It was finally largely abandoned in the 1950s, then later became an attraction for ghost-hunting tourists or a quirky party rental for urbanites.
Today, 22 of the town's original buildings still stand, including several houses, a church that is also a theater, a museum, and a general store. Some of the old mines are also still accessible.
The town's previous caretaker, Robert Louis Desmarais who coincidentally was a miner himself, lived on-site and oversaw the deteriorating property until 2018 when it was purchased by a couple of ambitious entrepreneurs for $1.4 million.
New Owners And Revival Efforts
Before hostel owner Brent Underwood and a handful of investors purchased the historic town together, Cerro Gordo belonged to two brothers. The brothers, who have remained anonymous, inherited the property from their parents that reportedly lived on the site from the 1980s up until the early 2000s when they passed away.
"I fell in love with the combination of hospitality and history," Underwood, who is based in Texas where he owns a historic hostel, said of the site. "I was looking for a challenge, and I certainly got that, and more." The transaction, according to the estate broker, was fittingly finalized on Friday the 13th in July of 2018.
According to Underwood, there is no shortage of creepy stories in the history of this ghost town, making it a ripe travel location for adventurous tourists.
"There's a story that 30 miners got trapped in one of the mines underneath the building I live in," Underwood said. "As grim as it is, they're still down there."
The ghost town made headlines most recently following reports that Underwood was stuck there.
Underwood had driven from Texas to California before statewide lockdowns in response to the Coronavirus pandemic were put into effect. Desmarais left the property to be with his wife during the lockdown, leaving Underwood on his own.
The brief trip took an unexpected turn when a snowstorm hit Cerro Gordo, leaving the new owner with no way to get out. He documented his time in the abandoned ghost town and shared it on social media. He was staying in the allegedly haunted Belshaw House.
Among the properties in Cerro Gordo, the Belshaw House is a two-bedroom home that once belonged to Mortimer Belshaw, one of the town's leading figures. Belshaw had a lot of influence; he owned the general store, built the toll road, and owned the mines.
"He just owned everything, and he touched every part of commerce here," Underwood told The New York Times.
Nevertheless, Cerro Gordo's new investors still plan to renovate the grounds for future tourists. The town's eight-bed bunkhouse, where Desmarais had already installed a functioning water pump, will be the first to be restored.
Further construction plans include a music studio inside the bunkhouse and an observation deck as the clear skies above the isolated mining town make for unbelievable star-gazing.
Cerro Gordo will be open for business, but perhaps just don't plan to go to this haunt alone.
---
Now that you've learned about the ghost town of Cerro Gordo in California, check out these 34 unforgettable photos of China's massive, uninhabited ghost cities. Then, take a look at 23 eerie photos taken inside Burj Al Babas, the Turkish ghost town filled with fairytale castles.