The country's ambitious plans for urban growth have led to more than 50 abandoned cities whose empty buildings paint a dystopian landscape.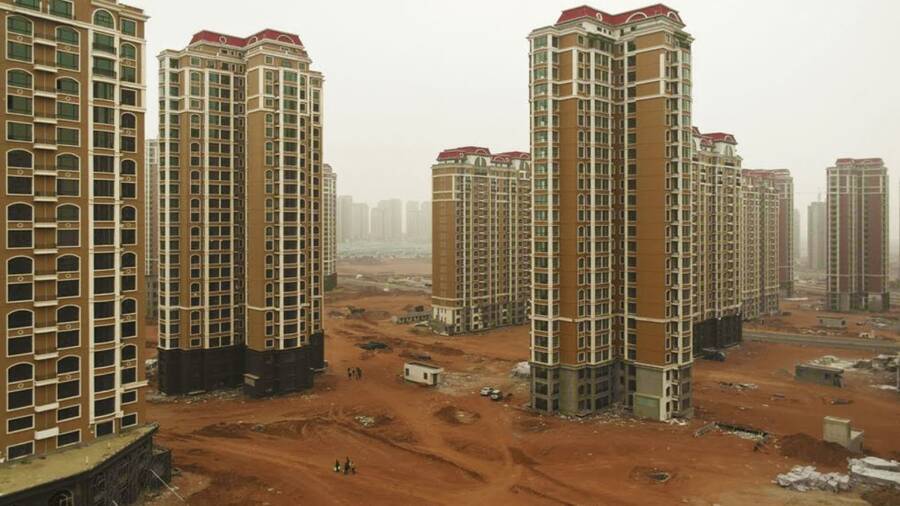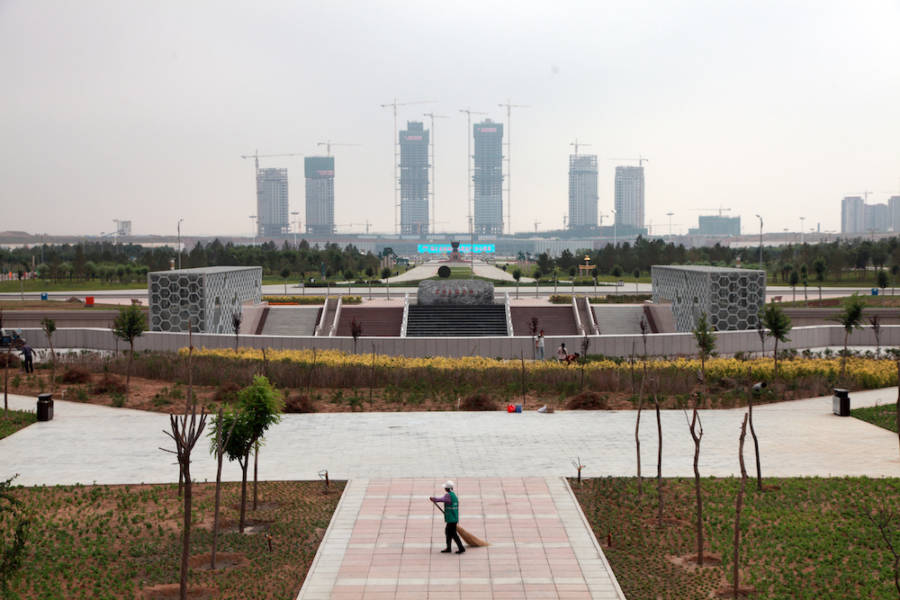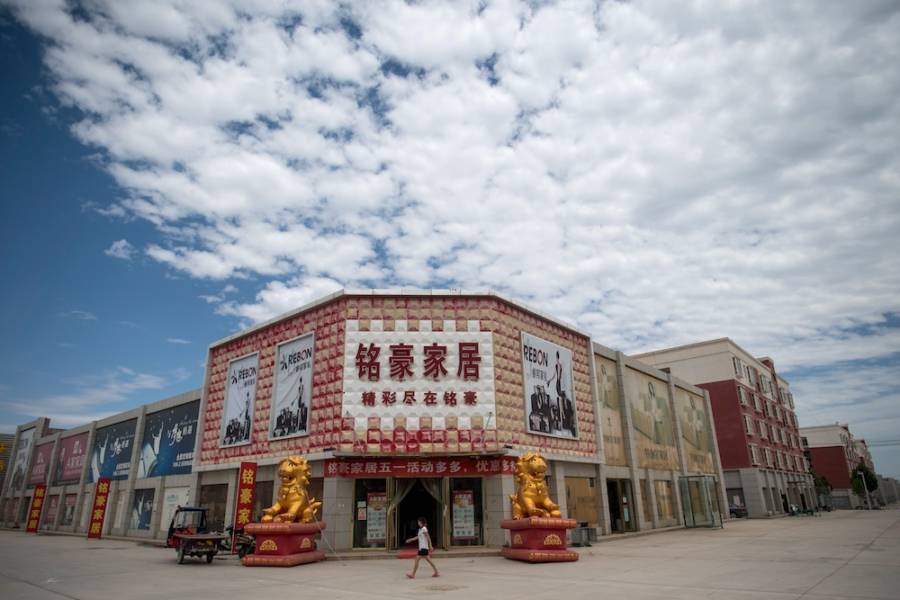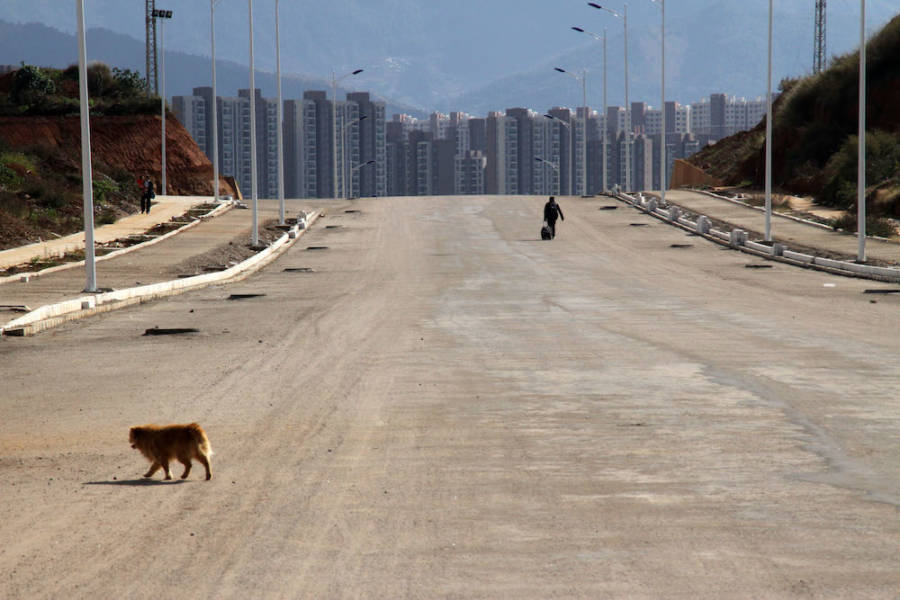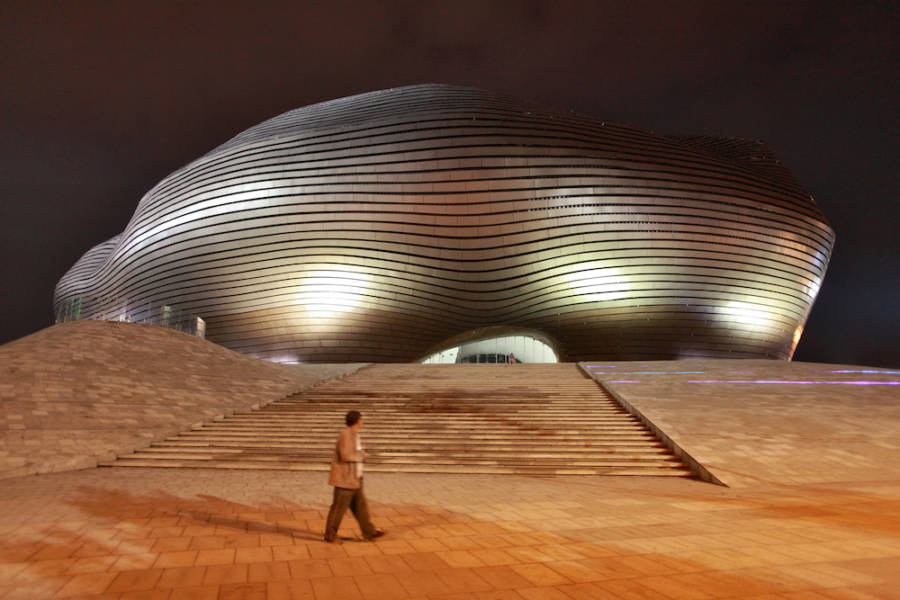 Johannes Eisele/AFP/Getty Images
Gilles Sabrie/LightRocket/Getty Images
Gilles Sabrie/LightRocket/Getty Images
Zhang Peng/LightRocket/Getty Images
Gilles Sabrie/LightRocket/Getty Images
Zhang Peng/LightRocket/Getty Images
Gilles Sabrie/LightRocket/Getty Images
Mark Ralston/AFP/Getty Images)
Johannes Eisele/AFP/Getty Images)
Gilles Sabrie/LightRocket/Getty Images
Guillaume Payen/LightRocket/Getty Images
Guillaume Payen/LightRocket/Getty Images
Gilles Sabrie/LightRocket/ Getty Images
Guillaume Payen/LightRocket/Getty Images
Extravagant monuments, spacious parks, modern buildings, and interconnected roads would all seem to indicate a bustling metropolis. But in China, there is an increasing number of uninhabited "ghost" cities that seem to have been abandoned after years of construction.
It is unclear how many of these Chinese ghost cities currently exist, but estimates put the number as high as 50 municipalities.
Some of these cities have yet to be completed while others are fully functioning metropolises, save for the lack of residents. The occurrence of these ghost cities across China has, unsurprisingly, attracted significant attention from international observers.
"All of them are bizarre, all of them are surreal. There's no other way to describe a city meant for thousands of people that's just completely empty," explained Samuel Stevenson-Yang, a photographer working to document this modern Chinese phenomenon, in an interview with ABC Australia.
The Making Of A Chinese Ghost City
The street lamps, expansive parks, and sprawling high-rises that dot these ghost cities undoubtedly inspire comparisons to dystopian visions of the future.
As China continues to experience rapid economic growth, the government has rushed to urbanize massive rural areas. One of the key goals of this urbanization project is to redistribute economic opportunities that have drawn millions of rural inhabitants into coastal cities, but observers believe that the government's overambitious construction plans may have backfired.
Kangbashi district is a perfect example. It was meant to be a bustling urban district in the city of Ordos in Inner Mongolia, built using profits that were pouring in from the coal industry boom.
The 90,000-acre development sits right at the edge of the massive Gobi Desert. It includes many of the fixtures one would expect to find in a city once dubbed China's answer to Dubai: colossal plazas, expansive shopping malls, large commercial and residential complexes, and towering government buildings.
The hope was that these facilities would attract commuters from nearby Dongsheng and help accommodate the two million residents of Ordos.
"This is a good place, with modern buildings, grand plazas and many tourist attractions," Yang Xiaolong, a security guard working in one of Kangbashi's new office buildings, told the South China Morning Post. "Once there are more people and businesses, the city will be more lively."
But the district that was planned to house more than one million people currently houses less than 100,000, and it is still less than halfway toward the district's goal of housing 300,000 people by 2020. Despite all their efforts, Kangbashi's skyscrapers and residential buildings remain as empty as its streets.
Ghost Cities Are Nothing New
Most countries have experienced a similar development phase at some point where roads and buildings for new cities were being built in locations that lacked the population to fill them.
The difference, however, is that modern urban developments in China have an unprecedented scale and speed. Just how fast is China going? The country has used more cement in its construction of new cities between 2011 to 2013 than the entirety of the United States in the 20th century.
According to statistics reported by the Beijing Morning Post, the number of empty apartment properties that are sitting in these Chinese ghost cities may be as high as 50 million.
This estimate was supplied by the State Grid Corporation of China, based on the number of apartment buildings that have been completed but have not used electricity for six straight months in 2010. That number could very well double by 2020.
Despite these staggering numbers, some believe that the Chinese ghost cities that have sprung from the overzealousness of its government are temporary. They maintain that this overload of construction will pay off for China in the long run, as the country continues to experience economic growth.
Problems Of Real Estate And A Bubbling Debt Crisis
The sight of thousands of empty buildings is not the only thing that Chinese ghost cities are leaving in their wake. The massive capital that backed these developments was largely funded by the country's ballooning debt, and experts think it's only a matter of time before it will burst.
To make matters worse, there is also the issue of soaring property costs associated with purchased but unoccupied housing, which could spell disaster for younger Chinese who want to become homeowners.
But not all is lost with China's ghost towns. Even Kangbashi, a city that was practically built in the desert, can still turn things around. Carla Hajjar, an urban design researcher working on her master's thesis at Tongji University in Shanghai, frequents Kangbashi as a case study for her research.
"I was really surprised because there are people," Carla explained her first impression of the ghost city to Forbes. "And those people are really friendly and welcoming, they don't look at you like you're a stranger."
Shenzhen — A Success Story And Potential Model For The Future
Moreover, many of China's most prosperous cities were built with a develop-now-fill-later approach, which has, to some extent, proven to work in China's favor.
One example is the 12-million-strong city of Shenzhen that straddles China's border with Hong Kong. In 1980, it was a sleepy fishing town with a population of 30,000. Shenzhen is now China's fourth largest city and one of the wealthiest thanks to its focus on high tech industries.
Another example often cited by Chinese optimists is Pudong, a revitalized area across from Shanghai that was once a considered a "swamp."
"[Pudong] is an example of designed urbanization going really well," said Tim Murray, a managing partner at research firm J Capital. "I was working in Shanghai when that was still a dream and I used to look at it and think 'these guys are nuts just building so much and nobody is gonna use it'... I was wrong. It's just been so successful," he said.
The Struggle For Revival In Some Chinese Ghost Cities
Despite the seemingly staggering scale of China's ghost city problem, the government has been able to revive several former ghost cities into thriving metropolises. The key, it seems, are jobs and quality transportation to attract young professionals, new families, and residents who are looking to retire.
For example, the ghost city of Zhengdong rose from the ashes after the local government paid a Taiwanese phone manufacturer to open a factory in the city. The factory attracted droves of people looking for jobs and the eventually employed 200,000 workers. The promise of new jobs jumpstarted the former ghost town seemingly overnight.
Similarly, the luxury resort of Jingjin New Town, about 70 miles from Beijing, is awaiting its own infusion of workers. Currently, it has a few small shops and holiday homes but remains empty for much of the year. However, an upcoming high-speed railway line that will be passing through the city is expected to jumpstart its revitalization.
Despite this optimistic outlook, international observers note that these examples are not the rule to China's urban construction gamble, but the exception. But as long as the government continues to wager its bets on long-term growth, there is a good chance at least some of China's ghost cities will come back from the dead.
---
After seeing inside the ghost cities of China, check out photos from inside Burj Al Babas, Turkey's fairytale resort turned ghost town and amazing sunken cities of the ancient world.