Charles Jencks' exquisite landscape art serves as a reminder that nature can be as transformable as manmade structures.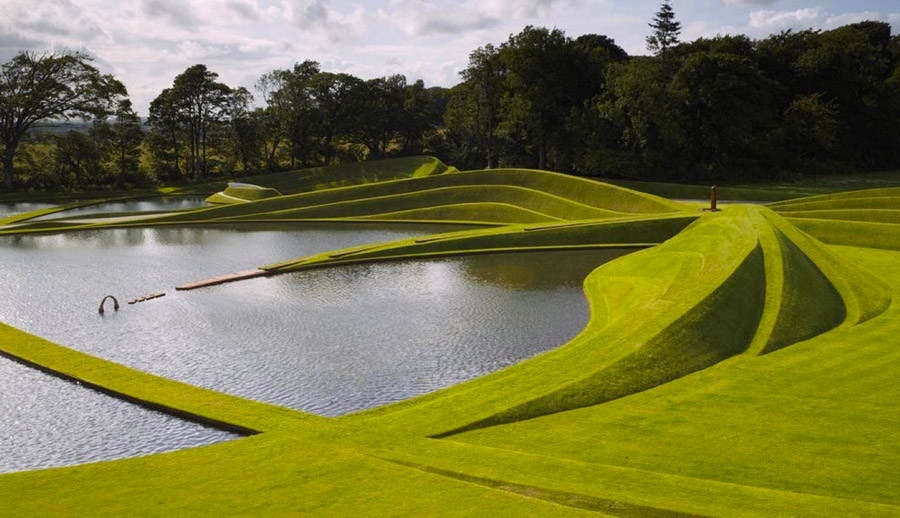 To understand the world view of Charles Jencks, a landscape architect and sculptor whose grand body of work has to be seen to be believed, refer to Jenck's own remarks:
"To see the world in a Grain of Sand, the poetic insight of William Blake, is to find relationships between the big and small, science and spirituality, the universe and the landscape. This cosmic setting provides the narrative for my content-driven work, the writing and design. I explore metaphors that underlie both growing nature and the laws of nature, parallels that root us personally in the cosmos as firmly as a plant, even while our mind escapes this home."
With names like "The Garden of Cosmic Speculation" and "Northumberlandia", the Lady of the North, Charles Jencks' creations are as grandiose as they are mesmerizing. Celebrating nature in conjunction with scientific and architectural design, Jencks' gardens and parks carry a signature style unique to his own experiences and expertise.
While preserving the traditional beauty of the garden is still at the forefront of Jencks' designs, he enhances the garden's visual contours by using new tools and incorporating artificial materials into the mix.
Born and raised in New England, Jencks received his Bachelor of Arts degree in English literature at Harvard University in 1961, followed by a Master of Arts degree in architecture from the Harvard Graduate School of Design in 1965.
In the mid-sixties he moved to the United Kingdom where he has since divided his time between London and Scotland. In 1970, Charles Jencks received his PhD in Architectural History from University College in London.
Of all his endeavors, many consider his crowning personal achievements to be the 13 Maggie's Cancer Caring Centers, co-founded with his late wife Maggie Keswick Jencks.
Knowing that cancer patients are often involved in a protracted struggle against mortality, the gardens offer themselves as beautiful symbols of life next to the sterile, nearby hospitals. The centers' art, architecture, and landscape offer a certain calming and centering aura to patients and caregivers alike.
Completed in 2012, Northumberlandia (the "Lady of the North") is by all accounts the most unique of all of Charles Jencks' designs. The giant land sculpture in the shape of a reclining woman consists of 1.5 million metric tons of earth, earning it the rather obscure title of "largest land sculpture of a female form in the world." With the goal of becoming a major tourist attraction, the site was officially opened by Princess Anne on August 29th, 2012 and was fully opened to the public in October of that year.
As a leading figure in British landscape architecture, Charles Jencks is also responsible for what appears before the Scottish National Gallery of Modern Art in collaboration with Terry Farrell and Duncan Whatmore.
On top of his design work, Charles Jencks is also well known for his writings on postmodernism and architecture. He has written several books on the subject which are typically met with high acclaim and often used in architectural classes.
Jencks has also been known to be very critical of current architecture and design as a whole, often sparking debate. He has lectured at over 40 universities worldwide including Harvard, Princeton, Columbia, and Yale in the US, as well as in Beijing, Shanghai, Tokyo, Milan, and Barcelona.