Borrowing from European cinema and the Renaissance, Lasse Hoile's work is truly in a league of its own.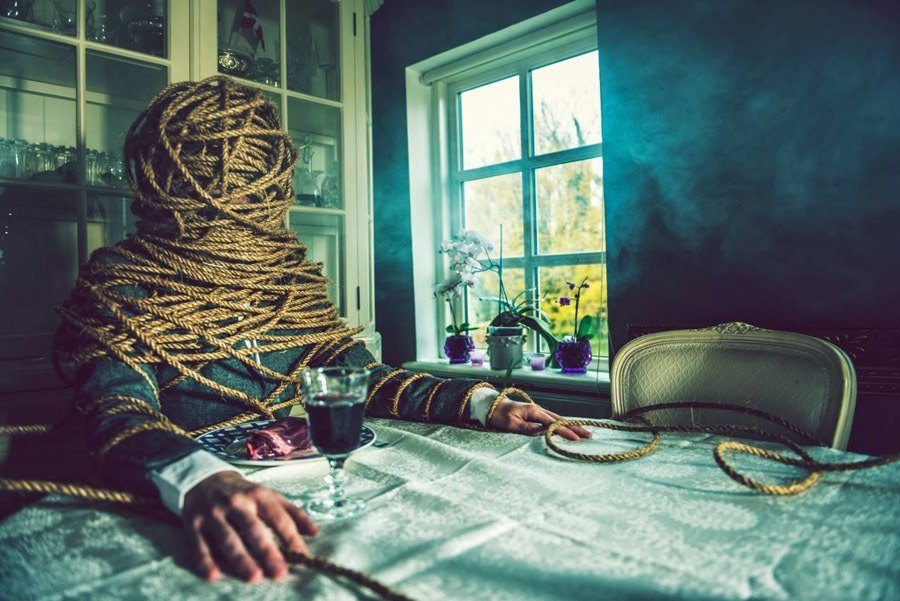 Danish-born visual artist Lasse Hoile may not be a household name, but he's carved himself quite the niche in the progressive rock/metal scene as a virtual set and album designer. His ability to disturb, enlighten, and entertain us is an accomplishment that many in his line of work can only strive for.

This talented multimedia artist produces a type of 'modernized vintage' imagery whose ominous beauty has been likened to Francis Bacon, H.R. Geiger, and David Lynch. Though he often focuses on complementing music artists with his work, his talent is standalone.


In musical circles, Hoile is well known for his myriad skills, but his collages and prints are available for us all to discover, and let us crawl inside the mind of one of today's most dynamic talents. Hoile has a passion for European art house films and renaissance paintings, which breathe classical nuances into his offbeat signature style.

Lasse Hoile started out wanting to eke out a living as a special effects artist, but a photographer lie just beneath the surface; "I bought a Nikon F3 one day because I had some ideas I wanted to do and it just did something with me. I felt I finally knew what I had to do and I just kept on doing pictures and everything else was not important anymore…I had to do art. I have to do it. Everything else is not interesting to me anymore."

Hoile's big break came in 2002, when he designed the album sleeve for In Absentia, an album by the band Porcupine Tree. From here, a valued working relationship and friendship evolved between Hoile and the band's front man, Steven Wilson. They have collaborated on many projects since then, cementing themselves a very distinct place in the ranks of artists that bring out the best in each other.

Visual art and music have always gone hand in hand; can you imagine the band Yes without conjuring up a Roger Dean illustrated album cover? How about Journey without Jim Welch's winged artistry? The Hoile-Wilson duo has produced numerous album covers, live-show visuals, music videos, and even an acclaimed documentary on the making of Wilson's solo record, Insurgentes. There's really no question why Hoile's artistic visions have become a Wilson trademark: tonally, they are pieces from the same puzzle.

The video Hoile produced for Wilson's "Harmony Korine" from the Insurgentes album is the pinnacle of their moody and somewhat unnerving style; it's a mix of fantasy, myth and folktale:

When Wilson was asked how he and Hoile collaborate and why it works, he cites an area of inspiration that is common to both artists;
"Sometimes I would be playing the song, talking to him, and I'd say: "You know that scene from that Tarkovsky film from 1972, you know that scene from that Fritz Lang movie?" And he'll know exactly what I'm talking about, straightaway. That's important; we kind of have a dialogue through our shared knowledge and love of European cinema. So there's a lot of references to European cinema in the videos and the work, which some people pick up on, and some people probably don't. To us, that's a very fertile area to be inspired by."
Creative endeavors were destined to be a part of Hoile's life from the very beginning."I've always been fascinated with looking at vinyl albums ever since I lived with my parents…so that's probably why I am doing this today. I just figured it out a little later than most people I guess. I did a lot of different things from taking a make-up class because I wanted to do special effects for film, and then I wanted to direct films and videos so I started to get into that."
Part of a movement aimed to reintroduce music and its packaging as a complete concept, Hoile muses on the bleak future of one particular facet of his work:
"The only problem is that this art form is dying, I think. If you look back on vinyl covers, especially from the 1970s, you will find something you won't see anymore. There are some truly unique pictures on those covers that you just can't do or see now. Of course it also has to do with the fact that people are downloading music today – covers are becoming very small icons on an iPod or a cell phone… it's very sad to see. People are starting not to care about packaging and cover art."
Apart from classic paintings and European cinema, Hoile unsurprisingly finds inspiration in music. Says Hoile, "Music is the number one influence, I can't live without it. I listen to music every day and all kinds of music. My love for film and art also, of course traveling, experiences in life, traveling is important too…I keep being curious in life, trying and discovering something new as much as possible. I take in as much as I can."
Hoile has just wrapped up a road trip in the US and is currently working on another documentary. The vast amount of work that he has made available can be found in several places, including his blog, YouTube channel, and his Instagram account.