A fine example of arquitectura orgánica, the Nautilus House in Mexico City convenes nature with modern architecture in an aesthetically pleasing way.
Looking more as though it belongs under the sea than it does in Mexico City stands an enigmatic residence that mirrors what we've come to call the "living fossil". The Nautilus House was spawned from the mind of Arquitectura Orgánica architect Javier Senosiain.
Senosiain has been working in organic architecture–the seamless blending of human habitation with the natural world–for some time, drawing much inspiration from the design work of Gaudí and Frank Lloyd Wright.
Senosiain bases his architectural layouts on organic forms and natural principles, incorporating local history and traditions into the fold. Senosiain strives to create harmony with nature in his designs, which is especially evident in his Nautilus House.
In 2006, a young Mexican family with two children had grown tired of living in a conventional home and longed to dramatically reconnect with nature. Senosiain's was the right person to call, as his creation melded modern architecture, contemporary art and notes of the natural into a home that is both visually stunning and utterly unique.
From the exterior, there is little doubt as to what this house resembles; the huge facsimile of a nautilus shell is easily discernible. The painted highlights ensure that the home won't be mistaken for an onion or anything else of a similar shape. Imagine this modern work of art as a home straight out of the lost city of Atlantis.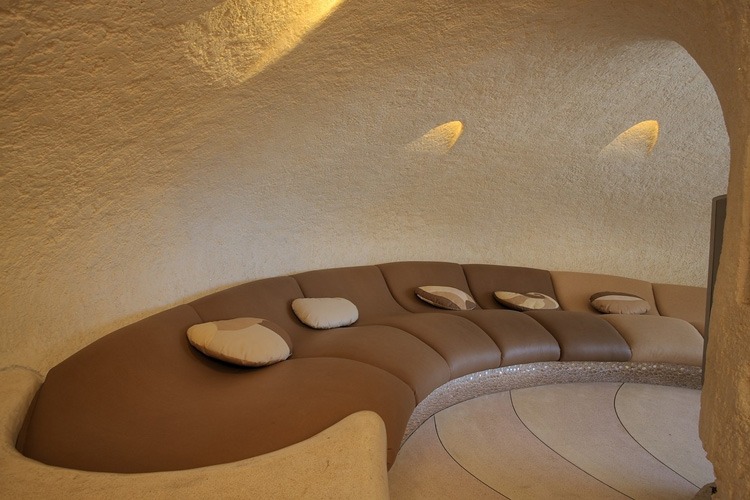 The curves, lighting, and colors of the interior could lead a visitor to believe that they are inhabiting a spacecraft: dozens of round, stained glass windows produce a cornucopia of color when the sun shines through, creating an other-worldly aura ripped straight from a 1960's sci-fi film.
This, combined with the art deco mosaic style of the bathroom and the sweeping curves of the entire space, rids the Nautilus House of the possibility to ever be described as visually bland.
Senosiain muses that "this home's social life flows inside the Nautilus without any division, a harmonic area in three dimensions where you can notice the continuous dynamic of the fourth dimension when moving in spiral over the stairs with a feeling of floating over the vegetation." A surreal home deserves an equally surreal explanation!