Racial profiling is sadly a recurring theme in the United States. Artist Nick Cave examines the phenomenon through art, movement, and fabric.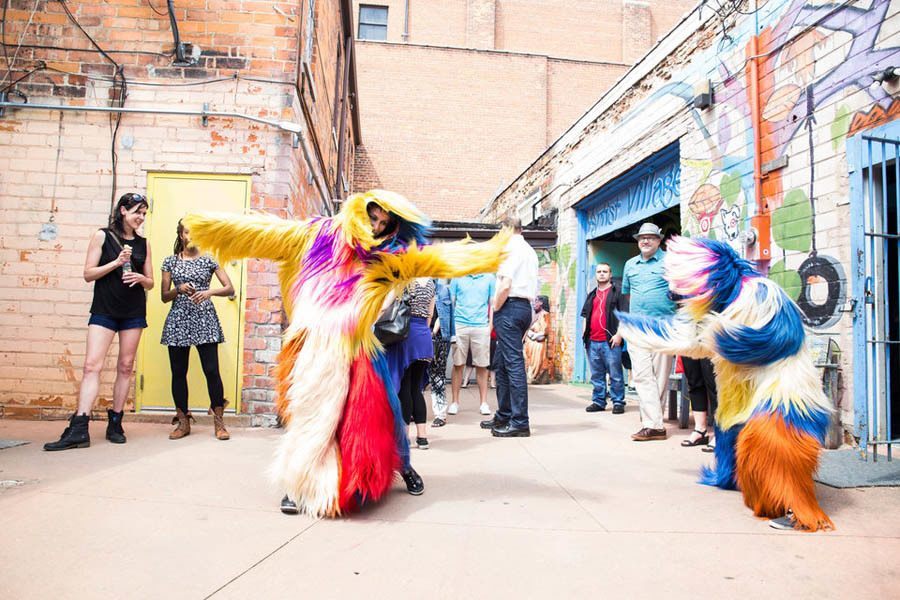 Inspiration comes in many forms, and for the prolific visual artist and dancer Nick Cave, the impetus behind his largest and most involved exhibition yet is racial profiling in the United States. Missouri-born Cave is taking his response — a collection of extravagantly constructed "soundsuits" — to Detroit, where they will not only be on display at the Cranbrook Academy of Art but also in the streets.
The textile series, entitled Here Hear, consists of 30 suits, which to Cave act as an emotional shield; a way to conceal one's outward appearance – such as race or even gender – while still radiating individuality. One of the latest pieces is a reflection on the shooting of Trayvon Martin three years ago by George Zimmerman.
Cave crafted his first soundsuit after the 1991 beating of Rodney King as a kind-of commentary on the protection a black body requires for survival, and how "black bodies move through the world."
Since then he's made nearly 500 more in the wake of other black killings–be it that of Trayvon Martin, Freddie Gray, Eric Garner and even more recently, the shootings at a Charleston, South Carolina Church.
The street performances around Detroit will feature Cave himself in costume, as well as many students from the Detroit School of the Arts.
In Cave's decision to present the suits in Detroit is a desire to give back. "For me as a graduate student at Cranbrook, Detroit saved my life," Cave has said. "It provided me with a balance that I needed of being on an isolated campus, and also being able to connect to an urban environment. To be with my people, let's just put it that way."
The largely-black city filed for bankruptcy in 2013 and is presently experiencing something of a renaissance–of which Cave wants to be part.
Says Cave, "This time around, there's a stronger sense of investment of individuals [in the city]. A lot of creative individuals coming in, locating neighborhoods they want to change, coming together to reinforce the community. There's a sense of urgency about it. We're all reintroducing Detroit back to Detroit…[the city] is in this amazing sort of moment in time where it's redefining itself, and dreaming ambitiously about what its future looks like."
Cave will also re-stage his 2013 performance of Heard, which was last performed at New York's Grand Central Station. Witnessing this particular gathering of individuals is akin to watching a group of Maurice Sendak's creations dancing along with live accompaniment. Cave refers to the dynamic of these shows as "collective dreaming," and believes it to be a unifying experience for all involved.
In the meantime, check out some of our favorite photos below: