According to local legend, a dissertation wasn't the only thing Oleg Mitasov lost on the train: he also lost his mind.
It was the day that Oleg Mitasov was to receive his Doctor of Philosophy in Economics. With his dissertation typed up and in hand, Mitasov headed out to give his defense at the university in Kharkov, Ukraine. Mitasov hopped on a tram to the university, but when he arrived, his dissertation did not.
By the time Mitasov realized he had left his paper on the tram, it was too late. Mitasov would never have the honor of being called a "doctor." According to local legend, it was at this moment that Mitasov experienced a mental breakdown, and one which would give way to a number of bizarre writings and drawings that Mitasov soon produced in his Kharkov apartment.
Sometime in the 1980s, living alone in a seven-room communal apartment in the Kharkov city center, Mitasov took to writing in a small notebook. When he had filled every line of every page with text, he proceeded to scribble on the living room walls, even stretching to the double overhead ceilings.
His imaginary canvas then expanded to the kitchen, where he carved into the steel refrigerator and the bathroom, working his way outward, as if in concentric circles. Mitasov wrote in the pod'ezd (the stairwell entryway to the apartments), and even on the stairs themselves. Finally reaching the property boundary, Mitasov started to write on the brick walls of his neighbors' houses.
Using multicolored paint, Mitasov filled every inch of his surroundings with incomprehensible phrases and etchings that expressed whatever ran through his head at the time. As his sister, Olga, would say to explain such behavior, "In moments of enlightenment (remission) he kept his hands busy so that he wouldn't have to think with his head." Because of his mental illness and artistic capabilities, locals came to know him as the modern Van Gogh.
Besides what appears in his writings, little is known about Oleg Mitasov's life. A rough biographical sketch is possible, though. In 1953, Mitasov was born in Czechoslovakia. His father was a mining engineer and his mother was a doctor at the Soviet embassy. When the family returned to Kharkov, then part of the Soviet Union, they were interrogated under the suspicion that they had made connections with agents of bourgeois capitalist countries, and had become spies against the Motherland.
Police trailed the family and harassed Mitasov, according to Mitasov's sister, Olga. Bearing a substantial amount of stress, Mitasov eventually fought the police with his own hands, ripping the epaulettes straight off their shoulders – an act that could have easily landed him in jail. In interviews, Mitasova has pointed to persistent police surveillance when explaining her brother's fragile state. In 1999, 46-year-old Mitasov – who at that point had been diagnosed as schizophrenic – died in a psychiatric hospital from tuberculosis.
Other than what remains on the exterior of his old apartment building, most memories of Mitasov's life have been lost to time. Pained by the darkness and trauma that Mitasov's writing represented, his family erased the markings within the interior of the apartment and sold the place in an attempt to move on. They did, however, save the refrigerator and piano.
Interior renovations have pushed Mitasov's dark memory out of the Kharkov building: today, an office sits where Mitasov once resided. Outside, though, Mitasov's presence perseveres, as the city has refrained from wiping the walls clean. It is not certain how much longer Mitasov's exterior markings will remain, however; the vanishing effects of time, weather and graffiti have begun to erase Mitasov's etchings, extending his troubled life even further into mythical status.
For their part, local artists have created typefaces that mimic Mitasov's unique handwriting, with some even offering master classes on Mitasov's works. But journalist Elena Grigoreva sees Mitasov's writing differently, after speaking with Olga about her brother's obsessive writing. In Grigoreva's mind, "This is not art, it's the journal of real life."
And an encrypted journal at that. No one is sure of the exact meaning behind Mitasov's words, but that hasn't stopped people from trying. For instance, after examining the writings, Ukrainian journalist Dima Silich asserts that Mitasov's mental deterioration can be gleaned from the writings' grammatical details.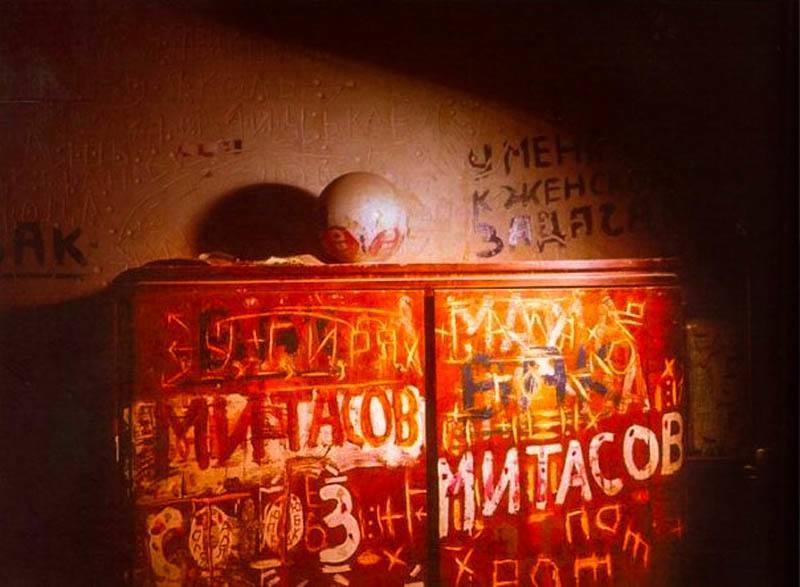 Said Silich, "[Mitasov's] later writings were more depressing. It seems it's due to brain degradation – the illogical mistakes he made, such as ВОДАЪ and КОРОВАЪ." Here, Silich is referring to the letter "Ъ," which hasn't appeared at the end of words in the Russian language since 1918, but which Mitasov scrawled later in life.
Mitasov's apartment has all but assumed a new identity, and his body has long departed from this world. But from the incoherent etchings he left on neighboring houses and the walls encircling the Saburova Dacha, the psychiatric hospital where he was treated and saw his final days, Oleg Mitasov lives on as legend.
What these legends cloud, though, is the saturnine story of a man doggedly patrolled by the oppressive eye of the State, a state which may have pushed him to the point of psychological collapse. This story – unlike Mitasov's frenzied phrases – has yet to see much light.