The man was arrested during a funeral in November after waving the toupee in his son-in-law's face.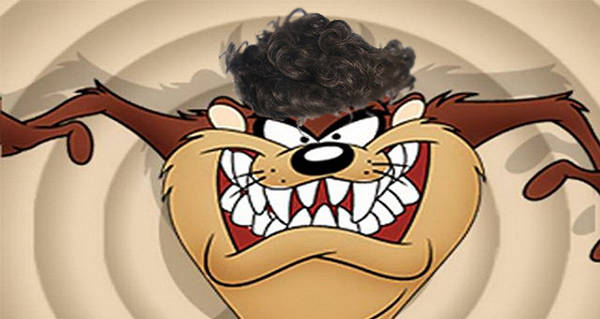 A Staten Island man has been arrested after "menacing" his son-in-law with his bushy toupee.
The son-in-law, Mazen Dayem, claims that he has had a lifelong debilitating fear of the Tasmanian Devil character in Looney Tunes character for as long as he can remember and that the toupee frightened him, as it reminded him of the character's hair.
According to Dayem, his father-in-law Yunes Doleh knew of his fear and used his toupee to torment him. The situation escalated so much that Dayem had a restraining order against him.
In November, Doleh was arrested during a funeral for violating that restraining order.
"He walked in as I was already there," Dayem said. "He removed his wig, made hand gestures. It's just a very large fear of mine, his damn wig. [He] and his hair remind me of the Tasmanian Devil hair. I truly and genuinely have a large fear of wigs now. It's a genuine fear. I have nightmares."
Court papers say that the menacing situation has been going on since 2013 and that the funeral incident was the height of it all. According to the papers, Doleh "stood in [Dayem's] direct line of sight and proceeded to grimace, snarl, gurn and gesticulate, which was made all the more menacing by the forward rake of [Doleh's] toupee."
Dayem's attorney equated the toupee to an animal, claiming that his fear was totally justified.
"[Dayem] is very scared of this guy who looks like he has a rabid badger on his head. It troubles him greatly," the attorney said.
Doleh is currently facing charges of criminal contempt and aggravated harassment for the funeral incident, as well as violating the restraining order, which had been imposed two months prior.
In response to the allegations against him, Doleh sued Dayem for defamation after photos of Doleh being arrested in the parking lot of the funeral home surfaced on social media.
Doleh's attorney maintains that his client is innocent, calling the entire series of events an unfortunate family matter.
"It's a family dispute," the attorney said. "I believe at the end of the day, the criminal cases will be dismissed and my client [will be shown to have done] nothing wrong.
---
Next, read about the woman who was arrested for grilling her daughter. Then, check out the couple that was arrested for having sex in a Domino's Pizza.