Mastodon jaw accidentally found, Tiananmen Square's "Tank Man" honored, ancient beer yeast resurrected.
Iowa Teenager Finds 34,000-Year-Old Mastodon Jaw While Walking Around Friend's Farm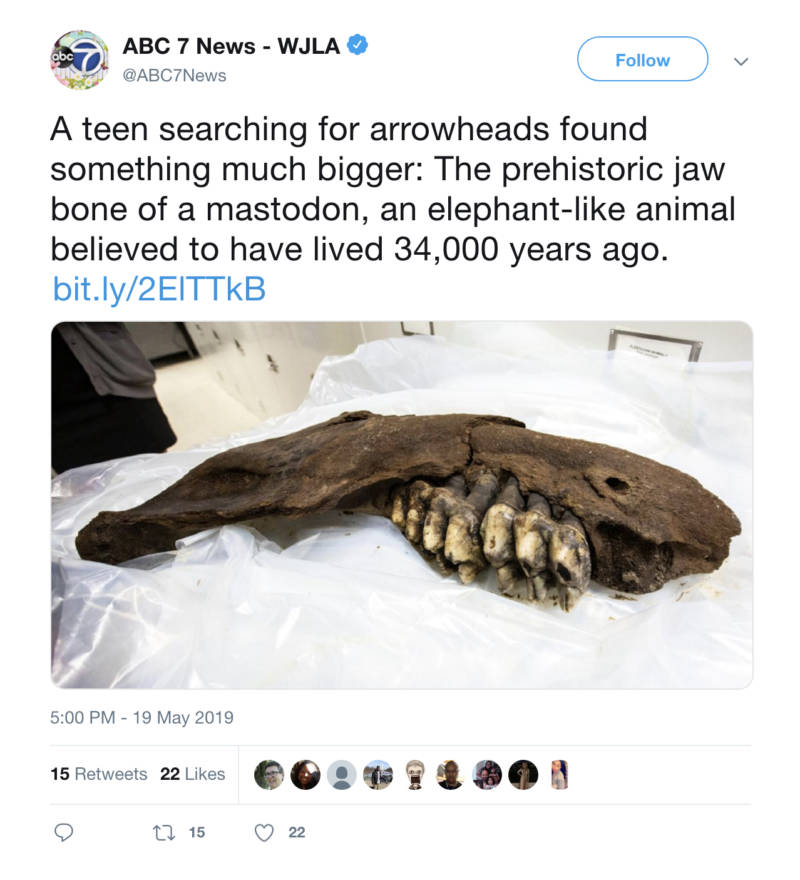 A teenager went looking for arrowheads on a friend's farm in Iowa. Instead, he found the bones of a 34,000-year-old mastodon — an elephant cousin that went extinct 10,000 years ago.
The jaw bone, which measures 30 inches long, belonged to a juvenile mastodon — an elephant-like animal believed to have roamed Iowa tens of thousands of years ago.
Dig deeper here.
Taiwan Marks 30 Years Since Tiananmen Square With Inflatable Balloon 'Tank Man'
It has been three decades since Chinese dissidents were assaulted and killed during a protest at the Tiananmen Square in Beijing, but the emotional wounds from the massacre on unarmed civilians have not been forgotten.
To remember the tragedy, a Taiwanese artist has installed an inflatable tank and balloon man outside Taipei's busy Chiang Kai-shek Memorial Hall. The scene is a reenactment of the infamous photo from the 1989 protest that depicts a lone protestor standing in front of a row of military tanks sent by the Chinese government to fight off protestors.
See more in this report.
Israeli Researchers Resurrect Biblical Beer Using 5,000-Year-Old Yeast
When Israeli scientists discovered yeast remnants in ancient clay shards across several archaeological sites in Israel, there appeared to be only one logical thing to do next: brew some seriously aged beer and mead.
These samples were found across nearly two dozen ceramic jars in Egyptian, Philistine, and Judean archaeological sites spanning from 3,000 B.C. to the 4th century B.C. From a salvage dig in Tel Aviv and a Persian-era palace in Jerusalem to a 5,000-year-old Egyptian brewery near the Gaza Strip, these bits of yeast were littered across the country.
Archaeologists and microbiologists from the Israel Antiquities Authority and four Israeli universities had initially partnered up to study these colonies of yeast. Now that same team has proudly announced that they've successfully "resurrected" these colonies.
Read on here.