Featuring everything from murderous frogs to dead birds, Victorian Christmas cards were often more disturbing than they were jolly.
The Victorian age is often thought of as a time of high collars, corsets, and unsmiling photos. But Victorians had a wry sense of humor beneath their stony exterior, and many used the holidays to enjoy the new tradition of sending Christmas cards — the weirder the better.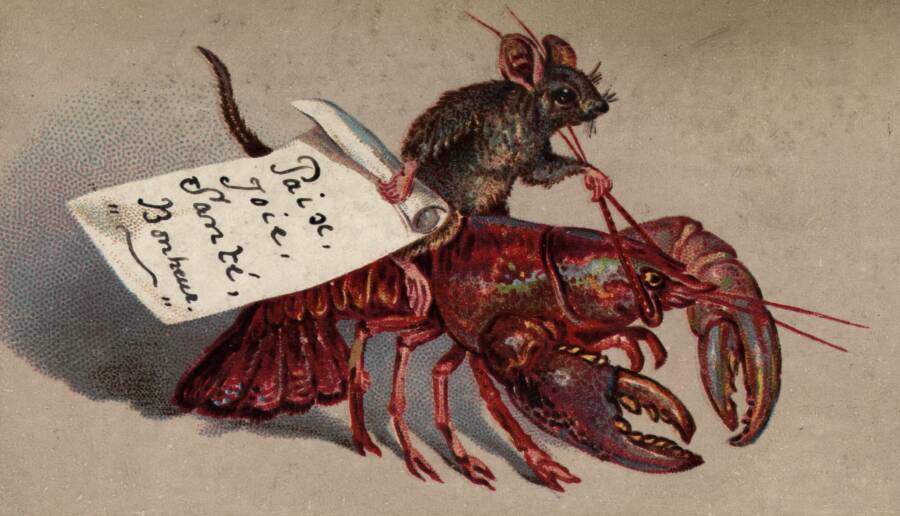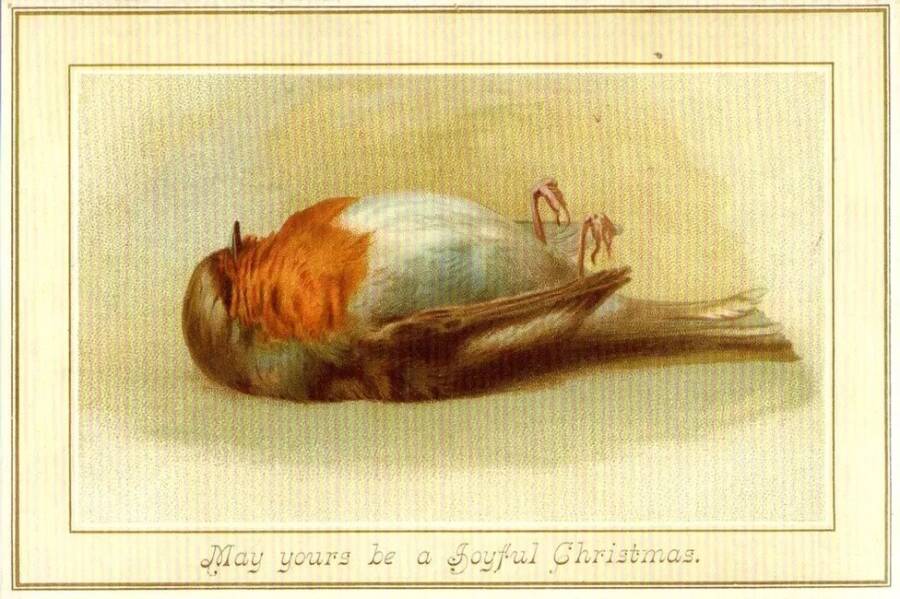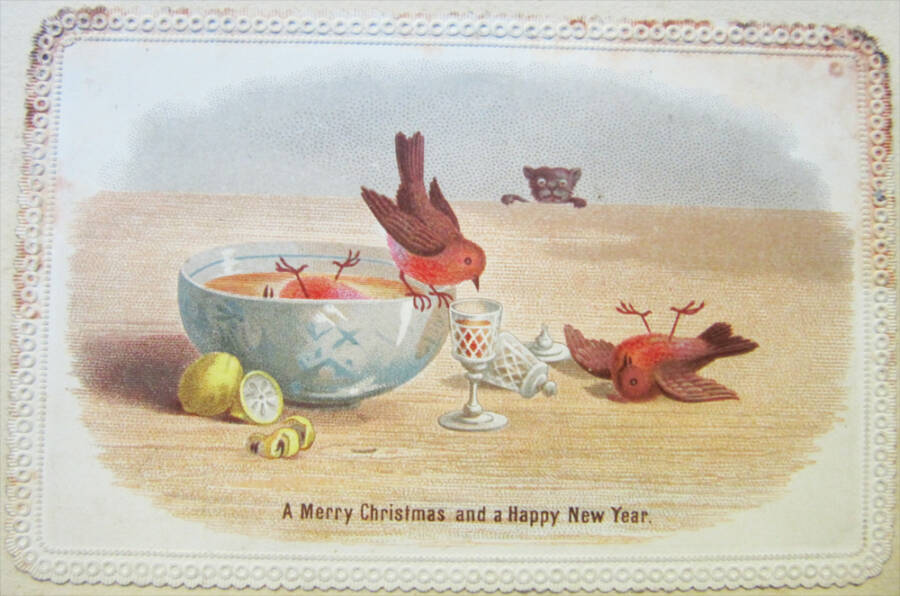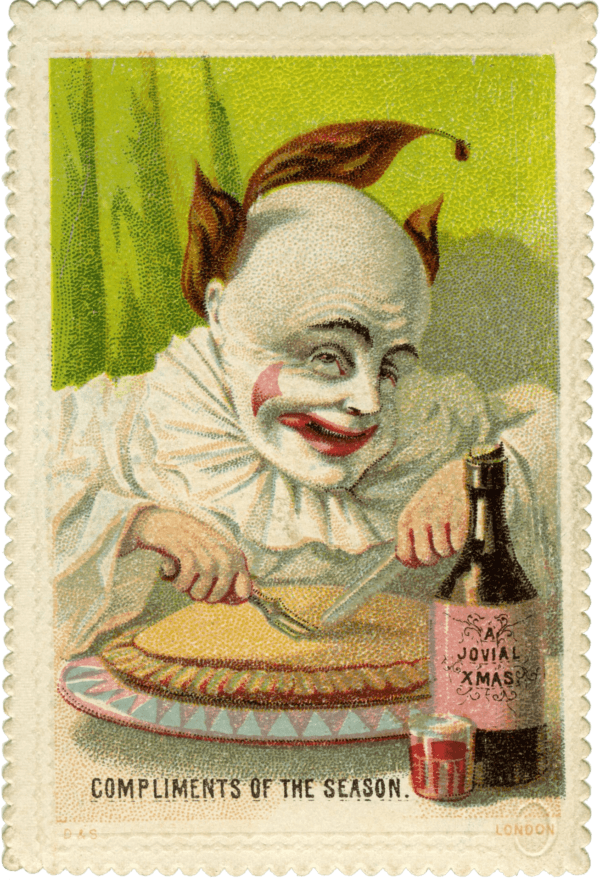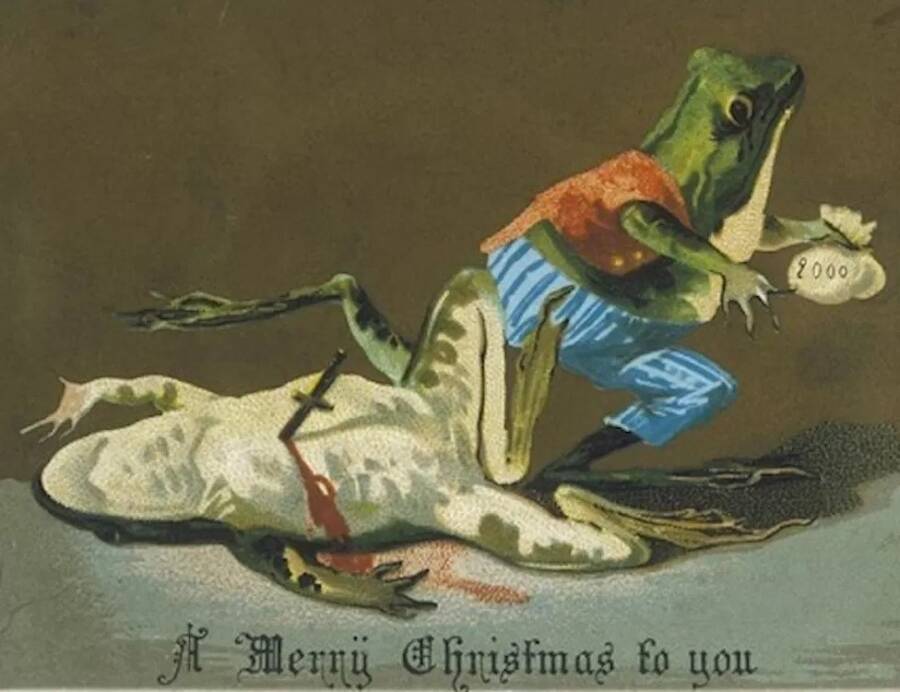 Hulton Archive/Getty Images
Special Collections Department, Postcard Collection, Enoch Pratt Free Library
University of Glasgow Library/Flickr
Lilly Library at Indiana University, Bloomington
Nova Scotia Archives/Flickr
Mary Evans Picture Library/Public Domain
Hulton Archive/Getty Images
Derbyshire County Council Record Office
Hulton Archive/Getty Images
Swim Ink 2, LLC/CORBIS/Corbis via Getty Images
Royal Pavilion & Museums, Brighton & Hove
National Library of Ireland/Flickr
Hulton Archive/Getty Images
New York Public Library/Smith Collection/Gado/Getty Images
Missouri History Museum Photographs and Prints Collections
Manchester Metropolitan University
Indeed, Victorian Christmas cards don't look much like the Christmas cards that people send today. In place of rosy-cheeked Santa Clauses, angels, plump snowmen, and family portraits, Victorians sent eyebrow-raising illustrations of dead birds, murderous frogs, and terrifying Christmas monsters.
Why? The simple explanation is that sending Christmas cards was a new trend that emerged in the Victorian age and took time to develop. But the truth is that historians aren't exactly sure why Victorians sent such bizarre cards. Some imagery may have been drawn from British folklore, but other cards were probably sent as a conversation piece or for scrapbooking.
"The Victorians had a different idea to what Christmas was about — not particularly Christian, but a time of good humor," Stephanie Boydell, the curator of special collections at Manchester Metropolitan University, explained to the BBC. "You may find a mouse riding a lobster strange — I find it funny. It's horses for courses."
Boydell added that while Victorians indeed sent plenty of odd Christmas cards, they also sent more typically Christmassy ones that featured motifs like wrapped gifts and Santa Claus, or Father Christmas.
"For all the more unusual ones, there were probably 1,001 entirely Christmassy ones," she said. "It's just the unusual ones which stand out."
According to HISTORY, the very first Christmas card was sent just six years into the Victorian age when Sir Henry Cole commissioned 1,000 cards in 1843. Cole, a civil servant, commissioned the cards in order to easily reply to the scores of messages sent to him.
As the Postal Museum explains, Cole sent out many of the hand-painted cards and sold others under the pseudonym Felix Summerly.
But things really took off over the following decades. As HISTORY reports, the British government made sending mail infinitely more affordable in 1870 with the introduction of the halfpenny. And as woodcuts made mass production of cards a reality, more people started to send each other holiday cards.
Sending Christmas cards was just one tradition that begin during the Victorian age. The marriage of Queen Victoria to the German-born Prince Albert ushered in other traditions as well, like decorating a Christmas tree with candles, sweets, fruits, and gifts.
And as Christmas increased in importance — again, perhaps because of Prince Albert's Germanic roots — Victorians developed other holiday traditions as well. According to Mental Floss, they also played spirited parlor games, dug into feasts that included dishes like mock turtle soup, shot at pedestrians with peashooters, and attended cattle exhibitions.
Of all their traditions, however, Victorian Christmas cards may be the strangest. In the gallery above, look through 33 Christmas cards from the Victorian age that depict dead frogs, dancing insects, jolly shellfish, terrifying snowmen, and more.
---
After looking through these delightfully strange Victorian Christmas cards, enjoy these 27 bizarre facts about Victorian life. Or, see some examples of Victorian death photos and discover the tragic reason why people of the age decided to take them.