Before the days of saline and silicone, doctors would try inserting pretty much anything. As this horrifying history of breast implants shows, that didn't always work out.
Experts estimate that breast enlargement is currently the second-most popular cosmetic surgery operation around the world, with approximately four percent of women in America endowed with breast implants. There are a couple of caveats in that figure, but when you can get a "temporary" breast enhancement injection that lasts for 24 hours, it really makes one wonder just how we got to this point.
Who was the first person to suggest surgically altering the female breast? For that matter, who volunteered first, and why?
---
Tumors, wool, and glass balls: the early days of the breast implant
Acclaimed surgeon Vincenz Czerny was behind the first documented breast augmentation surgery, which took place in Germany in 1895. Czerny operated on a 41-year-old singer who had just had a tumor removed from her left breast. The patient was concerned with her breasts' lopsided appearance, so Czerny concluded that he could find a way to help her.
He found another apple-sized fatty tumor in the lumbar region of her back, removed it, and re-inserted the tumor into her breast to fill the unwanted space. Crazy as it seems to replace a tumor with another tumor, Czerny's use of actual body tissue was actually quite sophisticated—at least in comparison to those who tried to imitate his landmark work.
With no apparent idea of where to start (and no concern whatsoever for the patient's comfort), the first half of the 20th century saw Czerny-mimicking doctors injecting or inserting everything from paraffin, glass balls, and ivory to wool, sponges, and ox cartilage into women's breasts. Side effects from these botched surgeries were horrific, and ranged from infections and severe scarring to skin necrosis, pulmonary embolisms, granulomas, liver problems, comas, and even the ultimate side effect: death.
Bombshells and breast implants
Behind all of this painful experimentation was desire. In the 1940s and 50s, the buxom bombshell was the ultimate symbol of sex and beauty: many woman wanted to resemble icons like Marilyn Monroe and Jayne Mansfield, and stuffed bras didn't always cut it. "The busty look of Marilyn Monroe and Jane Russell… really emphasized this curvy silhouette," beauty historian Teresa Riordan told the BBC. "[It] got women thinking about augmenting their breasts."
At this time, medical science had yet to perfect the breast augmentation process, but that didn't stop doctors from performing the operations. Some surgeons tried inserting different kinds of sponge implants into women's breasts, but these dried up and hardened in a matter of weeks, causing inflammation, more infections, and a cancer scare.
During World War 2, Japanese women even injected non-medical grade silicone into their chests in order to secure the patronage of the American servicemen stationed there, as they assumed American soldiers were only attracted to large-breasted women.
This would often result in the horrendous "silicone rot," in which gangrene would set into the breast injection area.
The rise (and fall) of silicone and saline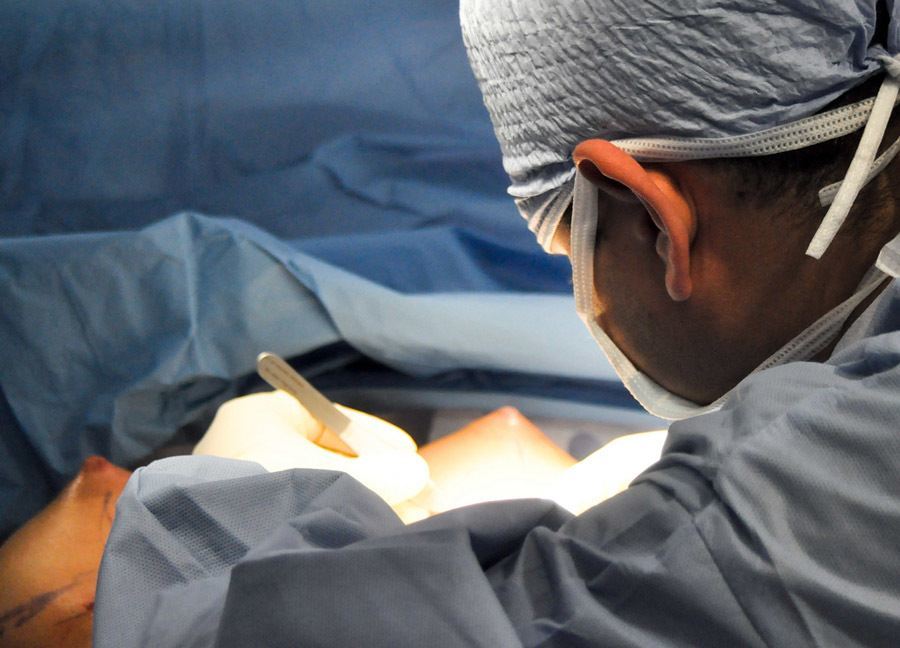 Following nearly a century of painful trial and error, 1961 marked a medical breakthrough. After feeling a bag of blood, Houston, TX M.D. Frank Gerow paired up with Dr. Thomas Cronin and engineered the first silicone breast implant with the help of the Dow Corning company. The doctor duo still needed a test subject, which turned out to be a dog named Esmerelda.
The newly buxom canine had her implants for a few weeks before she began to chew away at the stitches and the doctors removed them. Although short-lived, Gerow and Cronin deemed the surgery a safe success: no harm had come to Esmerelda in the time she had the implants.
In 1962, Timmie Jean Lindsey became the first human to receive silicone implants. The Texas factory worker and mother of six said she was never in the market for such a surgery; in fact, she just wanted to get a tattoo removed from her breast when she went into their office. It was then that doctors Gerow and Cronin asked if she would like to be the first to undergo the procedure, offering to pin her ears back (a procedure she did want) to help sweeten the deal of agreeing to the implants.
"If Dr. Gerow told me there were any risks, I didn't listen," Lindsey told the BBC. "When I came round from the anesthetic, it felt like an elephant was sitting on my chest…but when they took off the bandages after ten days, my breasts looked beautiful. All the young doctors were standing around to look at 'the masterpiece.'"
Silicone implants continued to be used for some time, with saline implants arriving in the tail end of the '60s. These were a heavier implant with an audible sloshing sound, but they improved over the years as different coverings and formulas were created to prevent deflation and rupture.
In 1976, the FDA finally implemented the Medical Devices Amendment that would regulate the safety of medical apparatuses. Since silicone breast implants had already been in use for 15 years, they were "grandfathered in" under the amendment, though if asked, implant manufacturers were to provide data on the safety and effectiveness of their products.
Things began to fall apart for the silicone implant soon after: 1977 saw the first case won by a Cleveland woman who claimed that her implants ruptured, causing her extreme pain and suffering. She won a $170,000 settlement, but this case received little publicity. Slowly but surely, though, more women filed lawsuits about silicone implants, and many began to worry about the damage that could be caused by silicone leakage.
In 1988, silicone implants were re-classified into a Class III category, which meant that in order to stay on the market, their safety had to be proven.
By 1991, there was still not enough data to conclusively prove either the safety or the hazards of silicone in the human body, but the courts told a different story: more and more lawsuits were being filed by women with silicone implants who reported connective tissue disease, neurological ailments, cancer, and more.
Eventually, a varied panel of medical experts recommended that these implants stay on the market, but only for extreme breast reconstruction purposes, and with a greater emphasis placed on warnings and safety.
With silicone implants all but banned, Dow Corning (along with a few other manufacturers) left the silicone implant business in 1992. Filling that void, saline implants made a large jump in popularity, though many still preferred the look and feel of silicone.
By the end of 1993, over 12,000 lawsuits had been filed against silicone implant manufacturer Dow Corning, but still no scientific parallels had been drawn between silicone in the body and illness. The FDA revised the ban shortly after, with the caveat that anyone receiving silicone implants must participate in clinical trials so that more data can be gathered.
Fourteen years later, enough studies and clinical trials had been performed to dispel the notion that silicone is inherently harmful, and the memorandum was lifted. Recipients of implants are still encouraged to follow up with their doctors often, and are warned that implants don't last forever.
Lindsey can vouch for that as well. As she told the BBC, "You would think they would stay real perky, but no – they are just like regular breasts, they begin to sag over the years. That surprised me. I figured they'd just stay where they were."
Still, she said, "It's kind of awesome to know that I was first."