After fleeing Nazi Germany in 1938, William Hitler became an American citizen, changed his name to William Stuart-Houston, and joined the U.S. Navy, where he was awarded a Purple Heart during World War 2.
"We had cakes and whipped cream, Hitler's favorite dessert. I was struck by his intensity, his feminine gestures. There was dandruff on his coat." That comes from an article titled, "Why I hate my uncle…"
The author? William Patrick Hitler, the nephew of Adolf Hitler.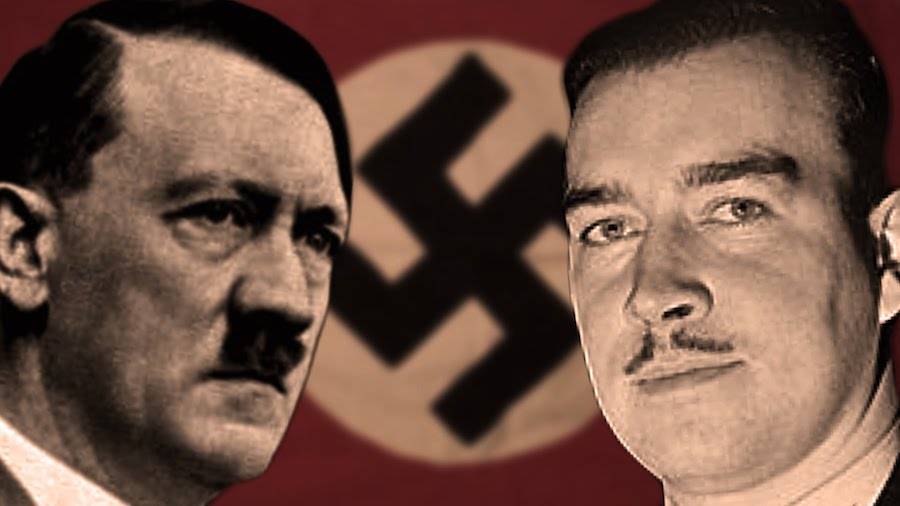 The England-based William Patrick Hitler would first meet his uncle during a visit to Germany in 1929, where he watched him at a Nazi rally. William would continue to spend summers there, getting a first-hand look at how Adolf Hitler operated. But their relationship wouldn't remain a good one.
William Patrick Hitler Takes Advantage Of His Uncle's Fame
William Hitler, the son of Adolf Hitler's half-brother Alois Hitler Jr., was born in Liverpool on March 12, 1911. William's parents met and fell in love in Ireland before moving to the United Kingdom and having William, who took the nickname Willy.
But when Alois ran out of money and abandoned his family, his son and wife were left struggling in England. Taking advantage of Adolf Hitler's rising fame and power, William Patrick Hitler returned to Germany in the late 1930s to convince his uncle to secure a job for him. Adolf secured William a job at a bank and then at a car factory.
David Gardner, an author who wrote a book on William Hitler called The Last of the Hitlers, said, "He was a bit of an opportunist as a young man."
Rather than distancing himself from his uncle, William took advantage of their mutual last name to galavant around Berlin, attending parties, eating fancy meals out, and meeting women.
William allegedly started blackmailing Adolf Hitler, threatening to sell embarrassing family stories to the newspapers if he didn't get William a higher-paying job and treat him better. It's been reported that one threat involved spreading the rumor that Hitler's paternal grandfather was really a Jewish merchant (the rumor has since been disproven).
Meanwhile, the elder Hitler began referring to the younger as his "loathsome nephew." According to family accounts, after he refused to follow his uncle's orders to become a German citizen, William was forced to leave the country.
An Uncle-Nephew Relationship Turns Sour
In the article William Patrick Hitler penned later on, he wrote, "I shall never forget the last time he sent for me."
William wrote that Adolf "was in a brutal temper when I arrived. Walking back and forth, brandishing his horsehide whip… He shouted insults at my head as if he were delivering a political oration. His vengeful brutality on that day made me fear for my physical safety."
According to William, that was the last time he ever saw his uncle.
William Patrick Hitler returned home. However, it was 1939 and by that point, having the last name Hitler in Britain wasn't too appealing. So William moved to America.
It was during this time that on July 4, 1939, he wrote a six-page spread in Look magazine, "Why I hate my uncle…" that detailed the time he spent with the notorious dictator. The article touched on everything from Hitler's love of entertaining "beautiful women" to his suicidal tendencies to the oppression and intimidation tactics he used to manage his regime.
Fighting For The Other Side And Changing His Name To William Stuart-Houston
William Patrick Hitler became a U.S. citizen and when World War II broke out, he joined the United States Navy, fighting for his new country in the Pacific in 1944. He'd later be discharged in 1946 for a shrapnel wound.
After the war, William distanced himself from the Fuhrer entirely.
He changed his name to William Stuart-Houston and lived a mostly obscure life after that. He married and settled in Long Island, New York where he raised four sons — Alexander, Louis, Howard, and Brian — the last of Adolf Hitler's paternal bloodline.
William Stuart-Houston — once William Patrick Hitler — died in 1987 at age 76.
---
After learning about how William Patrick Hitler became William Stuart-Houston, read about Geli Raubal, Hitler's niece and "only true love." Then check out these embarrassing photos of Hitler that he tried to get banned.