Before Carrie Bradshaw and Hannah Horvath, New York was host to the 1980s. And trust us, it wasn't all that pretty.
The 1980s greatly tested New York City's strength: residents fled the city in record numbers, government mismanagement caused near bankruptcy of the city, and the introduction of crack-cocaine unleashed an unprecedented wave of drug addiction and violence.
Below, we look at the decade that came to define the city as the 'Rotten Apple' for a generation of Americans: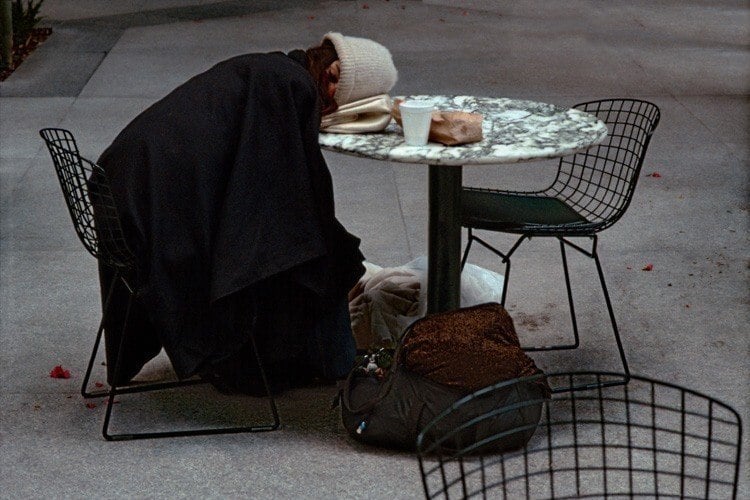 A woman sleeps at a table adjacent to Times Square.
---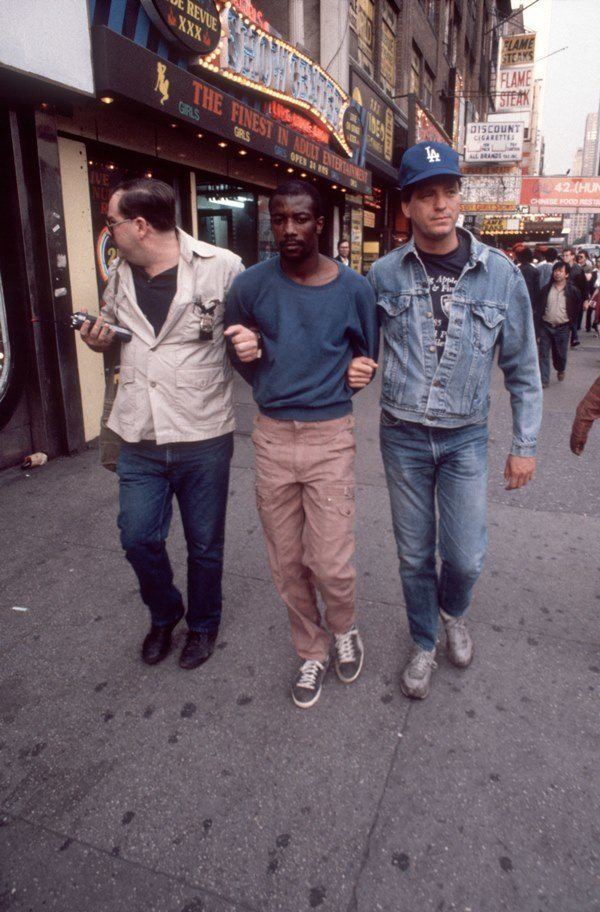 1980s New York experienced the worst levels of crime in the city's history. Over the course of the decade, New York set records for murder, rape, burglary, and car theft.

Pictured, undercover cops arrest a drug dealer in Times Square.
---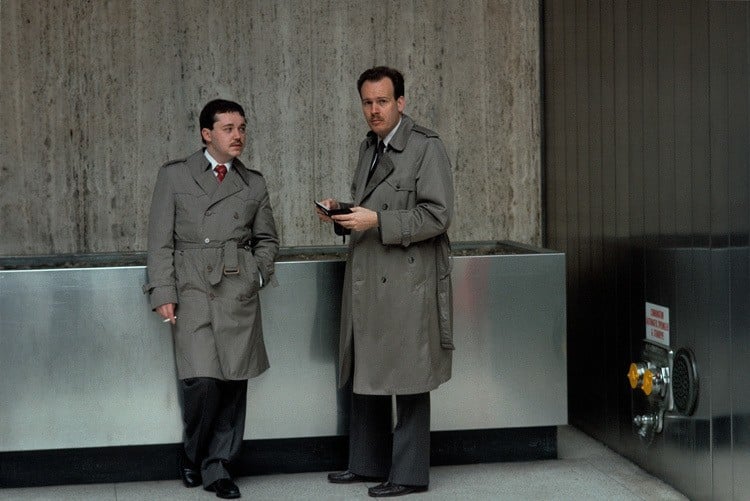 A pair of detectives enjoy a smoke break outside of their downtown offices.
---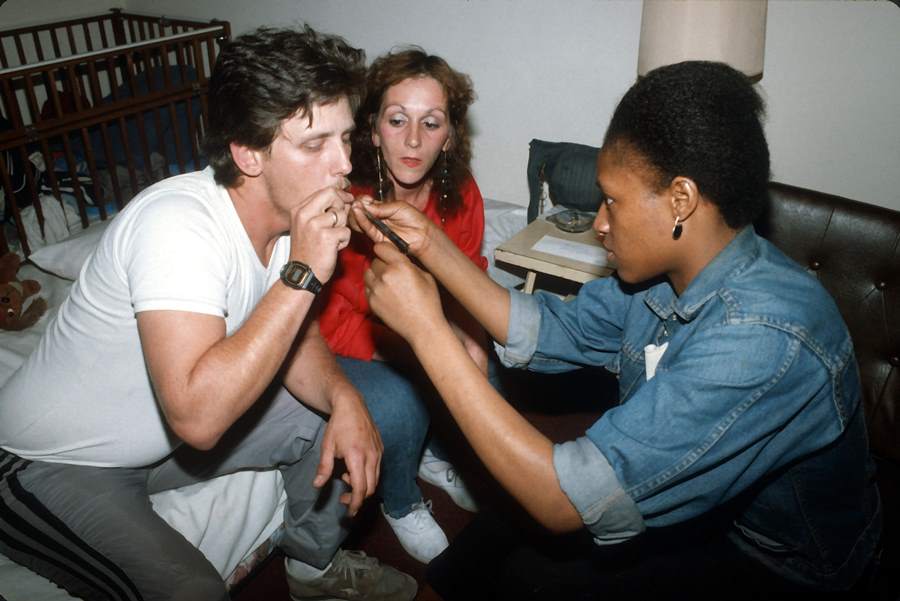 Yvonne Hemsey / Getty Images
---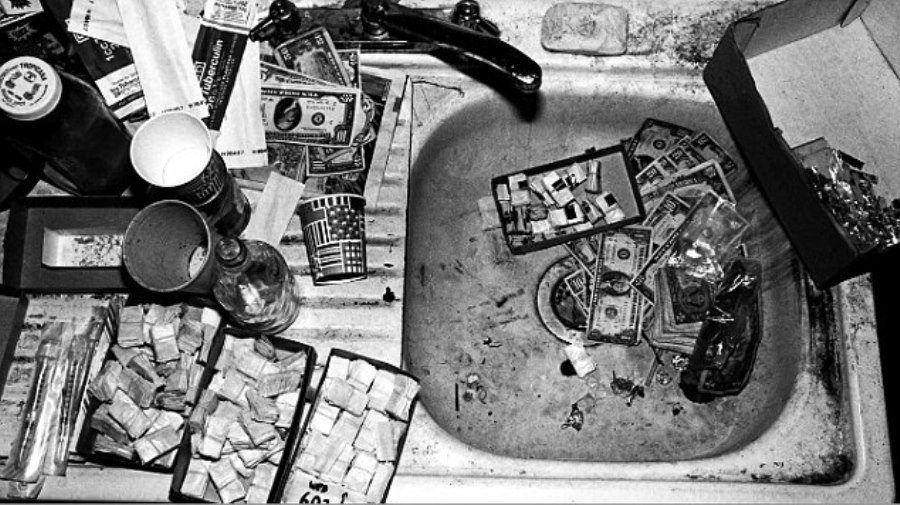 The kitchen sink of a drug dealer.
---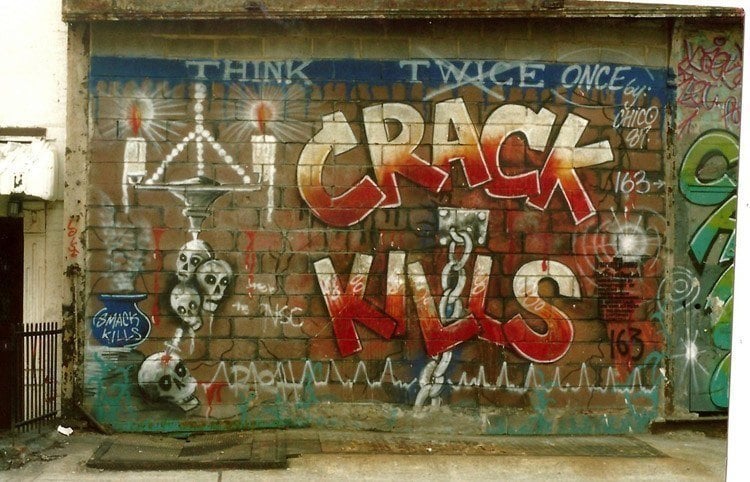 Graffiti warns of the perils of crack-cocaine.
---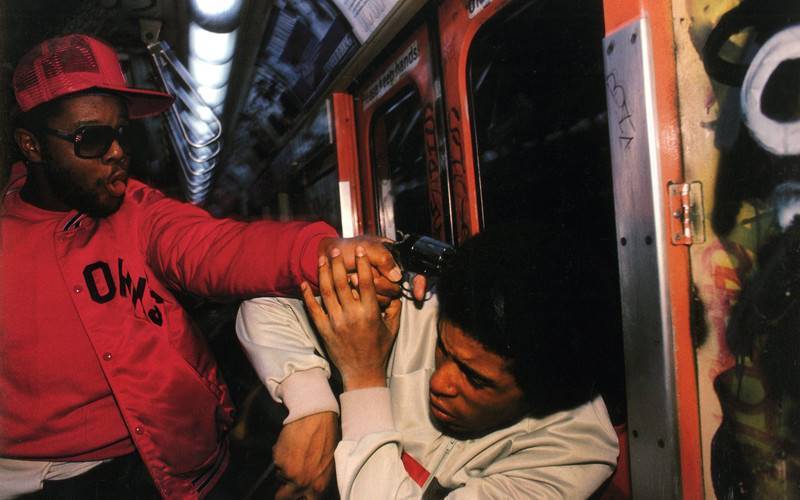 The subway system became a hotbed of crime. Over 250 felonies were committed every week in the system, making the New York subway the most dangerous mass transit system in the world.

In this picture, an undercover cop arrests a would-be mugger.
---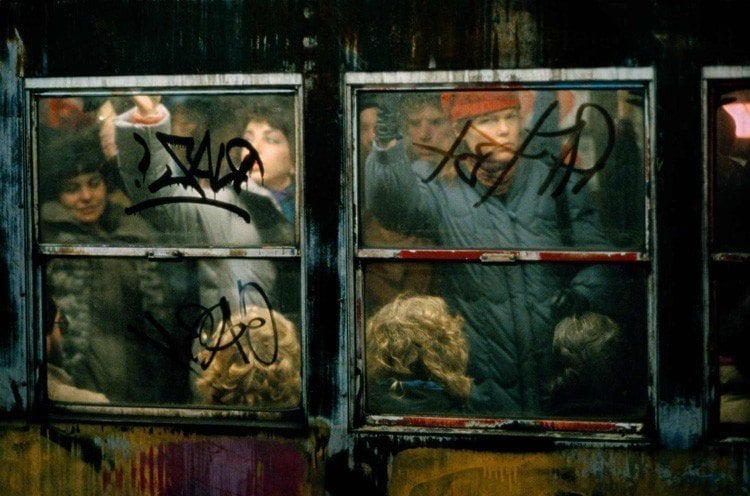 The rush hour commute on the subway in 1985.
---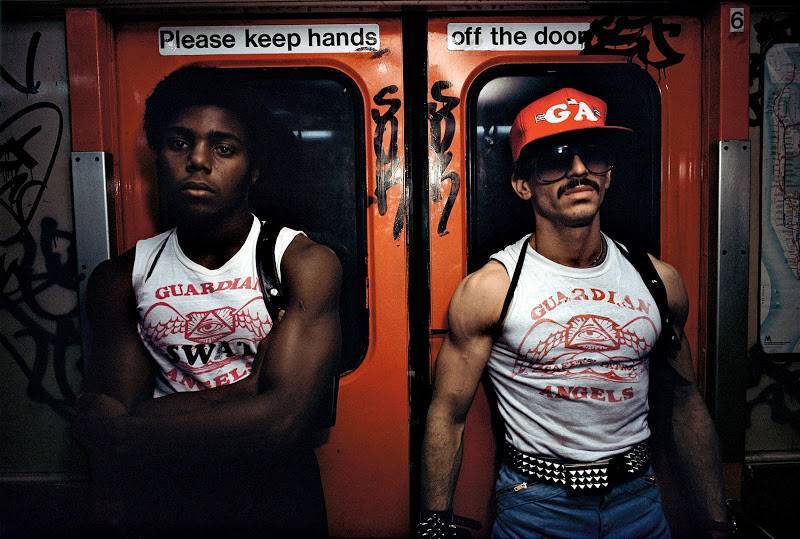 A volunteer organization sprung out of this maelstrom to combat the growing crime. Called the Guardian Angels, members patrolled public transportation and streets to deter criminal activity.
---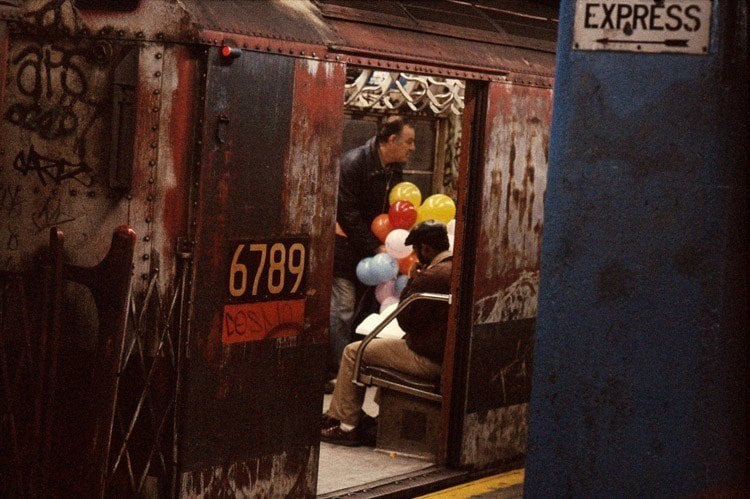 A man en route to a birthday celebration takes the subway in the mid-1980s.
---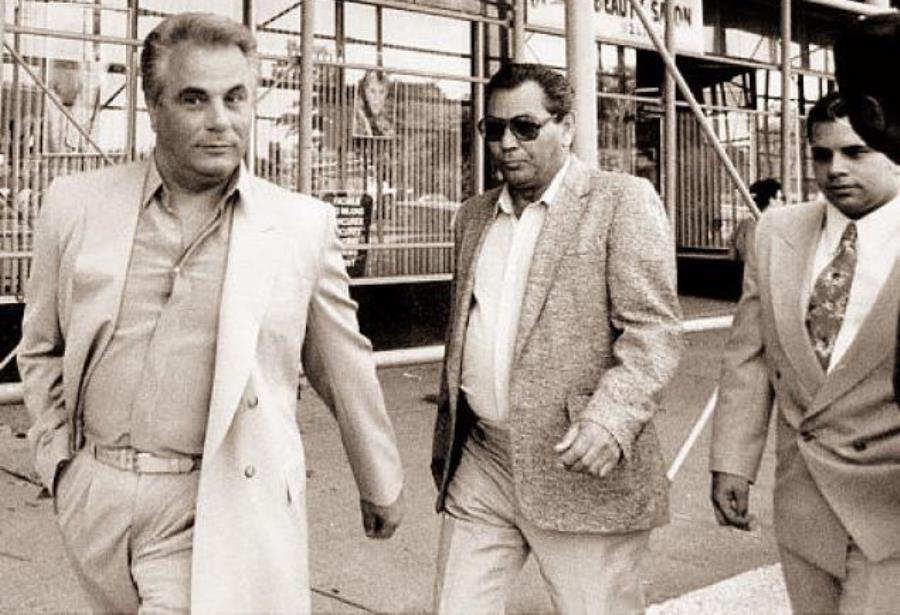 The 1980s also gave rise to a new generation of Mafiosos who reveled in opulent lifestyles and media attention. No one embodied this like John 'Dapper Don' Gotti, the flashiest mob boss of the era.
---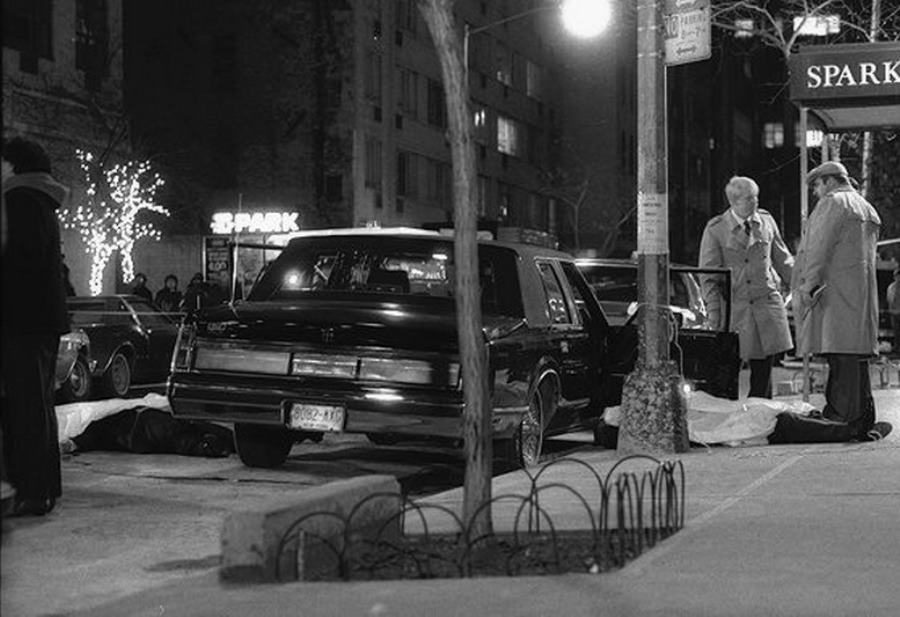 In 1985, Gotti ordered a hit on mob boss Paul Castellano. As he walked into an upscale steakhouse in midtown Manhattan, a hit team shot and killed Castellano and his bodyguard.
---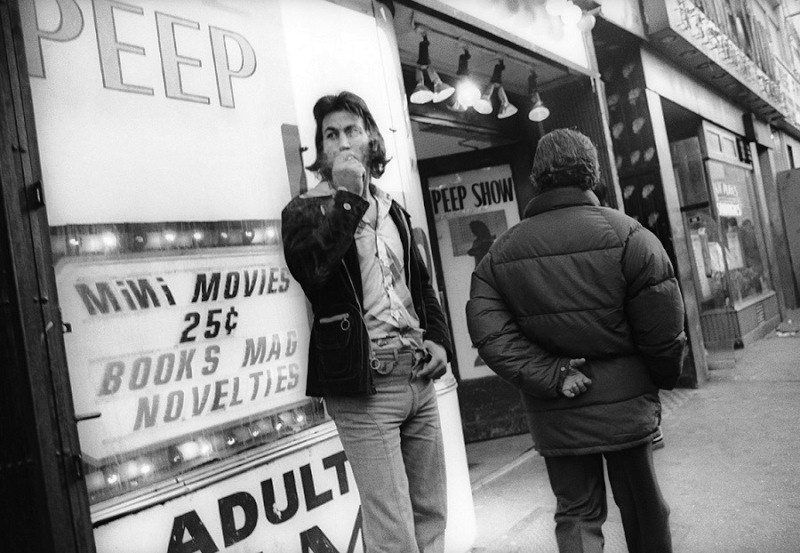 Once home to upscale hotels and theaters, Times Square became a refuge for prostitution, peep shows, and crime. By 1984, Times Square was one of the most dangerous areas of the city, with over 2,300 crimes committed every year in a one-block radius.
---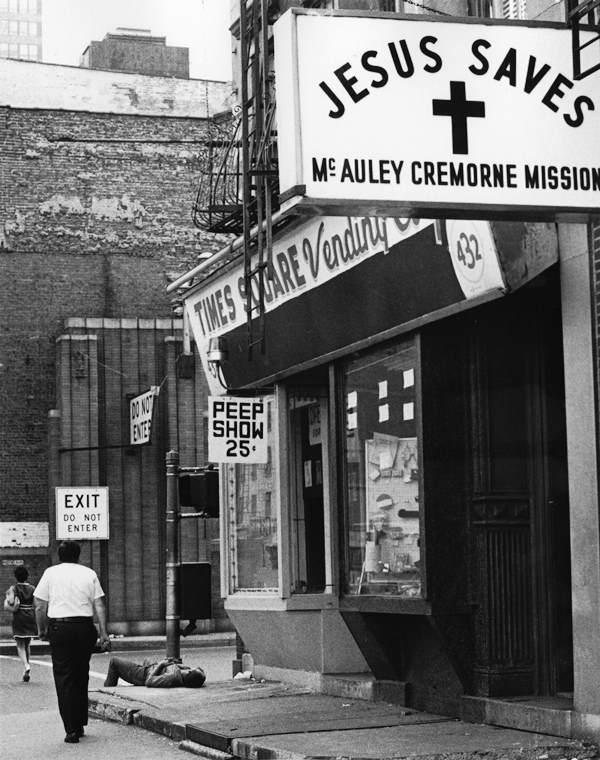 A homeless man sleeps in front of an adult store and Catholic mission in Times Square in 1985.
---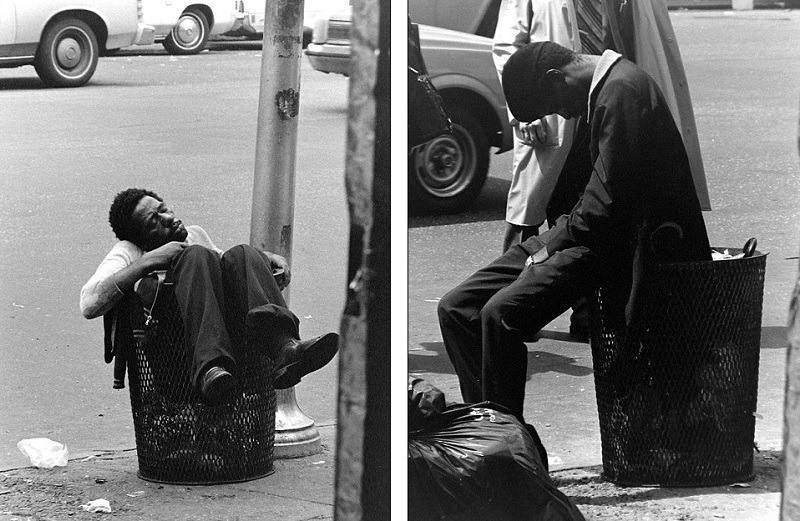 A man passes out on top of and inside a trash can in Times Square.
---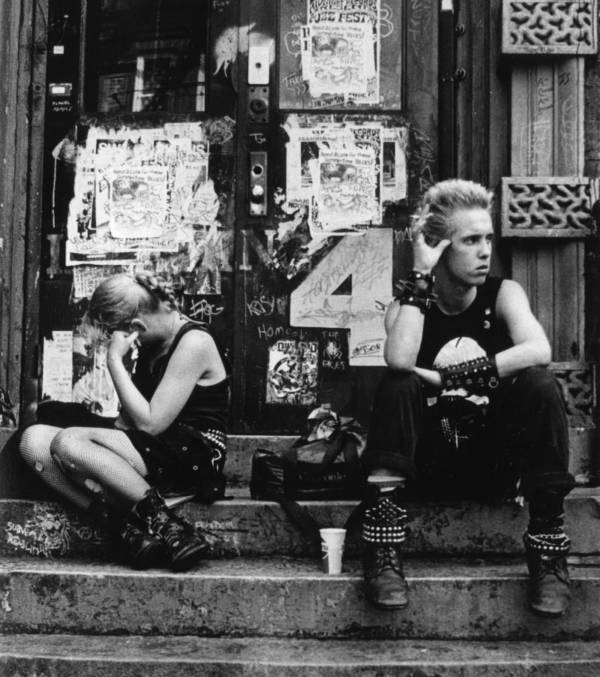 Depressed rents allowed new subcultures to thrive throughout the city, which became a hub for punk and hip-hop throughout the 1980s. Pictured, a pair of punks hang out on a stoop in the East Village.
---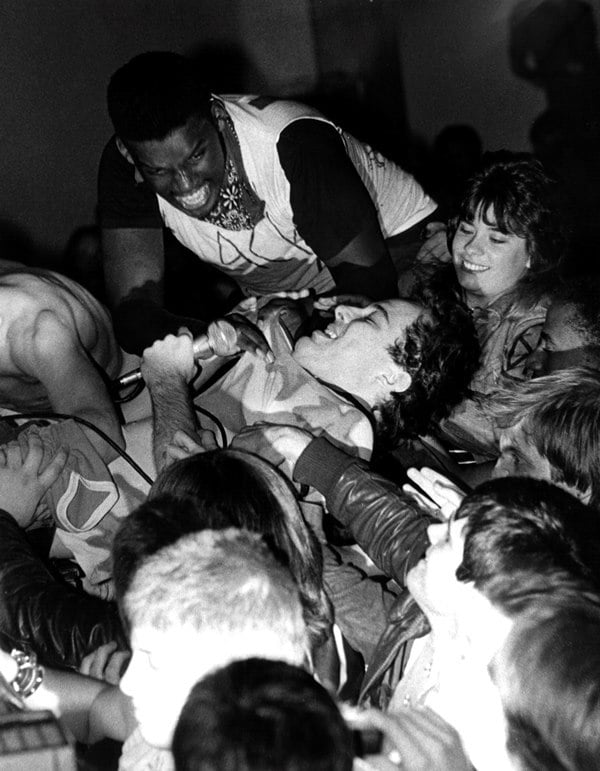 Dead Kennedy's lead singer Jello Biafra jumps into the audience during a performance in 1980.
---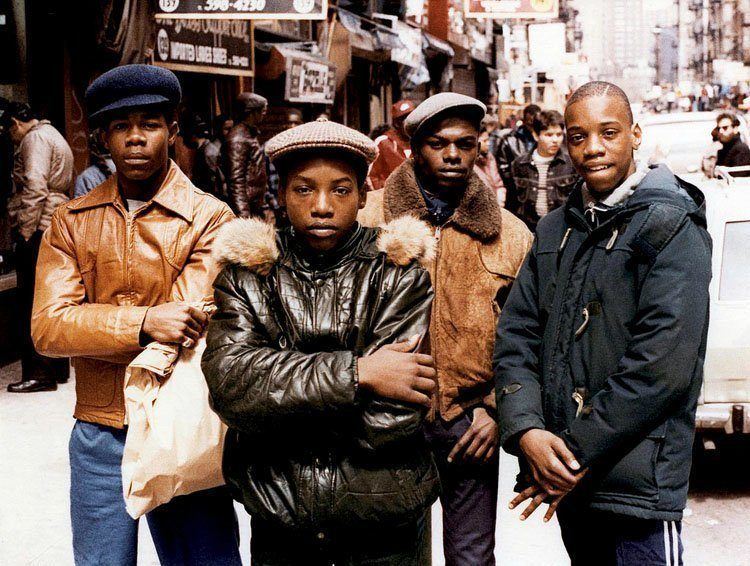 A group pose for a photograph in Brooklyn.
---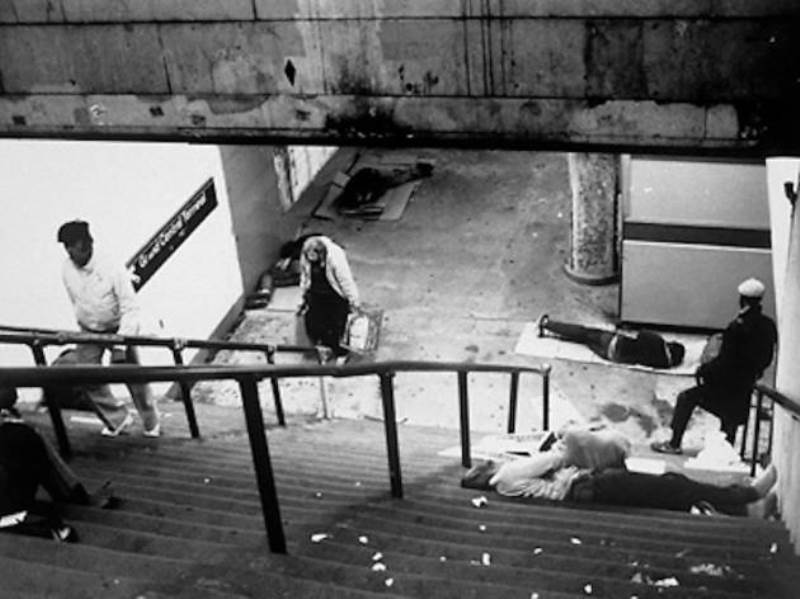 As government assistance dwindled and drug addiction increased, homelessness soared in New York during the 1980s.

Pictured, a woman exits the subway station at Grand Central among a score of sleeping homeless individuals.
---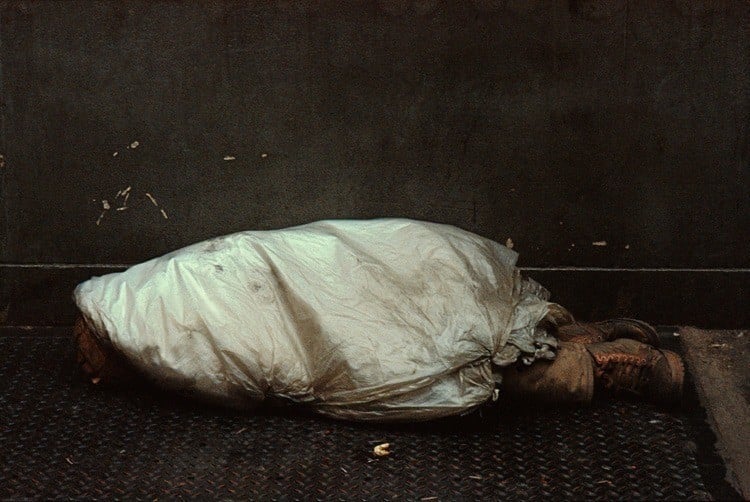 A homeless man sleeps above a grate vent.
---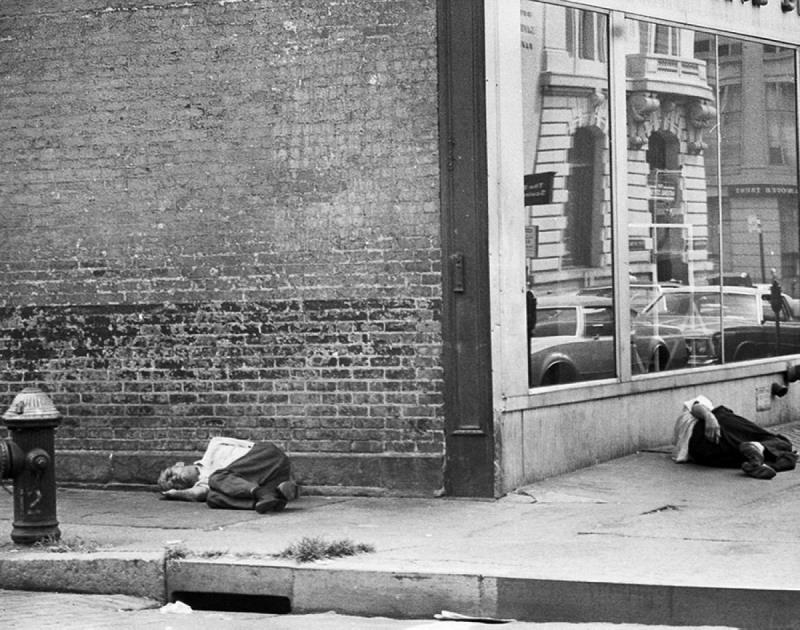 A pair of men sleep in the Bowery.
---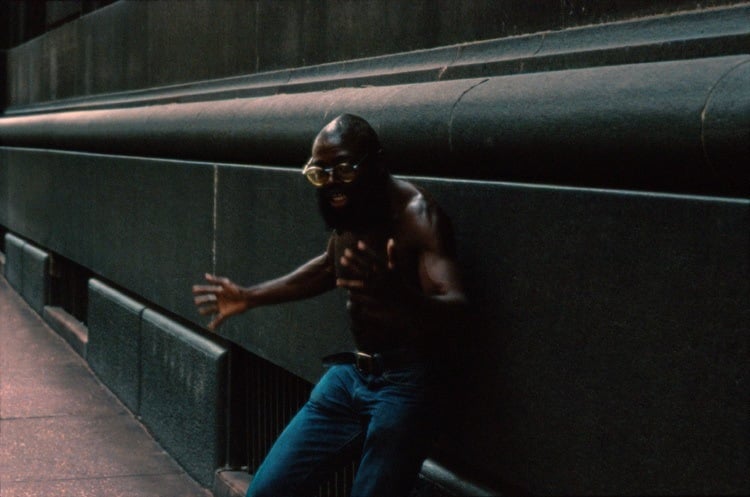 A man waits for the subway sans shirt.
---
A family heads to the Coney Island Aquarium in 1983.
---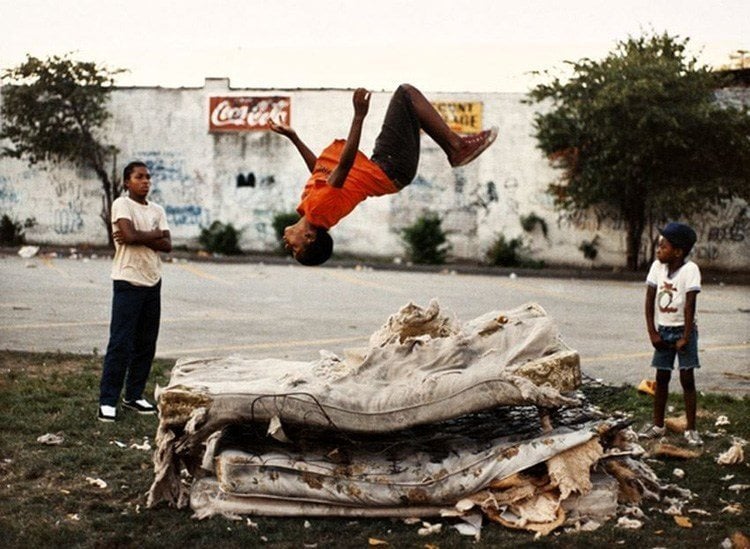 School boys make use of discarded mattresses in the Bronx.
---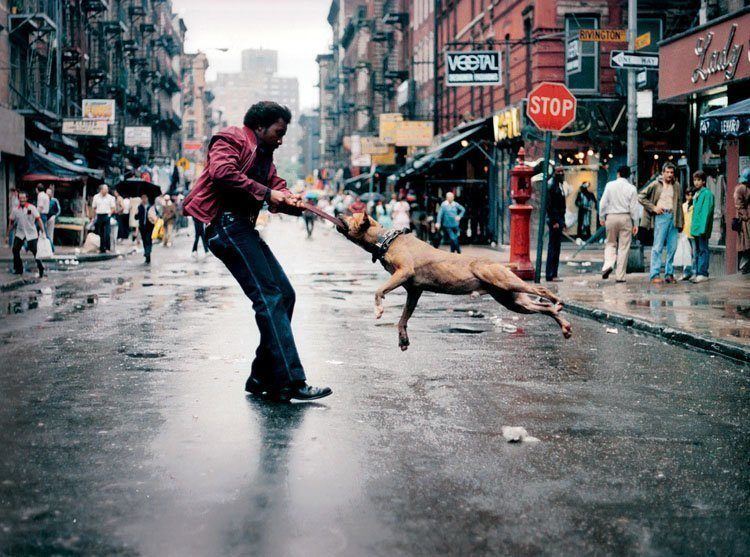 A man tussles with his dog in the empty streets of the Lower East Side in 1980.
---

"Rush Hour" and "Biker Boys", both taken in 1980.
---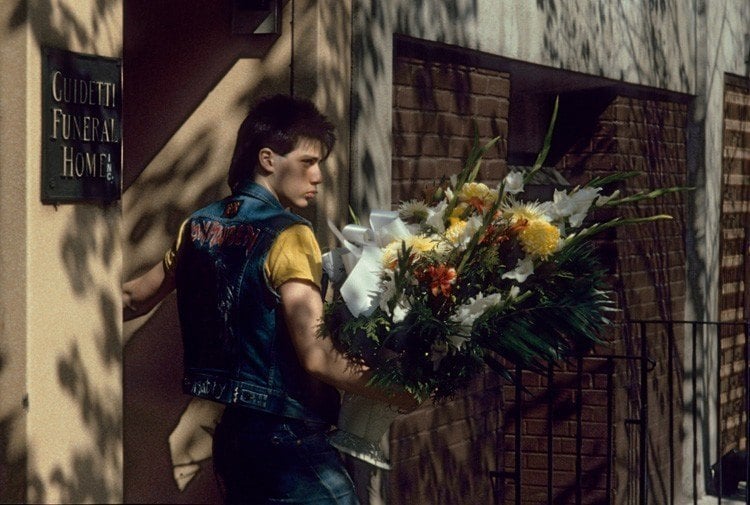 A flower delivery arrives at the Guidetta Funeral Home in Carroll Gardens, Brooklyn.
---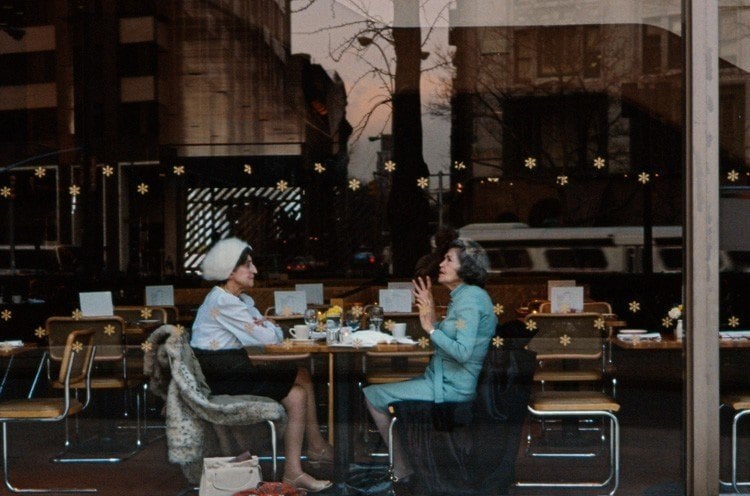 A pair of women at a diner in the early 1980s.
---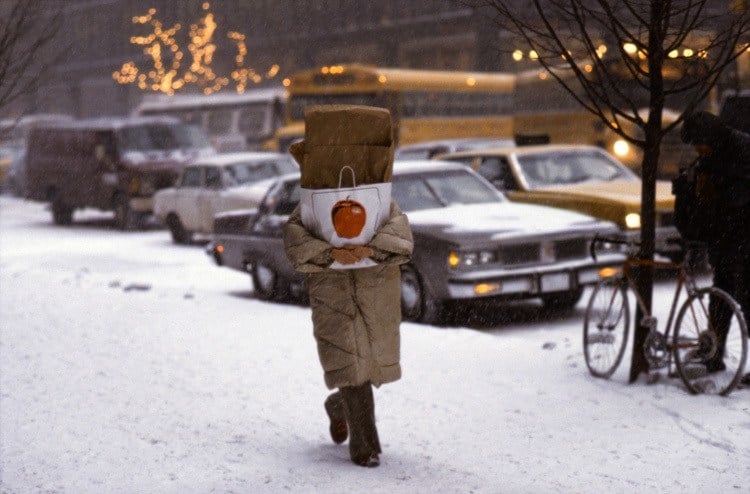 Christmas in New York in 1984.
---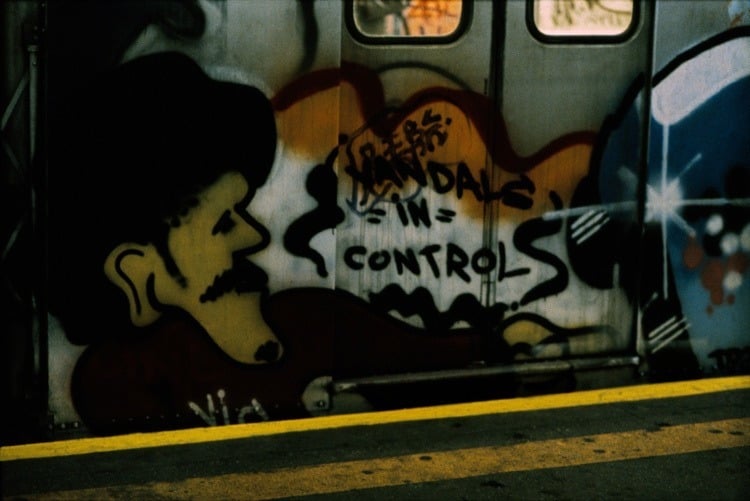 Subway graffiti, 1983.
---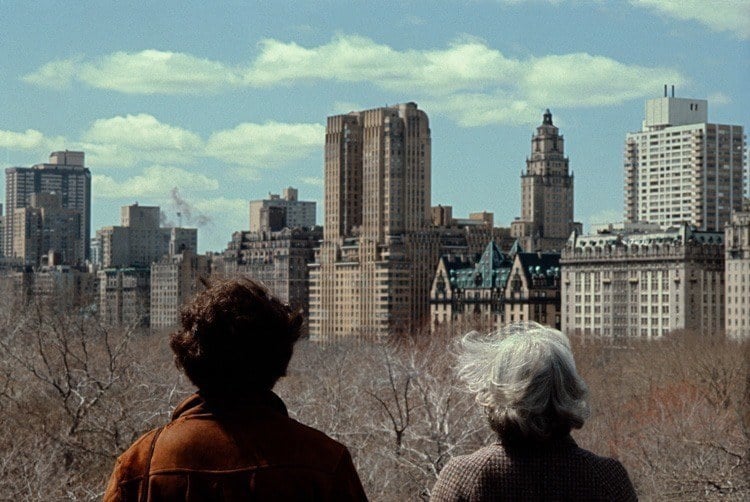 A pair of women enjoy the view of the city from Central Park in 1984.
---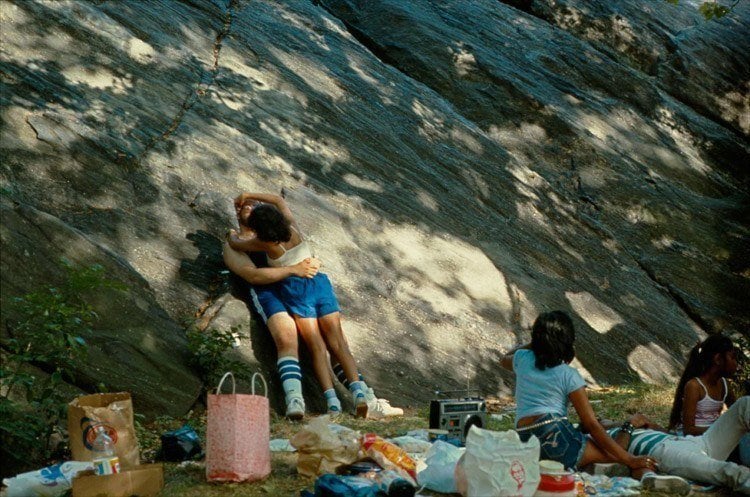 A picnic in Central Park gets familiar in 1984.
---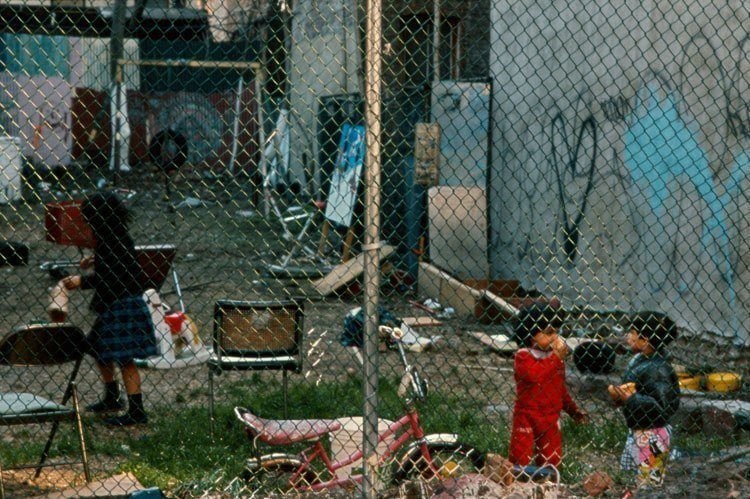 A playground littered in garbage.
---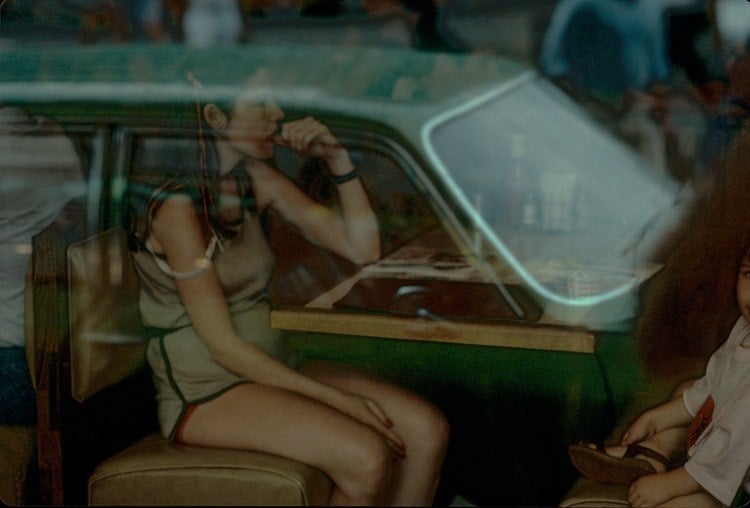 A young woman at a diner in 1985.
---
The police force had dwindled down significantly in response to the city's dire economic recession and budget cuts, which meant that New York was ill-equipped to handle the subsequent barrage of criminal activity that plagued the streets. By 1990, annual homicides in New York peaked at 2,245.
Said former NYC DEA agent Robert Stutman, "Crack literally changed the entire face of the city. Street violence had grown. Child abuse had grown hugely. Spousal abuse. I had a special crack violence file that I kept to convince the geniuses in Washington who kept telling me it wasn't a problem."
Want more historical New York? Check out this footage of the South Bronx in 1982:
And then this documentary short, A Most Violent Year, which explores the multifaceted problems New York City faced in 1981:
---
And if you're fascinated by the history of New York, check out our other posts on when the New York subway was the most dangerous place on earth and startling images of 1970s New York.