A country is only as strong as the propaganda it sells to its people and the world. In that case, Kim Jong Il's North Korea is a heavyweight champion.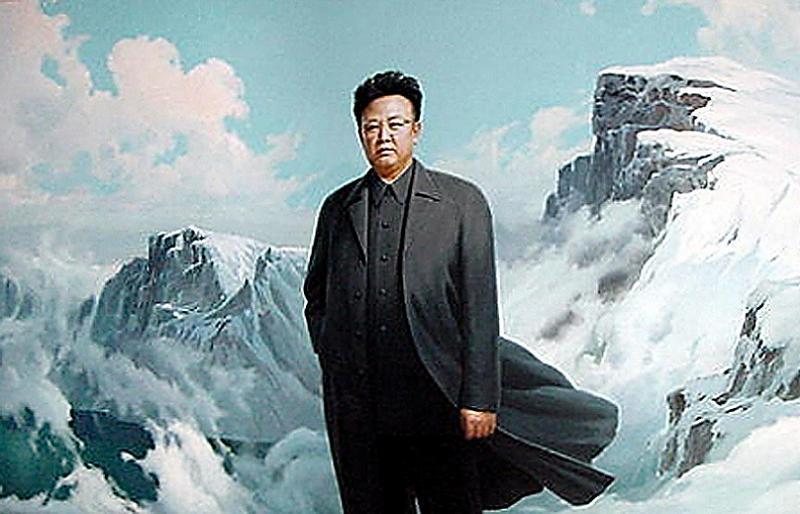 If you want to understand where the antics of the Korean Workers' Party come from, you have to understand the personality cult of Kim Jong Il. He didn't take the usual dictator's path to power and seize it in a palace coup.
Instead, he inherited North Korea from his father, Kim Il Sung, who actually did take a standard dictator's path to power by fighting the Japanese, making nice with Stalin and Mao, and blaming the United States for everything.
The country he built was a typical People's Republic, with more concentration camp inmates than automobiles, but under the relatively sane guidance of Kim Il Sung it managed to chug along like a Pacific Rim Albania until the Great Leader's death in 1994.
That's when the country got surreal. As a potential leader, Kim Jong Il had no identity of his own. He hadn't fought the Japanese, and he was a child during the Korean war. The only experience he had on ascending to the throne was sitting next to his father at party meetings.
As 50.1 percent of American voters can tell you, that's a recipe for disaster. Before his father was safely embalmed, Kim (the Lesser) had to develop his own identity or risk losing everything to genuinely talented rivals. And that's where his cult of personality got started.
We've all fudged a bit on resumes, pausing briefly to wonder whether we could make "stockroom temp" fly as "logistics manager". But just imagine if you had to take charge of a basket-case dictatorship just starting a four-year famine, your only accomplishment is "coined slogans and sat next to my dad," and your only contact with reality comes from Hondo.
So, what are ordinary North Koreans being taught about Best Kim? And, more importantly, how are we supposed to laugh at this? Here are some of the highlights of the biography of Kim Jong (License to) Il, prefaced with somewhat more believable biographical notes on our own Great General: Chuck Norris.
The Accomplishments Of Kim Jong Il: Birth
Comrade Kim Jong Il was born in a secret mountain base, deep behind enemy lines, on the sacred Mount Paektu. This is contrary to the lies of imperialists, who insist he was born in relative safety in Khabarovsk, Siberia, in 1942.
Every member of his extended family was a hero in revolutionary struggle, and consequently he grew up with what the official history calls "a strong and daring character" that enabled him to carry out any task he set his mind to.
Early Life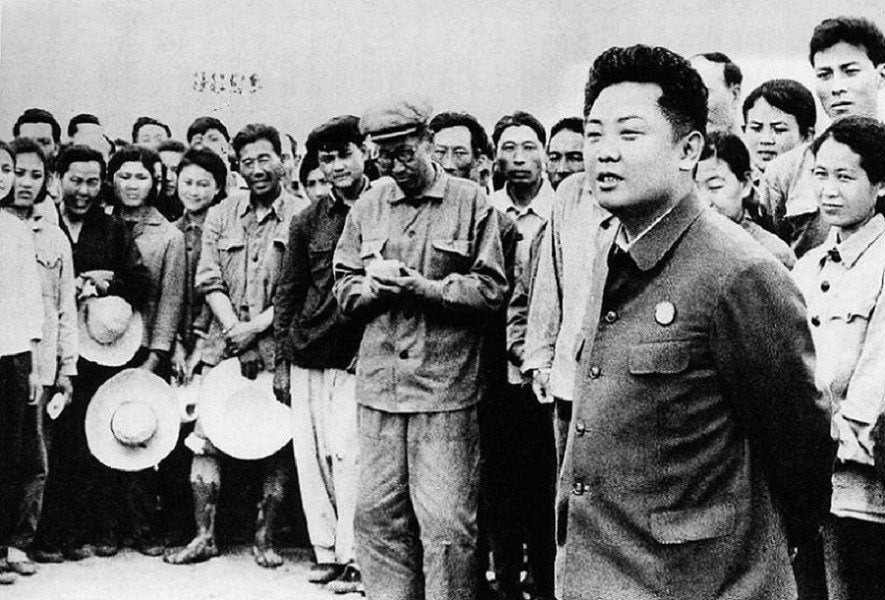 Comrade Kim Jong Il learned much from watching his indomitable father during the victorious Fatherland Liberation War, and he wrote his first song, The Embrace of My Motherland, in 1952, at the age of 10. This is the best song ever written, and it shows boundless love for the people.
As a boy, Comrade Kim Jong Il taught the other students much about the Juche idea, and frequently amused himself in middle school by creating massive government bureaucracies from scratch by dint of his own unremitting efforts.
At age 12, he organized what would become the Ministry of Tourism, and at age 15, he instructed his teachers and fellow students on history, politics, and philosophy—especially the dangers of what his biography calls "flunkeyism"—and sometimes worked as a skilled machinist operating and repairing electric motors with greater skill than anyone had ever seen before.
Young Adulthood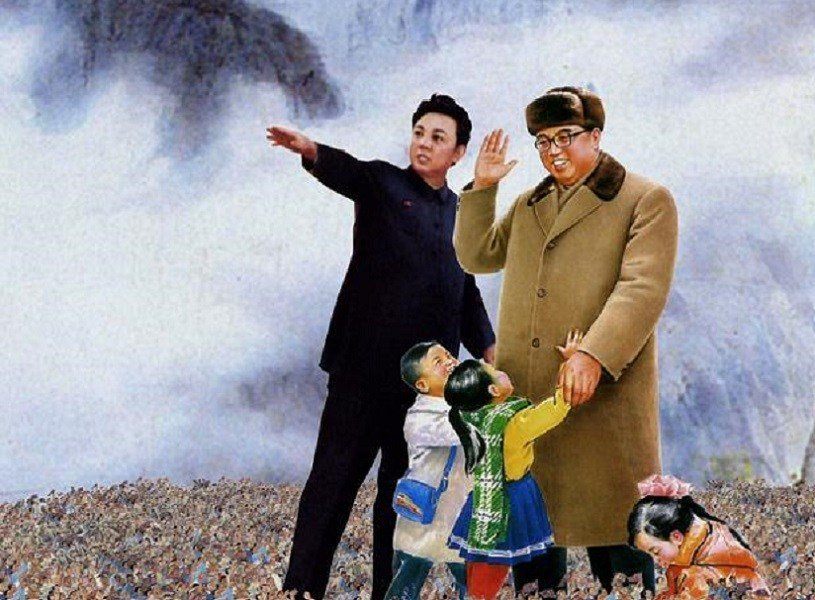 At the age of 16, Comrade Kim Jong Il, having successfully organized a youth league and an organization for ideological training of revolutionaries, set his mind to the task of correcting Best Korea's housing shortage. Within months, by motivating the enthusiasm of fellow student volunteers, he completed building 20,000 of the most comfortable homes working people have ever lived in.
For Comrade Kim Jong Il, this was only a part-time diversion, so during this time he also designed and built locks for the Taedong river and oversaw construction of something called the Pyongyang School Children's Palace.
On his first day of university, Comrade Kim Jong Il addressed multitudes from a mount and recited "Korea, I Will Glorify Thee," the best poem ever written. And the people were astonished at his teaching, which ended with a gentle breeze.
During his university days, Comrade Kim Jong Il undertook the instruction of his fellow students in the teachings of Kim Il Sung. He also taught the professors, who universally acclaimed his genius for political economy, philosophy, and military science.
While still an underclassman, he reorganized the university's teaching methods to be more effective than any system that had ever existed and focused the curriculum, which he rewrote from scratch, on the revolutionary accomplishments of Kim Il Sung.
The Accomplishments Of Kim Jong Il: Rise to Power
Having graduated from university, Comrade Kim Jong Il went to work for the Central Committee in 1964. The imperialists usually describe the 1960s as being a turbulent time, and their aggression forces did everything possible to bring counterrevolutionary chaos to Korea.
Comrade Kim Jong Il countered this internal and external threat by teaching the Workers' Party that district officials must hold Kim Il Sung in high esteem (official biography, pp. 19-20). As a Central Committee member (the Best Central Committee member!), he saw through the "heterogeneous elements" in the party, and corrected them partly by aggressive self-criticism and partly by sending their families to labor camps.
During the late 1960s, Comrade Kim Jong Il founded many schools for instructing youth, purged the army of flunkeyism, and wrote an exhaustive economic treatise, which conclusively demolished the basis of capitalist exploitation forever. This ensured the maximum happiness for all the people of Korea. He also purged the bureaucracy.
Coining the slogan: "Let us develop a revolutionary literature!" Comrade Kim Jong Il proceeded to do just that. He scrupulously guided the best writers and directors in creating the Korean film culture, and personally wrote and directed the best movies ever made, namely: "Sea of Blood," "Flower Girl," and "The Fate of a Self-Defense Corps Man." It was during this time that Comrade Kim Jong Il took up golf, played a single round that ended 38 strokes under par, and retired from golf forever.
Comrade Kim Jong Il coined the revolutionary slogan: "Let us produce, study, and live like anti-Japanese guerrillas!" Which inspired the nation to new heights of production. His economic success, especially in the coining of militant slogans for the people to repeat, earned him great esteem and positioned him as the eventual successor to Comrade Kim Il Sung.
He addressed the needs of Korea's scientific community by coining the slogan: "Let us meet the needs of Juche in ideology, technology, and culture!" After which, Korea began to exceed the technology of the imperialists who were so disheartened they stopped sending capitalist astronauts to the Moon.
As the 1980s began, and economic difficulties threatened the world, Comrade Kim Jong Il advanced the slogan: "Let us live our own way!" Which solved the threat to Korea's economy. He dramatically boosted production in light industry by directing producers to dramatically boost production across their industry.
This had a revolutionary effect on the workers and propelled the Korean standard of living to ever-greater heights from the 1980s to the present day.
With great foresight, Comrade Kim Jong Il implemented Comrade Kim Il Sung's thoughts on rural agriculture immediately before the famine of the 1990s. Common people cannot hope to guess how he knew that the revolution in agriculture must be carried out between 1988 and 1993, before the famine of 1994 began, but his active and unremitting efforts over the next four years kept the death toll to the low seven-figures.
During his time in office, Comrade Kim Jong Il made unremitting efforts at national reunification, in which the 50 million people of South Korea will accept the Juche idea of 25 million Best Koreans. Literally the only opposition to this plan comes from US imperialists.
In addition to almost unifying the country, Comrade Kim Jong Il spent his 17 years as leader building things, inspecting buildings, making changes to things that have been built, and coining slogans to encourage construction.
He frequently ran for various offices within the Korean Workers' Party, always winning with 100 percent of the vote. Such was the boundless love of the Korean People for the Great General until his death in 2011.
Death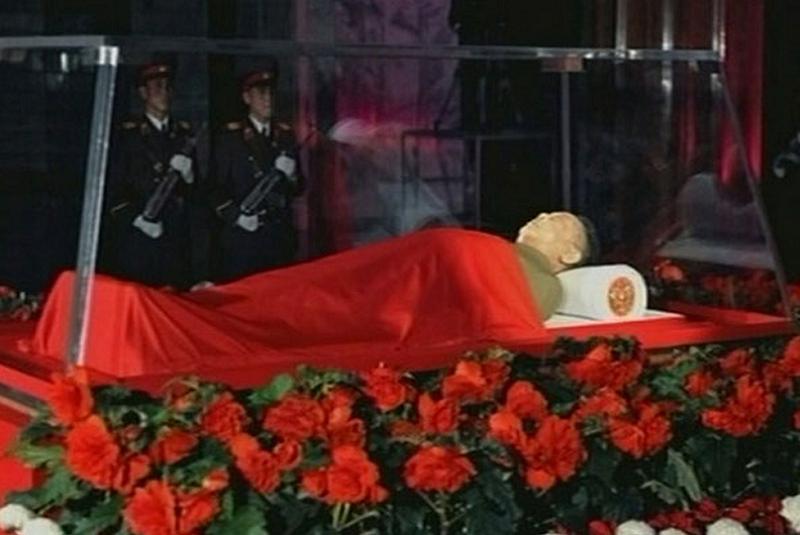 ---
Enjoy this fascinating look at how North Koreans see Kim Jong Il? Then be sure to see our other posts on how North Koreans see America, pollution in China and photographs of life inside North Korea!