It took hundreds of signatures for journalist Carl Von Ossietzky to retroactively win the Noble Peace Prize in Nazi Germany.
Carl Von Ossietzky was a journalist, social activist, and pacifist who was one of the first prisoners the Nazis sent to a concentration camp. His fortitude in the face of Hitler's dictatorship earned him terrible abuse at the hands of his captors. But the world took notice, and while he was imprisoned Ossietzky was nominated for – and won – the Nobel Peace Prize.
Carl Von Ossietzky's Journalistic Beginnings.
Born in Hamburg on Oct. 3, 1889, Ossietzky wasn't a great student growing up. He dropped out of high school and soon after developed a passion for literature and philosophy. These passions coupled with a disapproval of Germany's increasingly militaristic culture led him to a career in journalism.
In 1927 Ossietzky became the editor of the oppositional journal Die Weltbühne, where he published articles warning against Hitler and the nascent Nazi party. In March 1929, Ossietzky published his most daring exposé. Along with fellow Die Weltbühne writer, Walter Kreiser, they released a piece that exposed the secret rearmament of the German military and air force, in direct violation of the Treaty of Versailles which ended World War I.
For betraying state secrets, Ossietzky was charged with high treason and espionage. In 1931 he was convicted, resulting in an 18-month prison sentence.
His arrest and conviction were seen by many who opposed the Reichswehr military as an attempt to silence Die Weltbühne. While Kreiser had fled Germany, Ossietzky believed that staying in Germany and going to prison as a protest was the right thing to do. He was released at the end of 1932 under an amnesty.
It was only a few weeks later, however, that Hitler and the Nazis rose to power. On Jan. 30, 1933 he was appointed chancellor of Germany and the Enabling Act was passed on March 24, giving him the power to enact laws without the involvement of the Reichstag. Subsequently, Ossietzky was arrested again almost immediately. He was detained at the Esterwegen concentration camp in Germany, becoming one of the first concentration camp prisoners.
Von Ossietzky's Imprisonment And Global Recognition.
At Esterwegen, Carl Von Ossietzky was subjected to extreme torture and hard labor. He was consistently deprived of food and developed tuberculosis, potentially due to medical experiments Nazi doctors performed on him.
By 1935, Ossietzky's plight had drawn attention across the globe. Some of the first well-known activists who nominated him for the 1935 Noble Peace Prize included Albert Einstein and the French author Romain Rolland.
The Third Reich, on the other hand, was vehemently against one of their prisoners receiving the award. A Nazi newspaper threatened the Norwegian Nobel Committee, saying that by rewarding this traitor they would be provoking the German people.
The prize wasn't awarded to anyone that year. The committee's official statement was that a peace gesture didn't seem appropriate at the time due to violence going on in Africa and political instability in Asia.
In December of 1935, Time magazine wrote, "For nearly a year the Nobel Peace Prize Committee has been swamped with petitions from all shades of Socialists, Liberals and literary folk generally, nominating Carl von Ossietzky for the 1935 Peace Prize. Their slogan: 'Send the Peace Prize into the Concentration Camp.'"
Ossietzky's Award And Fate
Carl Von Ossietzky set a record, receiving 86 nominations signed by at least 500 people for the Noble Peace Prize.
The decision not to issue an award in 1935 was controversial. Doing so could damage the relationship between Germany and Norway (which Germany later invaded). Two members of the committee even resigned over it. But in 1936 the committee retroactively awarded Ossietzky the 1935 prize, worth $40,000.
By this point, the Nazis had released him to a state hospital, but he remained under constant surveillance and the Nazis were pressuring him to decline the award. Ossietzky resisted the pressure, however, and issued an acceptance speech from the hospital. It read in part:
"After much consideration, I have made the decision to accept the Nobel Peace Prize which has fallen to me. I cannot share the view put forward to me by the representatives of the Secret State Police that in doing so I exclude myself from German society. The Nobel Peace Prize is not a sign of an internal political struggle, but of understanding between peoples."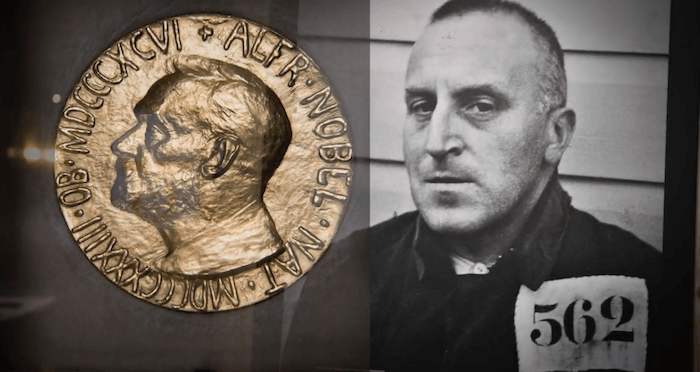 Unfortunately, he wasn't permitted to travel to Oslo to accept it in person. The German Propaganda Ministry publicly stated that he was free to go accept the prize, but it was revealed through secret documents that he was actually refused a passport.
Carl Von Ossietzky died in a Berlin hospital on May 4, 1938 while still in custody.
---
If you found this article interesting, you may want to read about how the Dachau Concentration Camp guards got their comeuppance. Then read about the Iranian man who spread a message of peace and victory before he was executed.