Harsh, hot and familiar to violence, the Danakil Depression and it's bright yellow and orange pools make for hell on Earth.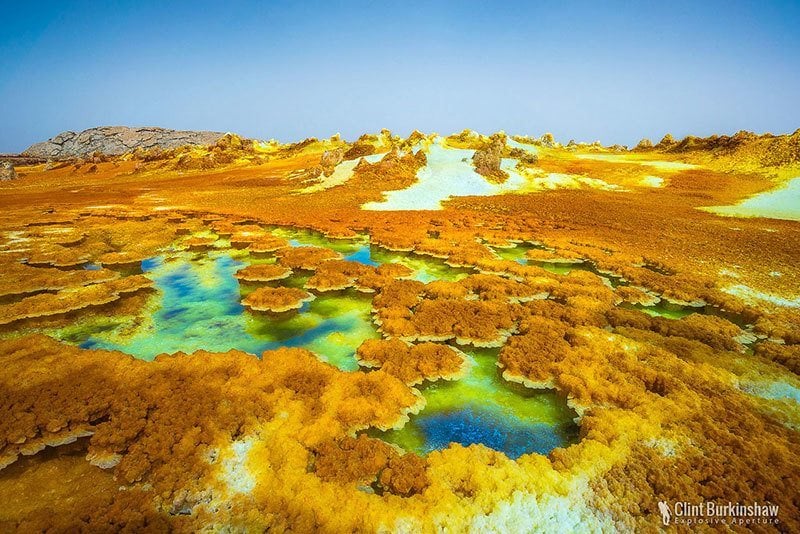 For those who think hell is "real," congratulations: the lair of Beelzebub does exist and can be found in Ethiopia — at least according to National Geographic.
Dubbed the "cruelest place on Earth" by the publication, the Danakil Depression sits deep below sea level (more than 100 meters below at some of its lowest points) in northern Ethiopia's Afar region. Not only is the depression one of the hottest places on the planet, it's also one of the most geologically active: the depression is essentially a molten, acidic, and bubbling expanse of land unlike anything else you've ever seen.
The depression contains a mixed bag of minerals, salt, sulfur, and dissolved iron, all of which manifest themselves in the vibrant combination of yellows, oranges, and reds that make the landscape look equal parts neon and deadly.
Some of the Danakil Depression's pools boast a pH level below 1 (which in terms of acidity sits somewhere between battery and stomach acid), with thin salt crusts frequently disguising underlying pools of deadly acid. Life isn't really a thing here, which means that Danakil is one of the most barren and desolate ecosystems in the world.
What it lacks in life, it gains in geological activity. The floor of the Danakil Depression is covered in basalt flows, shield volcanoes, and cinder cones. In 1926, magma rose to the surface, causing a steam explosion that formed a small maar (a low-relief volcanic crater).
The land surrounding the Danakil Depression was once part of the Red Sea. While the water is gone, salt remains in extraordinarily large quantities, and has proven to be a valuable — and fatal — commodity for locals.
The people of nearby Dallol cut up salt blocks, pack them on camels, and transfer them to nearby cities where the blocks can be sold. It's grueling work, but a familiar way of life for these locals, who have collected salt for more than 100 years. (For more on how the salt is harvested, check out our post on the settlement of Dallol.)
While people do visit the Danakil Depression, it isn't for the faint of heart. With an average daily max temperature of 106 degrees Fahrenheit, the heat is stultifying and made that much worse due to what locals call the "Afar wind," an event in which the boiling breeze makes your skin feel as if it is being burned.
For those undeterred by extreme weather conditions and security threats (many tourists have been murdered or injured while visiting, likely due to salt-related conflicts), the trip to Danakil lacks frills: guests stay in simple lodging and travel on a 4×4 jeep or by camel.
Given the region they're visiting, tourists should only visit the depression in the company of personal armed guards, which makes the trip incredibly expensive for small groups.