At 5'9" in length, this enormous Australian specimen has topped the record books.
Australian researchers digging in the area known as "Australia's Jurassic Park" have found the world's biggest dinosaur footprint yet to be discovered.
According to their findings published in the Journal of Vertebrate Paleontology, the University of Queensland and James Cook University paleontologists found 20 more dinosaur footprints while digging around the Kimberly area in Western Australia.
"There were five different types of predatory dinosaur tracks, at least six types of tracks from long-necked herbivorous sauropods, four types of tracks from two-legged herbivorous ornithopods, and six types of tracks from armored dinosaurs," said Steven Salisbury, one of the lead researchers, in a statement, according to Smithsonian.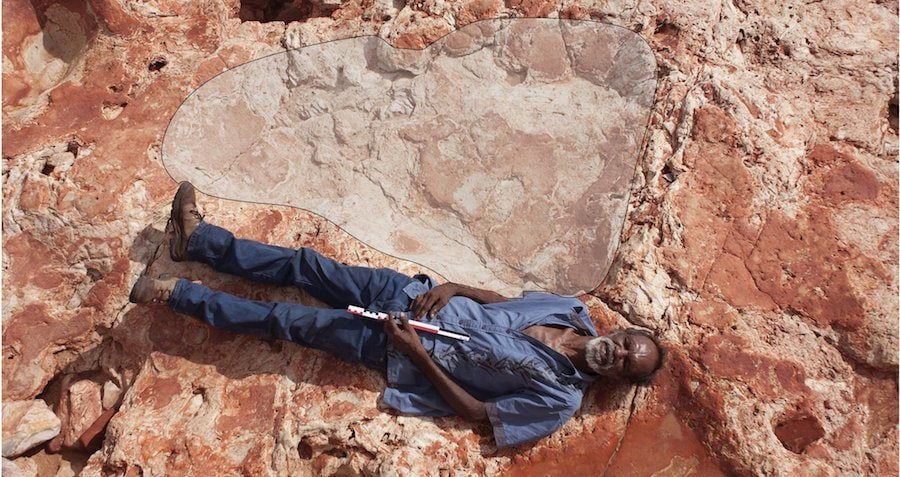 The biggest dinosaur footprint yet discovered is roughly 5 feet and 9 inches in size, making it the same length as the height of the average man. According to Smithsonian, the footprint belongs to a sauropod, the long-necked class of herbivores.
With this and so many other footprints around, Australia recently bestowed National Heritage status on the area after the indigenous Goolarabooloo people informed the national government of the footprints' presence.
The Australian government had planned to construct a gas processing plant there, but the Goolarabooloo fought to preserve the area from industrialization by revealing the pieces of history located on their land. "We needed the world to see what was at stake," said Goolarabooloo "Law Boss" Phillip Roe, according to Smithsonian.
The plans to build the gas processing plant are now canceled.
---
Next, check out the newly discovered dinosaur that looked like a chicken and may have been able to fly, before finding out about the time that researchers first discovered a dinosaur tail with feathers.