Today, Donald Trump continues to claim ignorance with regard to the harm caused by white supremacy movements.
After the violence that occurred this weekend — during which more than 30 people were injured and three were killed at a white supremacist rally in Charlottesville, Virginia — Donald Trump made a statement that people on both sides of the political spectrum took issue with:
"We condemn in the strongest possible terms this egregious display of hatred, bigotry and violence on many sides," he said. "On many sides."
He failed to mention the hate groups responsible for the rally (which was initially spurred in response to the removal of Confederate statues) or to explicitly denounce their message of racism.
His comment on there being "many sides" that needed condemning, suggests that people other than the hate groups were somehow at fault in all of this.
"'Many sides' suggests that there is no right side or wrong side, that all are morally equal," Senator Kamala Harris wrote in a Facebook post. "But I reject that. It's not hard to spot the wrong side here. They're the ones with the torches and the swastikas."
This is actually not the first time that the Trump name has been in the news in connection with a white supremacist rally. For that, we have to go back 90 years.
Trump's father, Fred Trump, was arrested at a Ku Klux Klan rally in New York on Memorial Day 1927.
On that day, approximately 1,000 white-robed Klansmen marched through Queens in opposition to Roman Catholic police.
"Liberty and Democracy have been trampled upon when native-born Protestant Americans dare to organize to protect one flag, the American flag; one school, the public school; and one language, the English language," a flier for the event read.
Fred Trump, who was 23 at the time, was listed as one of the seven men arrested at the rally by The New York Times: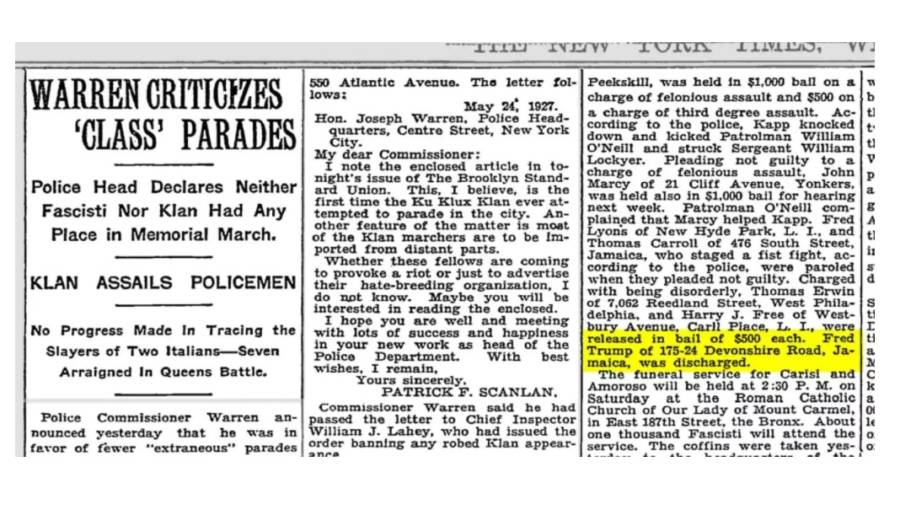 The newspaper's coverage of the arrests said that Trump lived at 175-24 Devonshire Road, Jamaica — an address where the 1930 Census confirmed that Fred Trump Sr. lived with his mother.
The paper didn't clarify what role Trump had been playing in the riot, but says he was detained "on a charge of refusing to disperse from a parade when ordered to do so." Trump was, however, the only person arrested who did not end up being charged with a crime.
When Donald Trump was confronted with this information during his presidential campaign, he chose to deny the facts of the situation rather than acknowledge what had happened and explicitly condemn the KKK.
"He was never arrested," Donald Trump told the Daily Mail in 2015. "He has nothing to do with this. This never happened. This is nonsense and it never happened. This never happened. Never took place. He was never arrested, never convicted, never even charged. It's a completely false, ridiculous story. He was never there! It never happened. Never took place."
Similarly, Donald Trump failed to acknowledge the support of Klan leader David Duke in 2016.
"I don't know anything about David Duke, okay," Trump said. "I don't know anything about what you're even talking about with white supremacy or white supremacists. I don't know, did he endorse me? Or what's going on. Because I know nothing about David Duke. I know nothing about white supremacists."
This was a lie, given that Trump had mentioned Duke, a nationally famous figure, by name in the past.
He had another opportunity to condemn Duke's platform this weekend — which he did not take.
"This represents a turning point for the people of this country," Duke said in a video uploaded to Twitter by Indianapolis Star photojournalist Mykal McEldowney. "We are determined to take our country back. We are going to fulfill the promises of Donald Trump. That's what we believed in, that's why we voted for Donald Trump. Because he said he's going to take our country back. That's what we gotta do."
If Donald Trump still "knows nothing" about white supremacists, it's probably time he started learning.
---
Next, take a look at these disturbing historical photos that reveal what it's like to grow up in the KKK. Then see how a black man convinced 200 racists to leave the KKK by befriending them.