Ekaterina Lisina has the longest legs among women in the world, is the world's tallest model, and as far as anyone can tell, has the biggest female feet in Russia.
Ekaterina Lisina holds the Guinness World Record for having the longest legs among women. According to the institute, her left leg measures 52.3 inches while the right one is an even 52 inches long.
The model stands 6'9″ tall, and realized rather early that her height would be one of her biggest assets. With a successful career in basketball where height is of the essence, the young Russian's foresight allowed her to find favor in both sports and modeling industries early on.
Ekaterina Lisina owes it all to her family's genetics, as not a single member clocks in under six feet. In addition to her 6'6″ brother, 6'5″ father, and 6'1″ mother, Lisina's son is already much taller than his peers — and he hasn't even reached puberty.
According to Inquisitr, however, glaringly towering above most everyone else wasn't always a plus. It's not exactly the most welcoming trait for shy, insecure teenage boys — though it has given her ample opportunities outside of school, which she successfully harnessed into a lucrative identity.
Ekaterina Lisina's Early Life
Born in Penza, Russia on October 15, 1987, Yekaterina Viktorovna Lisina holds yet another Guinness World Record directly attributed to her long-legged genetics. According to Metro, her 6'9″ height officially makes her the world's tallest model. As far as anyone can tell, she also has the biggest female feet in all of Russia — at size 13.
Her father, Viktor Lisina, recalled noticing his daughter's glaringly long legs as soon as she was born.
"When we were picking up Ekaterina from the hospital, we noticed straight away that her legs were really long and her body mainly consisted of them," he said. "[She] got them from her parents."
The 31-year-old record-holder has since developed an entire ethos around her body, in relation to what it has allowed her to accomplish. Doors have opened — and she isn't shy about using those legs to walk through them.
"God blessed me with a fabulous height so that I can reach the stars," she said.
The Olympic Athlete
"When I was 16 I was already 6 foot 6," Lisina said. "I played basketball professionally since I was 15."
For her brother Sergei, what Lisina accomplished before turning 30 years old — playing professional basketball, representing her country at the 2008 Beijing Olympic Games, using her height to start a modeling career — has been nothing short of inspiring.
"Am I proud of her?" Sergei asked rhetorically. "Of course, I am. She realized quite quickly that [her height] gave her a huge advantage in a sport, which she started doing professionally almost straight away."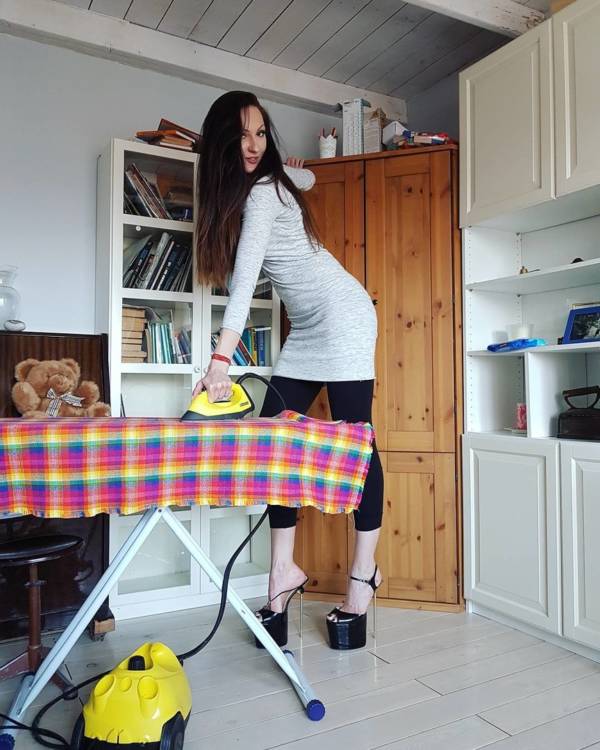 It was during her teenage years when puberty accelerated her growth rate that Lisina realized she'd be invaluable on the basketball court — and that putting on a jersey might be a smarter play than making it on the catwalk.
As it turns out, she was right. Ekaterina Lisina's presence on the Russian national basketball team wasn't just effective due to her height, however, as she seemed to have serious skills of her own. In 2006, she was part of the silver medal team at the World Cup in Germany. Two years later she was on the Olympic bronze medal team.
Since then, Lisina has shifted gears from sports to fashion — a pivot that took her quite a while to accept or even consider. She wasn't always sure of her beauty, but finally fully embraced it in her mid-20s.
The Long-Legged Model
"I only really realized I was attractive when I was about 24 years old," Ekaterina Lisina said. "I always had an athletic body and was always much taller than everyone else my age, but then I realized that being tall is very attractive."
Lisina has certainly succeeded in going from that realization to an active modeling career, and getting herself enshrined in the Guinness Book of World Records.
"I got a bronze medal in 2008 in Beijing," she said. "When I quit basketball I wanted to take a break, I needed to recover. Then I went back to my dream."
This dream of modeling has since become a reality. Winning the title for the longest legs among women required her to get measured by two independent professionals — a doctor and a seamstress — as per the Guinness guidelines.
Her social life as a young, exorbitantly tall girl was often plagued by bullies and distressing encounters. Lisina's fundamental reason for seeking out these Guinness titles is that she wants "to be an inspiration to girls who are not very confident."
"It was a pretty difficult time at school, being so tall," she said. "I'd have to call my older brother to communicate with the boys."
Though she always felt comfortable and secure at home, Lisina was pretty self-conscious in the outside world. Even to this day, she struggles to find pants that actually fit her, feminine shoes in her size, sitting on a standard airplane seat, or squeezing into a car.
There are, of course, a few benefits.
"I can walk much faster than other people," she said. "I'm really happy to have the longest legs in the world. The first time I heard this news, I was driving a car and I almost crashed it!"
Life For Ekaterina Lisina From Such Great Heights
"All my life I had people looking at me in the street," Ekaterina Lisina told The Sun. "In Russia they don't ask for pictures or anything, they just stay silent and stare."
"It can be funny when you are sitting and someone comes up to you and doesn't expect you to be so tall, then I stand up and I can see the reaction on their faces."
As it stands, Lisina is an Olympic medal-winning, Guinness World Record-holding, professional model with over 1.2 million followers on her Instagram.
In the end, the long-limbed Russian made her lifelong dream come true — after being awarded one of the most prestigious medals in sports one could possibly hope to win.
---
After learning about Ekaterina Lisina, the tallest model in the world, read about the world's most well-preserved mummy, a 2,000-year-old Chinese woman named Lady Dai. Then, learn about the Greenland shark, the world's longest-living vertebrate.