The Er Wang Dong cave system is really huge. Like 500,000 square feet of huge. So huge it has its own weather system huge.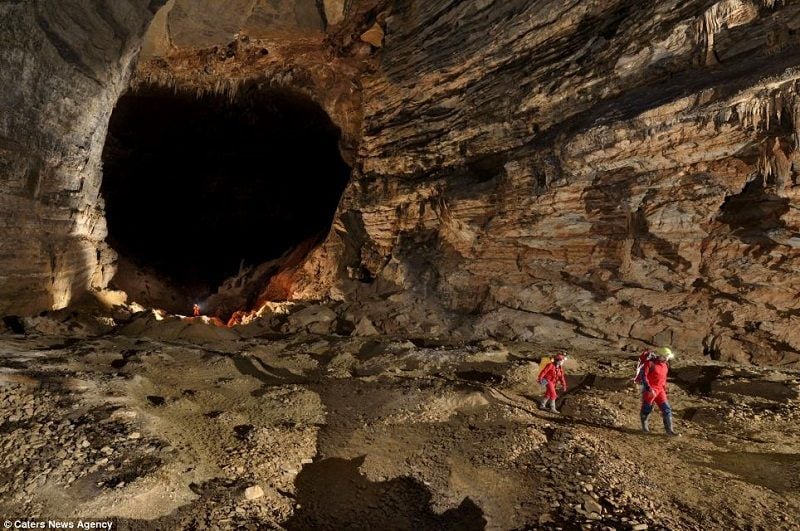 The Er Wang Dong cave system is huge. Really, really huge. And until recently, the massive system of caves had yet to be discovered.
A group of expert cavers and professional photographers recently explored the Er Wang Dong cave system for the first time during a month-long expedition to the Chongquing province in China. Located near the rural village Ranjiagou, one can enter the huge, complex cave system by walking, swimming or abseiling into the caves.
While some of the surface-level caves have been used by nitrate miners in the past, the 15-person crew discovered many new caves that had never before seen the light of day. The cavers were particularly excited to discover that some of the caves were so massive that they contained their own weather systems, complete with wispy clouds and thick fog. The clouds occur within the caves when humidity rises into the cavern's colder air.
The clouds were so thick in places that they completely obscured the caves' ceilings. First-ever photographs showcase the minuscule cavers navigating unbelievable caverns overgrown with lush vegetation, trees and brush in a scene that looks more like a mystical destination than it does a natural feature of the environment.
Cavers also discovered Cloud Ladder Hall, a huge cathedral-like space within the cave system that measures more than 500,000 square feet with a roof at least 250 meters high. Like some of the other large caves, Cloud Ladder Hall was full of thick fog-like clouds that reduced visibility and gave the massive space an otherworldly feel. The cave is one of the largest chambers in the entire world.
During the expedition, cavers noted dangerously high water levels on multiple occasions, especially when it rained in surrounding towns. Researchers note that eventually many of the caves will become dangerous and impassible in light of rising water levels. Nevertheless, the size and complexity of the Er Wang Dong system can't deter the 15-person team from continuing to explore the area.