Here's what famed animal experts have had to say about why shooting Harambe the gorilla was the Cincinnati Zoo's only option.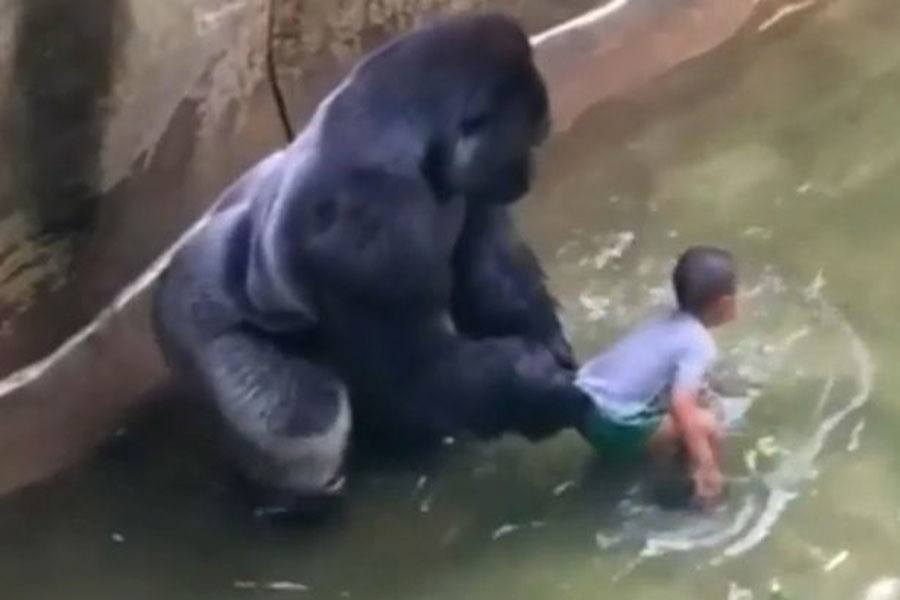 Since Harambe, a silverback gorilla living at the Cincinnati Zoo, was shot and killed after a boy went into his enclosure last weekend, the court of public opinion has declared the gorilla's death an outrage.
Animal experts, however, are largely telling a different story.
Harambe spent ten tense minutes standing over the boy, even dragging him through the water surrounding his pen, before he was shot by zookeepers. No tranquilizers were used to subdue the animal.
But almost across the board, animal experts agree that Harambe's death was an unavoidable tragedy:
Jack Hanna
While speaking to CBS News after the incident, Jack Hanna, Director Emeritus of the Columbus Zoo and Aquarium and longtime television presenter, said "I agree 1,000 percent they made the right decision. A human being is alive today because of the decision the Cincinnati Zoo made."
Jeff Corwin
Animal Planet star Jeff Corwin had some harsh words for the boy's parents. "You should be watching your kids in a zoological environment. When you go to these places, the Zoo is not your babysitter — you have a responsibility," he told CNN, adding that the situation had reached "that point of no return."
Jane Goodall
Famed gorilla expert Jane Goodall wrote Cincinnati Zoo director Thane Maynard a heartfelt email, expressing her sympathies for the beleaguered zookeeper.
"I feel so sorry for you, having to try to defend something which you may well disapprove of," she wrote. Goodall also asked whether or not the other gorillas were being allowed time to grieve the loss of their companion.
Thane Maynard
Maynard, an established wildlife author and television presenter in addition to serving as the Cincinnati Zoo's director, defended the zoo's decision to not tranquilize the gorilla in a statement on Tuesday. He called Harambe "a dangerous animal," and explained that "waiting and shooting it with a hypodermic was not a good idea."
Jerry Stones
Jerry Stones, the zookeeper who raised Harambe from birth until he was transferred to Cincinnati, was heartbroken to hear that the gorilla was shot. "He was like one of my sons. He was beautiful and a true character — so mischievous and not aggressive," said Stones. However, Stones also acknowledged that the "child was in danger."
Ian Redmond
Redmond, chairman of the Gorilla Organization, a UK-based charity and conservation group working largely in Africa, thinks there may have been alternatives to shooting the gorilla.
"When gorilla or other apes have things they shouldn't have, keepers will negotiate with them, bring food, their favorite treats, pineapple or some kind of fruit that they don't know and negotiate with them," he told CNN. "I don't know if that was tried or people thought there was too much danger but it does seem very unfortunate that a lethal shot was required."
Chris Brown
Australia veterinarian, author, and television presenter Chris Brown took to Facebook to argue that the zoo's non-lethal options probably wouldn't have been prudent and the zoo can't be blamed for making the choice they did, while also calling for better parental supervision of children at zoos.
---
Next, get the details on the bear killed for merely scratching a woman's arm in Colorado recently. Then, see photos of the at a popular tourist attraction.