Each winter, trees piled high with snow are sculpted by icy Siberian winds into magnificent humanoid figures.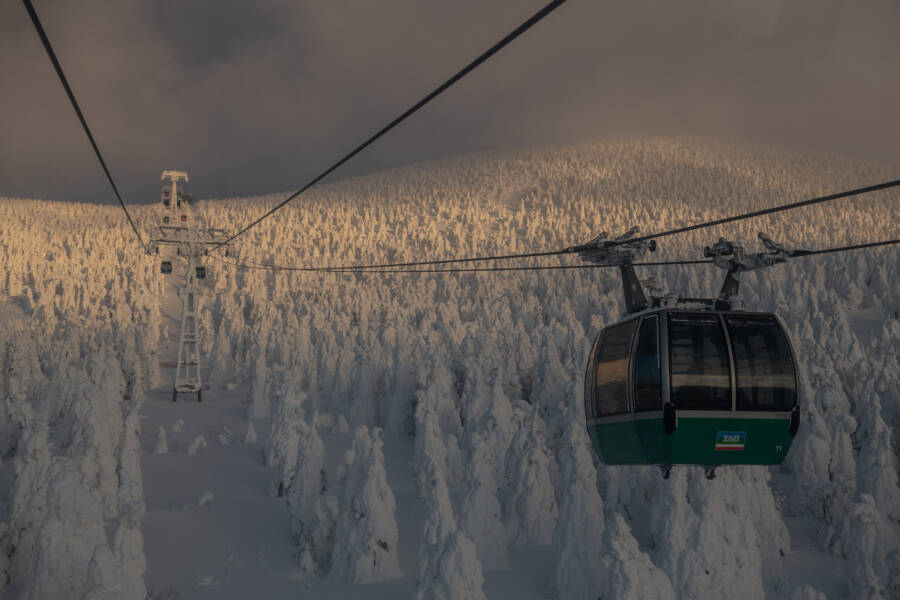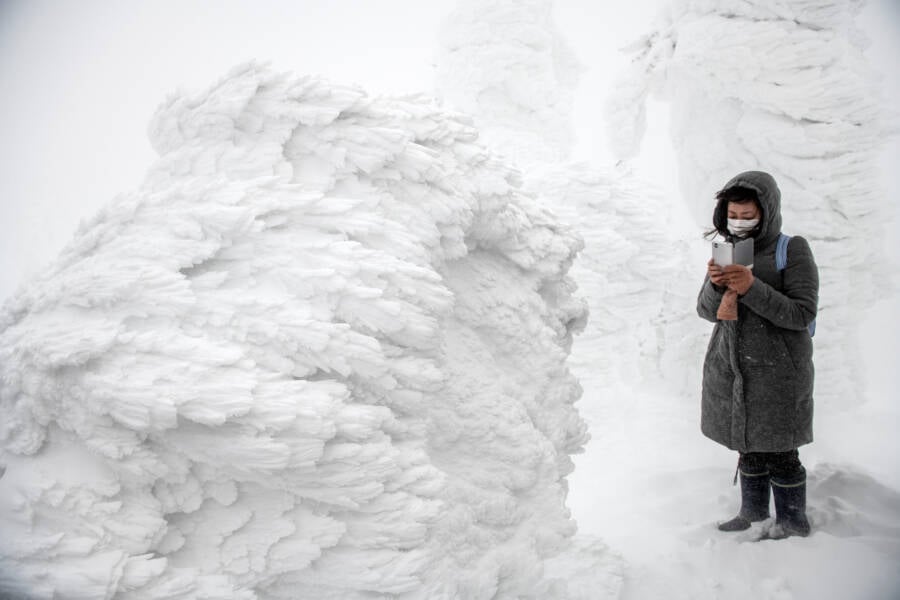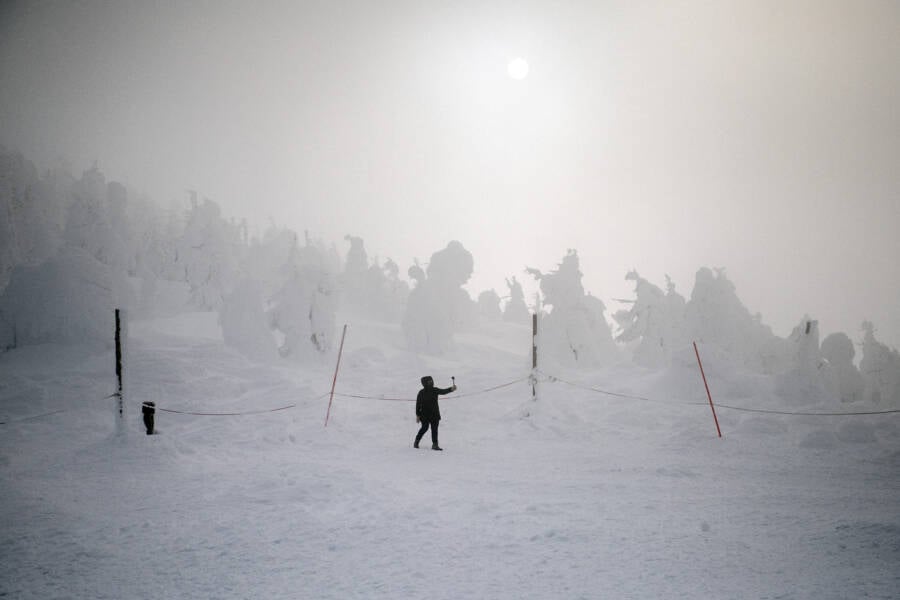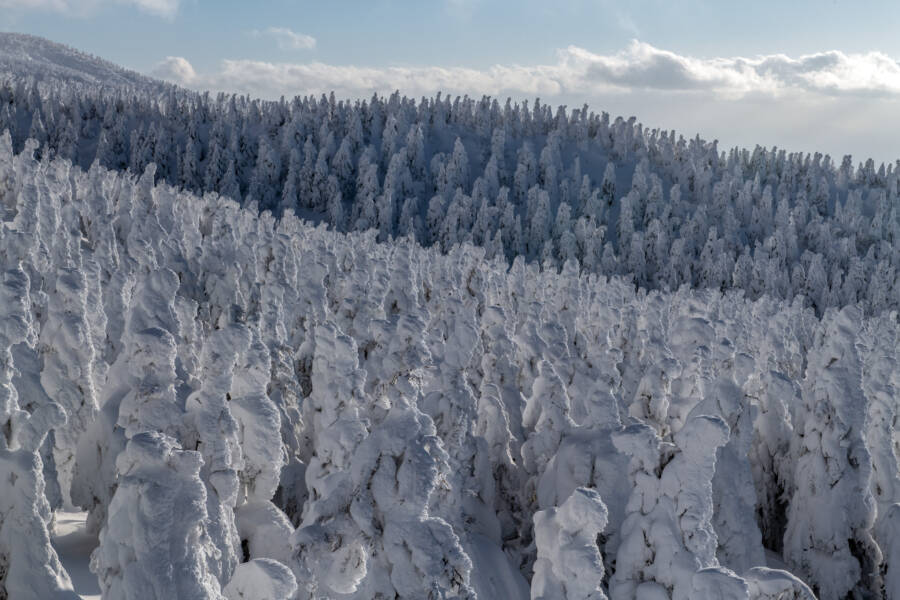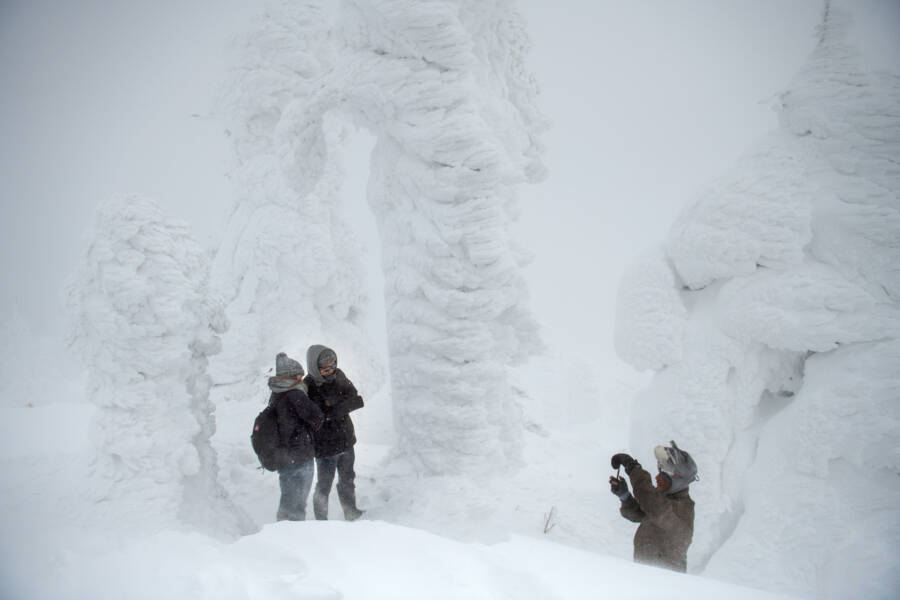 alala_p/Wikimedia Commons
The magical frozen phenomenon that occurs on top of Japan's Mount Zaō goes by several names: Juhyou, snow monsters, or ice monsters. But no matter what it's called, this mountainside of natural ice sculptures is an inimitable sight.
These Japanese snow monsters are actually the result of snow and ice. After the mountain's trees are laden with snow, icy winds sculpt them into humanoid-figures that appear to rise from the ground, delighting sightseers and locals alike.
While they are not truly monsters at all, the Juhyou — which translates to "frost-covered trees" — never fails to excite the imagination. Each year, people gather to revel in their fantastic shapes. But climate change is leading these fantastical "creatures" toward extinction.
How Do These Japanese Snow Monsters Come To Life?
In order for these looming, Dr. Seuss-looking structures to exist, atmospheric conditions must be just right. The Juhyou can appear only when frigid winds coat snow-laden trees with freezing condensation in several cycles. Then, the evergreens transform into tall and twisted characters and some truly live up to their description.
From approximately January to mid-March, Siberian winds blow across the North Japan sea. They zip over the western plains of Yamagata and pummel the forested mountainsides. In the Zaō area, six to ten feet of snowfall is quite common.
Back in the early 20th century, Juhyou stretched from as far north as Hokkaido, the northernmost island, clear down to Nagano, which is 150 miles northwest of Tokyo. Today, Yamagata Prefecture is the farthest south you'll find Juhyou because of climate change.
Roughly 80 miles of Japan's landscape that once hosted snow monsters is now too warm for them.
Experiencing Juhyou Is Not For The Faint Of Heart
For the true outdoorsman (or woman), hiking all the way through the mountains to experience this phenomenon up close is nothing short of a treat. Many make a pilgrimage to get spectacular selfies with the Japanese snow monsters each year.
Visitors stay at the popular hot spring and ski resort on the mountain, Zaō Onsen, which sits 2,600 feet above sea level. It is the largest skiing resort in Japan's Tohoku region and known for its population of Japanese snow monsters.
Of course, the warmest way to check out the snow monsters in person is from a cable car suspended high above the mountains. About 77,000 visitors used the cable car system — or ropeway — in 2019. That number is up from the 47,000 users just three years earlier.
It stands to reason that the most thrilling way to experience this army of Japanese snow monsters is to walk among them. However, the warming planet may prevent future generations from doing just that.
Climate Change Is Killing The Snow Monsters
The Zaō Mountains, which are home to these wonders of nature, is actually a cluster of volcanoes on the border between the Yamagata and Miyagi Prefectures. They are also the most active volcanoes in northern Honshu, Japan's largest and most populous island. Thus, this area's landscape changes dramatically with the seasons.
Like many other places on Earth, the effects of climate change are having some unwanted effects on this finicky region. Since the early 20th century, average temperatures in Yamagata between the months of December and March have risen by about 3.6 Fahrenheit.
Dr. Fumitaka Yanagisawa, a professor of geochemistry who teaches at Yamagata University, worries about the longevity of the Juhyou because of these warming temperatures.
"I am very worried about greenhouse effects," he said. "By the end of the century, the Juhyou will disappear from Earth."
Indeed, the Juhyou are becoming smaller and less impressive as temperatures continue to rise. Tourism officials are worried that visitors who arrive to see snow monsters they've heard of in the past will leave disappointed.
Hachiemon Ito, a local hotel owner, also laments the change. "What you see today, we would not describe as Juhyou in the past... they used to be so much more beautiful."
Ito also remarked that the town hoped to survive on the tourists there for the hot springs and local food.
The slow extinction of the Japanese snow monsters means not just the loss of a whimsical natural phenomenon, but also a danger to the economy it supports. It seems as though the fate of the Juhyou is yet another reason why we need to take the threats of climate change more seriously.
---
After this look at the fantastical Juhyou Japanese snow monsters, take a virtual tour of igokudani, the Japanese park where snow monkeys simmer in a hot tub. Then, find out what it's like inside the Swedish ice hotel, a resort constructed completely out of snow and blocks of ice.