Joe Fig makes art of artists making art. Have a headache yet?
The artist's studio is akin to the scientist's laboratory. It is a space for ideas to take physical form; it is a place for innovation and–pending the occupant's mental state–alchemy. It is also deeply personal, simultaneously reflecting and shaping the artist's creative process. Knowing this, American sculptor Joe Fig utilized his own talent to create miniature dioramas of famous artists' studios and workspaces, recreating in great detail whole rooms in which they allowed their genius to germinate.
The result isn't unlike a scene from "Inception", but this really hits home when you imagine Fig sculpting the diorama of himself while in his studio–while physically standing in the very studio he's recreating in miniature (see below). Have a headache yet?
Here is Fig's diorama of his own workspace, where he sculpts himself consulting photos for a project.
Here we observe the interior of abstract expressionist Jackson Pollock's paint-speckled garage, where the affectionately nicknamed "Jack the Dripper" created masterpieces such as Convergence and Full Fathom Five. Not only does Fig capture the physical likeness of each artist and their space, but he must also recreate tiny paintings and other classic works shown within the spaces, a true testament to his patience and attention to detail.
Ross Bleckner's studio space has the distinction of being located in a home once owned by Truman Capote. Bleckner purchased the home in 1993, and has been adding square footage (and a separate studio) to it ever since. A master of symbolic imagery, Bleckner says, "The experience of making a painting is very important to me—its physicality and its visceral connection to an engaged truth, which is determined by the reference to how an idea accords."
Chuck Close is well-known for his massive scale portraiture. Close has prosopagnosia, or face-blindness, and also suffered a paralyzing spinal artery collapse in 1988, but still creates commissions for celebrities, and produces pieces that are in high demand by many museums.
Also part of the abstract expressionist movement was painter and sculptor Willem de Kooning, who is best known for his Woman series. While de Kooning no doubt saw Picasso as an influence, art critics later noted that Picasso also mirrored de Kooning's signature style in some his later works.
The somewhat controversial nature of Eric Fischl's work seems to be of no consequence in this rendering of his studio, which he shares with his wife and fellow artist April Gornik.
Most will recognize Henri Matisse as a master of the brushstroke, but in the 1940s he started working almost exclusively in cutout sheets of painted paper, arranging shapes and forms into aesthetically pleasing and high-contrasting designs.
Known as the patriarch of modern sculpture, Romanian Constantin Brâncuși often worked in a style that some have considered "overly-abstract". Nonetheless, Brâncuși has sold pieces for upwards of $37.2 million, and has sculptures in museums around the world.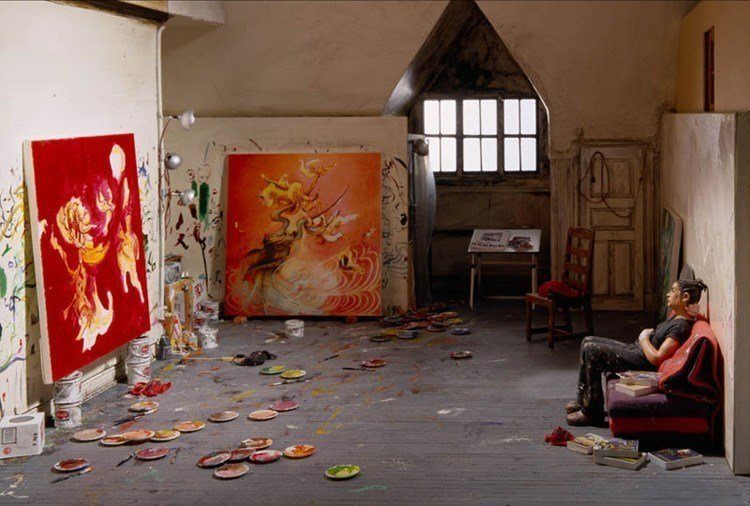 Inka Essenhigh in her New York studio, where she's been creating works of stylistic pop surrealism. She's been immersed in the art scene since the early 1990s and says, "Lately, in my studio, I'm thinking about paintings that I want to live with." She is married to fellow artist Steve Mumford, also sculpted below.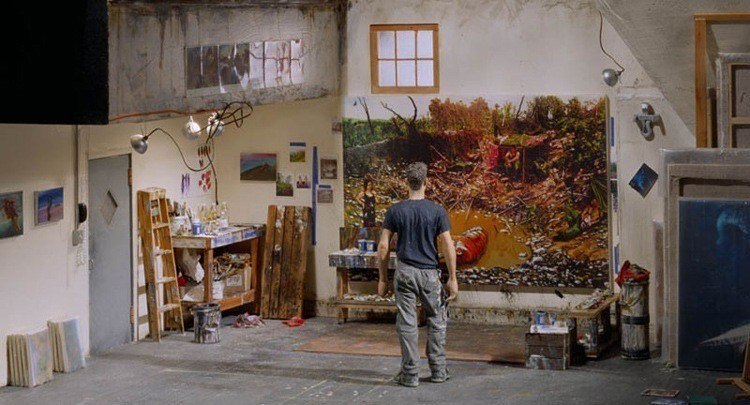 As an artist interested in travel and war, Steve Mumford has spent quite a bit of time in Iraq and Guantanamo Bay, sketching portraits of life on a battlefield. These sketches would become paintings of often intense realism, where he feels that he can make a connection with how those immediately involved in war are affected by it.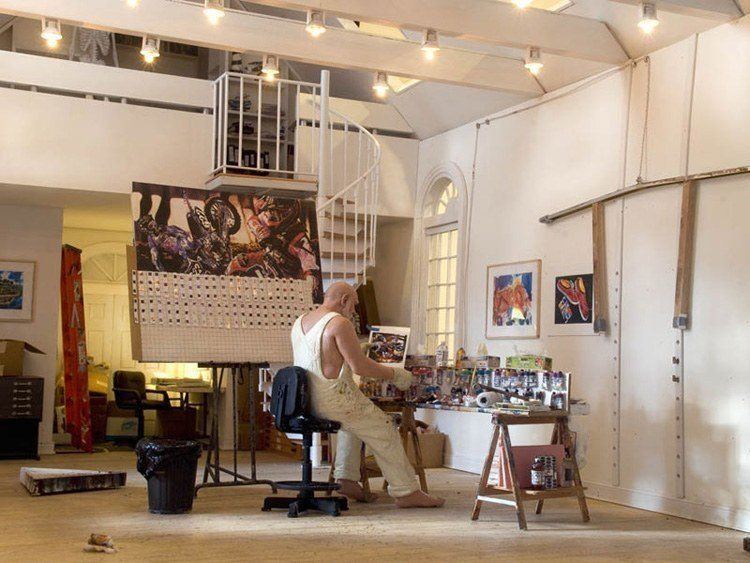 Malcolm Morley discovered art during a short stint in prison, and has since achieved great success as a painter in the super-realist style, as well as abstract expressionism and post-pop. For the realism, he grids off a canvas and focuses on small areas at a time; a common practice to ward off the feeling of being overwhelmed by the vast detail needed in this genre. One could reason that this is why his studio is more organized than most.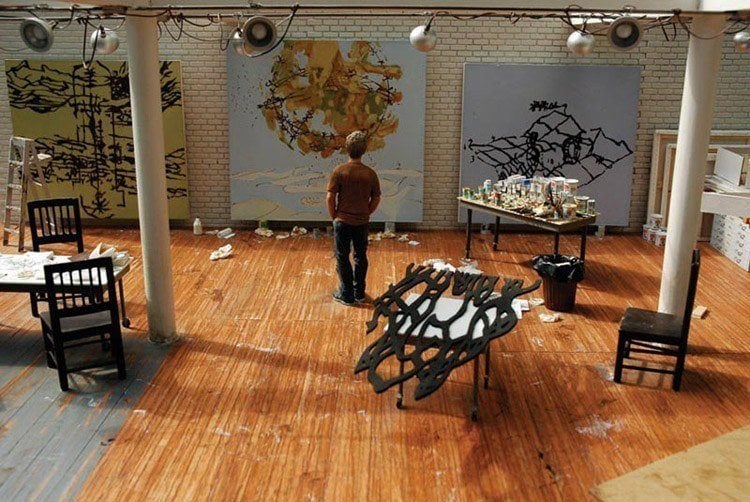 Quite a bit of London-born artist Matthew Ritchie's work starts out with drawings, even though he is recognized as a painter. Regarding his process, Ritchie states that he "[starts] with a collection of ideas…and [draws] out all these different motifs, and then [lays] them on top of each other. So I have piles of semi-transparent drawings all layered on top of each other in my studio and they form a kind of tunnel of information."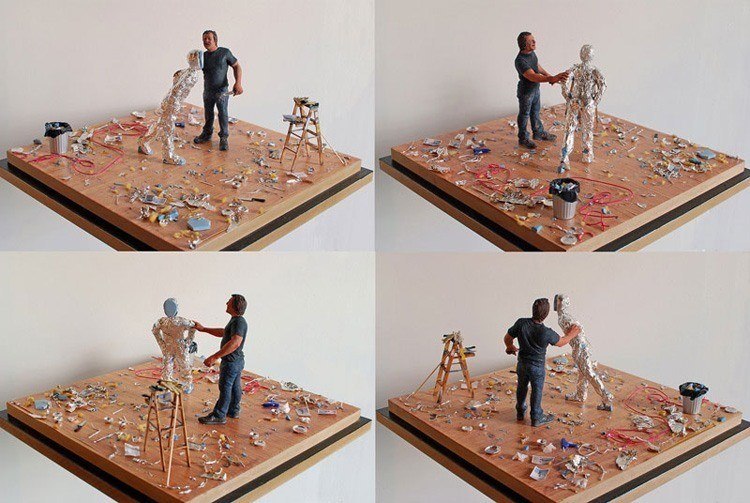 First gaining popularity as a found-object sculptor, contemporary artist Tom Friedman makes us question our ideas of perception and logic, often in a humorous or inventive way. Using many different objects means a fairly cluttered workspace. He currently works from his studio in Newton, Massachusetts.