"Koko touched the lives of millions as an ambassador for all gorillas and an icon for interspecies communication and empathy."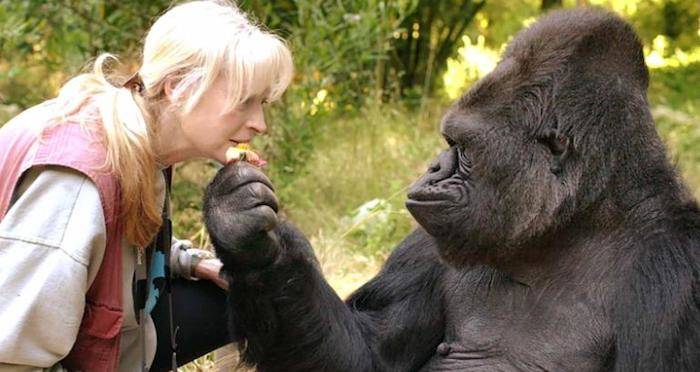 One of the world's most famous animals, Koko the Gorilla, died in her sleep at the age of 46 on June 19 in Woodside, California.
"The Gorilla Foundation is sad to announce the passing of our beloved Koko," the non-profit that cared for Koko announced in a statement. "Her impact has been profound and what she has taught us about the emotional capacity of gorillas and their cognitive abilities will continue to shape the world," the foundation said.
Koko – originally named Hanabiko, Japanese for "fireworks child" because she was born on July 4 – was born in 1971 at the San Francisco Zoo.
The western lowland gorilla was chosen as an infant to work on a language research project. Animal psychologist Francine Patterson started teaching Koko sign language in 1972 for a thesis project, which became part of a bigger Stanford University project in 1974.
Koko eventually learned and signed about 1,000 English words and in doing so bridged an gorilla-human communication gap that fascinated and touched millions of people.
She appeared in many documentaries over the years and made the cover of National Geographic twice. The first, in 1978, features the gorilla taking a photo of herself in a mirror. The second from 1985 shows Koko cradling a small kitten.
Koko displayed and communicated a range of emotions, from glee and joy to sadness. In 1984, the gorilla famously demonstrated her emotional depth when she expressed genuine grief after her pet kitten Ball (which she asked for as a Christmas present) was hit by a car and died. Koko whimpered upon hearing the news and video footage showed her signing the words for cat, cry, sorry, and Koko-love after Patterson asked, "What happened to Ball?"
Celebrity encounters included a 2001 video with Robin Williams, in which Koko is seen trying on the comedian's glasses and goofing around with him:
In 2016, Flea from the Red Hot Chili Peppers gave Koko his bass to play – not a terrible challenge for the animal, who learned to play the recorder in 2012.
The Gorilla Foundation, established by Patterson in 1976, said it will be honoring Koko's long legacy with a sign language app featuring the famed animal.
"Koko touched the lives of millions as an ambassador for all gorillas and an icon for interspecies communication and empathy," the foundation said in a press release, adding, "She was beloved and will be deeply missed."
---
Next read experts' opinions on the death of Harambe the Gorilla. Then read about the Tardigrade, the world's most resilient animal.