With ever-changing white sandy beaches and turquoise-blue ponds, it's hard to believe that Lençóis Maranhenses National Park really exists.
At the northeastern tip of Brazil lies a sandy oasis that transforms with the seasons: Lençóis Maranhenses National Park.
In the winter, the stark white-sanded park — which when translated from Portuguese literally means "bedsheets of Maranhão," the state where the park resides — resembles more of a harsh desert than a tropical wellspring.
Once the rainy season takes over in the summer months, the 600-square-mile expanse becomes a seemingly endless range of sand punctuated by turquoise-blue pools. Like Canada's Spotted Lake, it's hard to believe that this isn't the product of some Photoshop alchemy.
What's behind the park's shifting appearance? Wind and tidal patterns.
Two nearby rivers, the Parnaíba and Preguiças, carry sand toward the northern coast of Brazil, where they deposit thousands of tons of sediment. During the dry season, tides and swift winds whip this sediment in the opposite direction, ultimately moving the dunes further inland and creating the carefully sculpted dunes that have made the park a popular travel destination.
[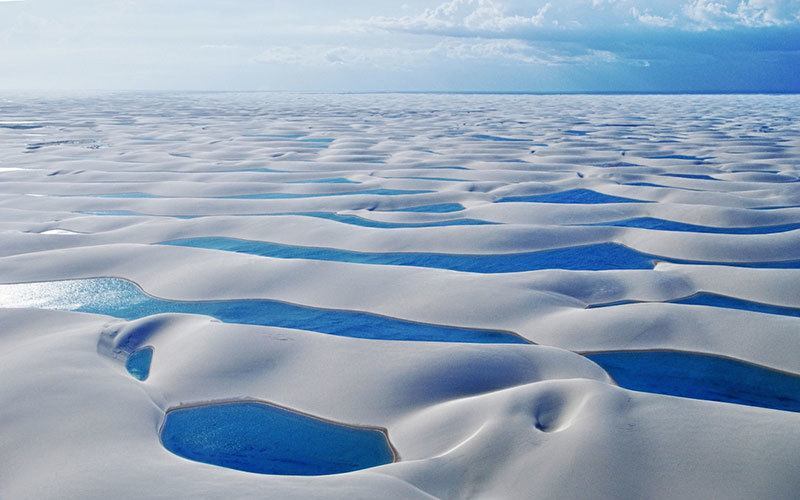 [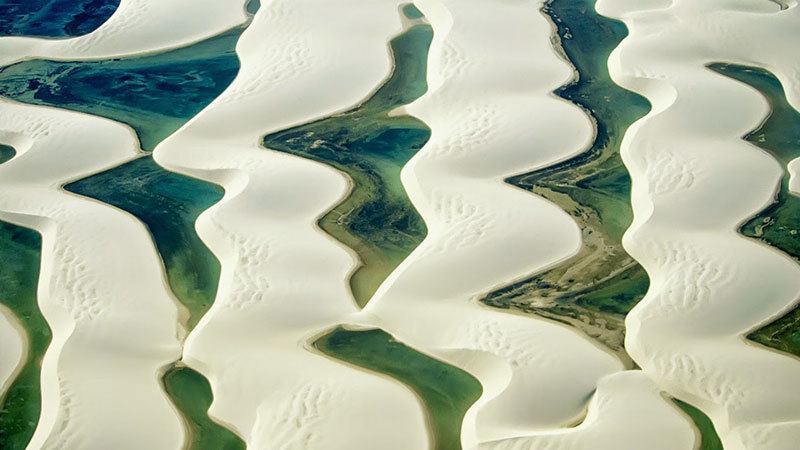 Once the rainy season hits in the summer months, fresh water fills in the spaces between the dunes, since an impermeable rock layer beneath the sand prevents the water from seeping into the earth. The water forms a stunning collection of ponds, which range from small puddles to lagoons that are up to 300 feet long and 10 feet deep.
Despite being filled with rainwater, the aqua-blue pools often become a seasonal home to fish, due either to the lagoons' interconnection with nearby rivers, or the biology of the fish species themselves. Wolffish, for example, burrow deep within the dunes and survive on the damp mud during the dry season, but spring to life — and the surface — during the rainy season.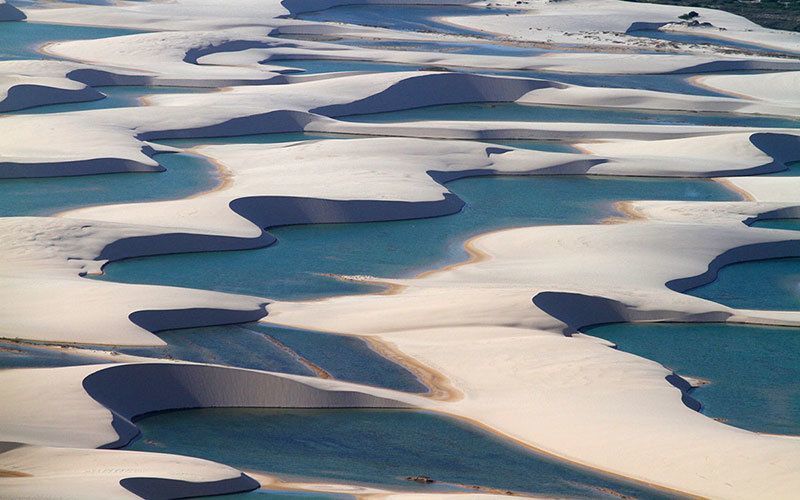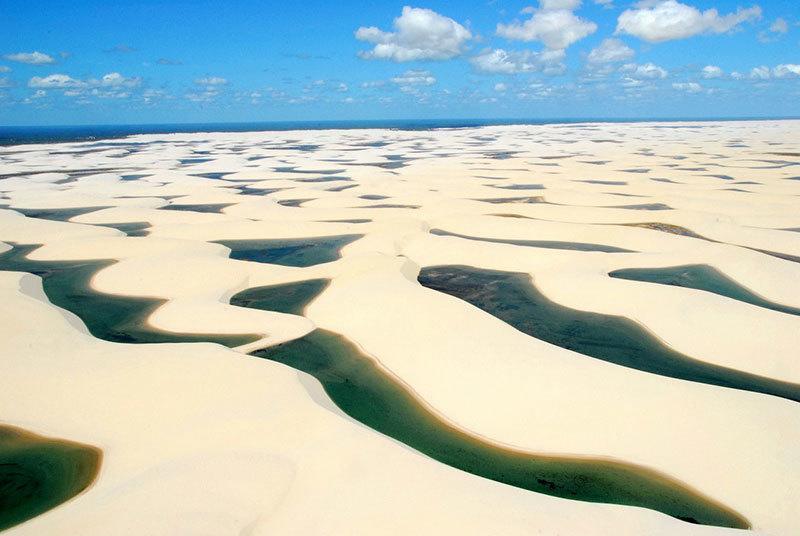 Located in Brazil's Maranhão State, Lençóis Maranhenses National Park attracts tens of thousands of visitors each year, many travelling from July to September, when the blue lagoons are fullest. While the area is still relatively remote — a highway was paved a little over a decade ago — the Lençóis Maranhenses National Park offers a variety of sightseeing trips and fun activities.
If you're thinking of taking a trip to the desert-but-not-quite-a-desert destination, Smithsonian Magazine recommends that you fly into São Luís, Maranhão's capital, and then either book a tour or take public transportation to Barreirinhas, a town located just outside of the park.
There, you can enter Lençóis Maranhenses via jeep, and tour the park with a guide (otherwise it's easy to get lost). The park's website recommends that visitors stay for at least two days.