From 1989 to 2003, Liberia collapsed into a devastating civil war which claimed over 250,000 lives, displaced millions and destroyed what could have been a prosperous economy. At a time when governance was weak, security had ruptured and societal norms had lost their meaning, sexual violence became a widely-used tool of warfare: the UN estimates that during the conflict, 75 percent of Liberian women were raped, the majority of whom were under the age of 18.
Violence against women extended beyond rape, and included sex slavery, forced stripping and marriage to combatants, with a secondary economy forming around the exchange of aid, employment and other goods for sexual favors. In some cases, child soldiers–a sadly common sight in the Liberian civil war–were forced to rape their mothers, sisters and grandmothers as a form of "initiation". Given the extent to which women in Liberia bore the intimate costs of war, it's not surprising that women were instrumental in bringing an end to the protracted conflict.
The Women's Peacebuilding Network forced warlords to make a deal with Liberian president Charles Taylor, which brought a formal end to the civil war. But when combatants returned from the battlefields, the war didn't really end; rather, it was carried out in a more familiar, private and social terrain: the power dynamic between men and women. Sexual violence against women has persisted, virtually to the point of normalization.
A number of local and international actors have made efforts to raise awareness about the criminality of rape and sexual violence, and provide health services to their victims. Nevertheless, sexual violence consistently tops monthly police crime listings in Monrovia, the Liberian capital.
That's not to say that the Liberian government as a whole doesn't take the issue seriously, or that high reports of sexual violence means that nothing is changing. It could be indicative of the fact that more women feel comfortable coming forward about an attack, which is progress.
Besides that, President Ellen Johnson Sirleaf has made addressing and solving the problem of sexual violence a key tenet of her presidency, and since the war's end the Liberian government has issued a National Action Plan to End Gender-Based Violence with the UN; expanded (and made gender neutral) the definition of rape, and created a separate court with exclusive jurisdiction over sexual offenses. However, funding and capacity issues have raised questions about the efficacy of these developments.
Given the area's low literacy rates and access to television or internet, many actors have chosen to install graphic illustrations as part of their awareness campaigns. The following photos show the attempts of numerous actors to address the problem of sexualized and gender-based violence in a post-war region.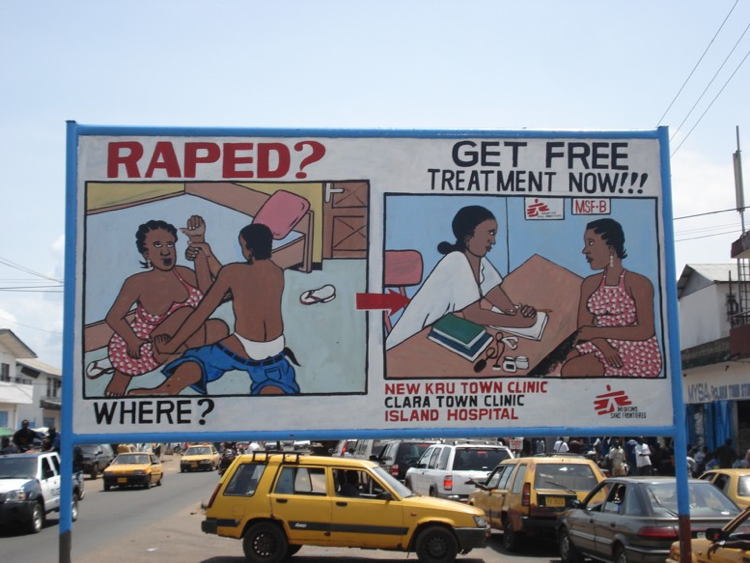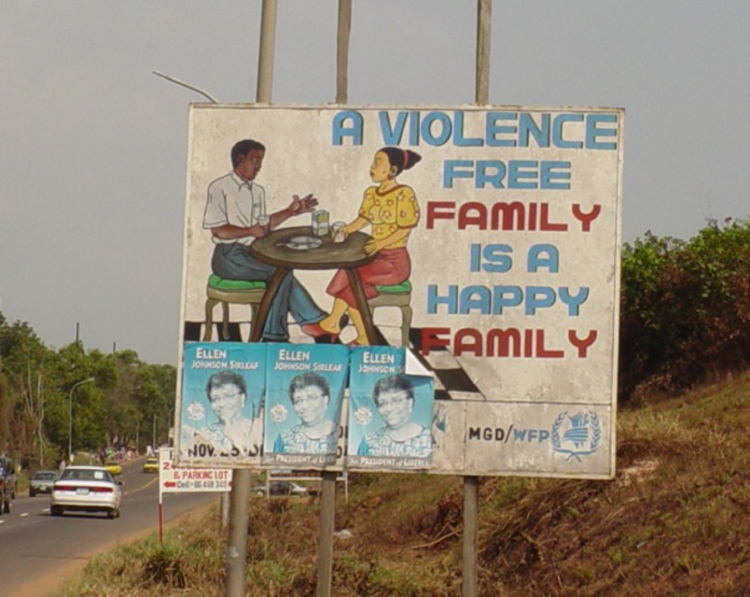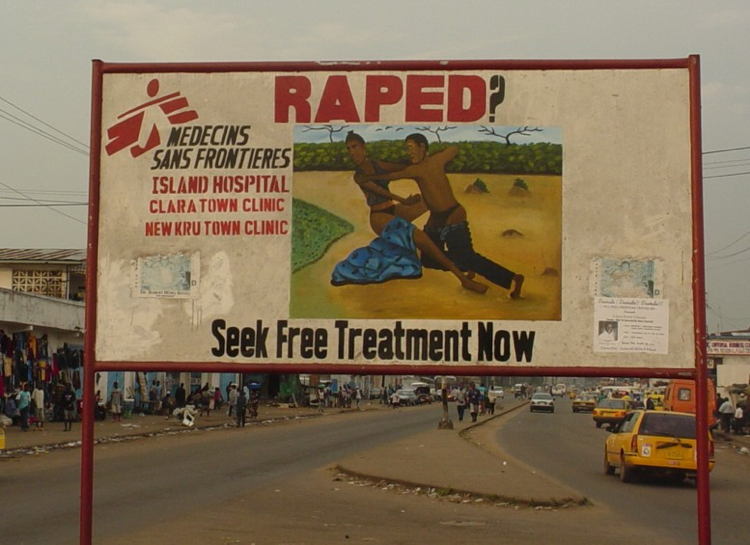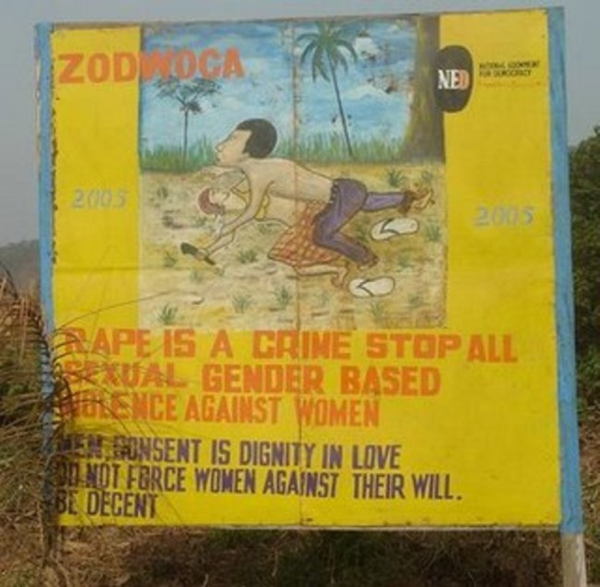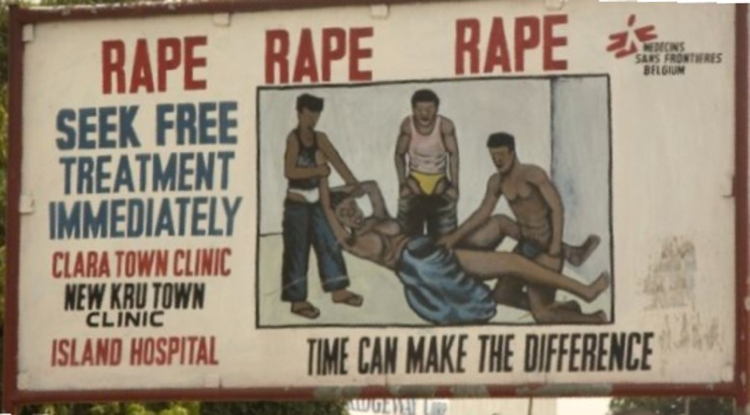 Said 13-year-old Macdell Smallwood in 2009, "Because of rape cases in Monrovia, I am afraid to even move around with my friends...we cannot go out or play freely as we used to when we were younger." Sexual violence has left a dark stain on Liberia's past. If left unmediated, it will also sully its future.
Listen to women describe their experiences in "post-war" Liberia and Sirleaf's remarks on gender below: