When Martin Luther King died at Memphis' Lorraine Motel on April 4, 1968, America changed forever. This is the full story of the tragedy that shook a nation.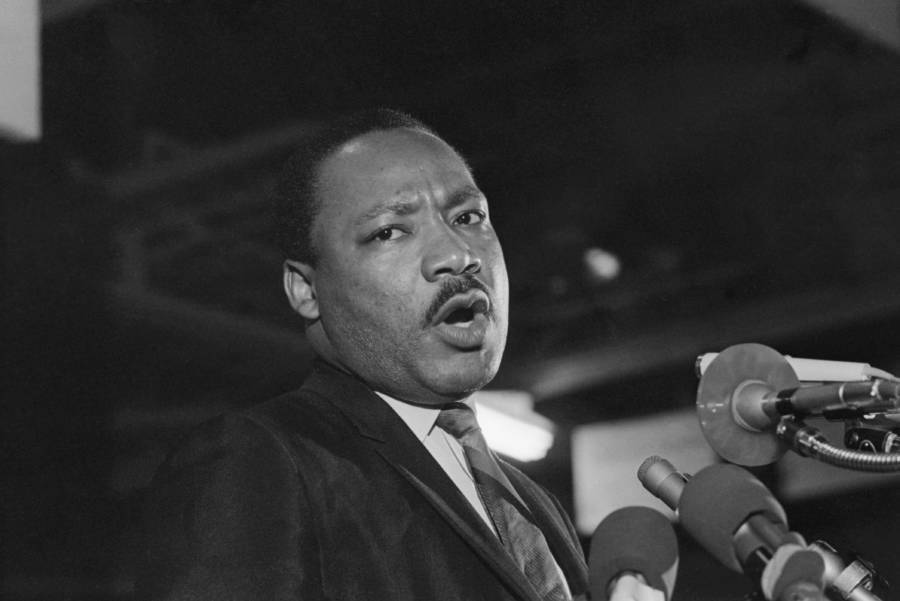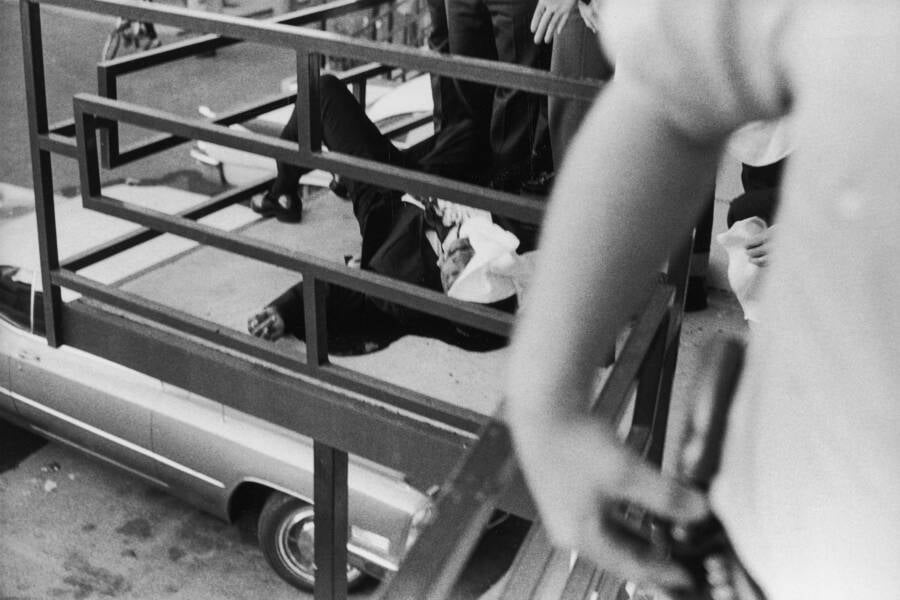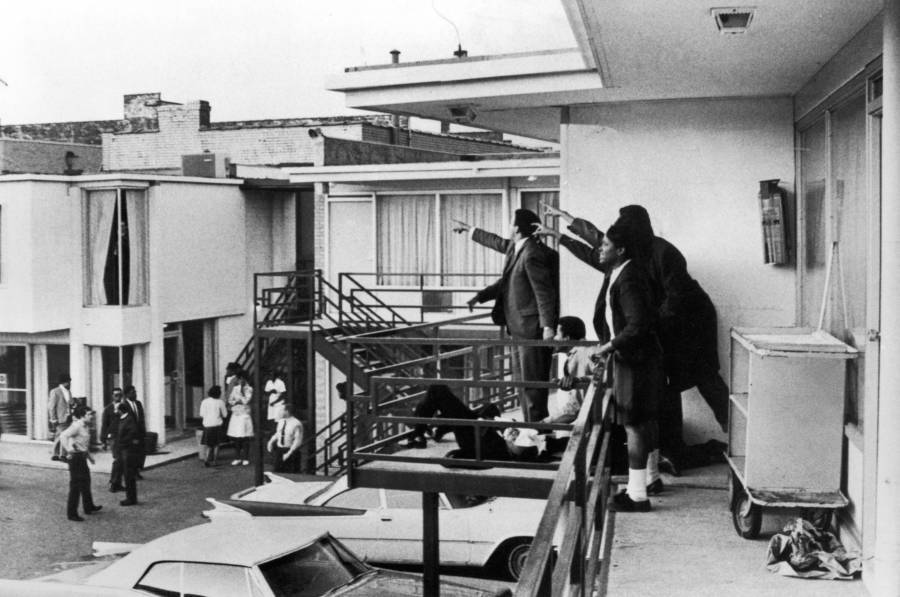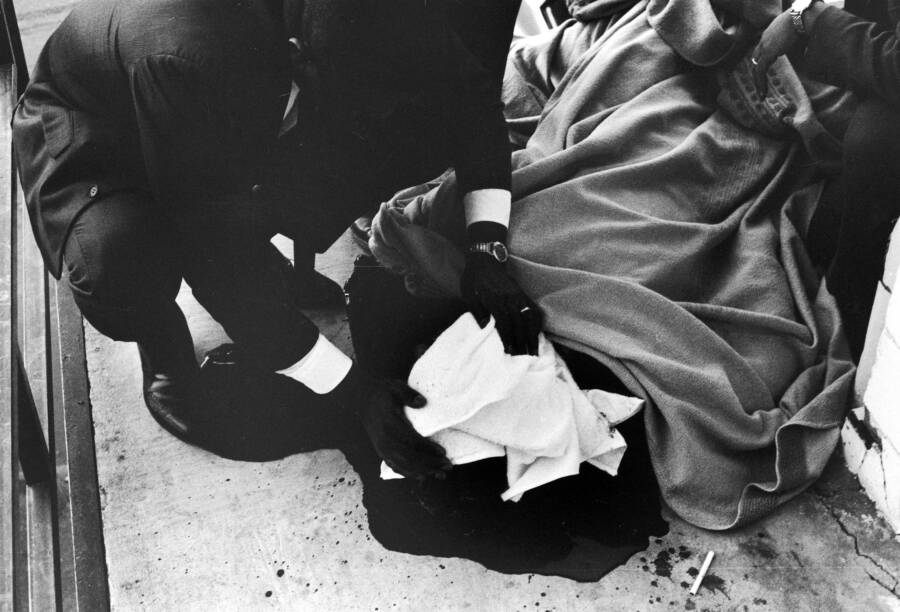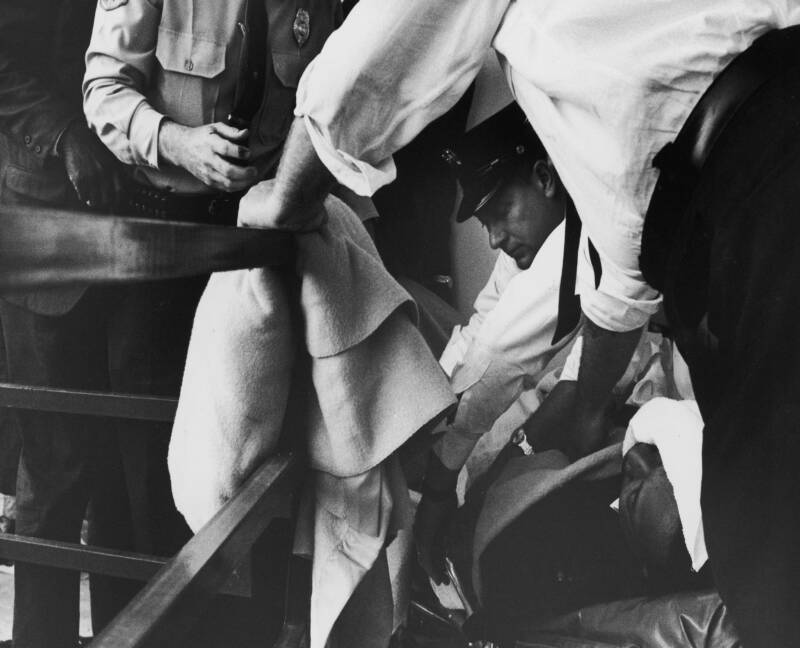 Bettmann/Contributor via Getty Images
Joseph Louw/The LIFE Images Collection/Getty Images
Joseph Louw/The LIFE Images Collection/Getty Images
Joseph Louw/The LIFE Images Collection/Getty Images
Joseph Louw/The LIFE Images Collection/Getty Images
Joseph Louw/The LIFE Images Collection/Getty Images
Joseph Louw/The LIFE Images Collection/Getty Images
Joseph Louw/The LIFE Images Collection/Getty Images
Joseph Louw/The LIFE Images Collection/Getty Images
Joseph Louw/The LIFE Images Collection/Getty Images
Henry Groskinsky/The LIFE Picture Collection/Getty Images
Henry Groskinsky/The LIFE Picture Collection/Getty Images
Robert Abbott Sengstacke/Getty Images
Henry Groskinsky/The LIFE Picture Collection/Getty Images
Henry Groskinsky/The LIFE Picture Collection/Getty Images
Lee Balterman/The LIFE Picture Collection/Getty Images
Lee Balterman/The LIFE Picture Collection/Getty Images
Joseph Louw/The LIFE Images Collection/Getty Images
Kheel Center/Cornell University/Wikimedia Commons
Robert Abbott Sengstacke/Getty Images
Hero and icon of the Civil Rights movement Reverend Martin Luther King Jr. was assassinated on the balcony of the Lorraine Motel inn Memphis, Tennessee on April 4, 1968. The shot, fired by James Earl Ray from across the street, sent shockwaves around the world.
The immediate aftermath saw the Ray arrested, the Civil Rights movement thrown into chaos, and a legendary figure killed at 39 years old. Riots erupted in cities across the country, with conspiracy theories regarding his suspicious and untimely death spreading around the world.
The beloved orator had, after all, expanded his activism in the year before his death to highly fervent anti-establishment ideas. These included a stern call for an end to the Vietnam War and was largely rooted in uniting the mass amounts of poor people in the U.S. against the proverbial boot on their necks.
According to Stanford University's King Institute, the eponymous leader had just stepped out onto the motel's second-floor balcony when the perpetrator pulled the trigger. King's death led to over 40 race-related deaths nationwide, property damage in more than 100 cities, and worldwide mourning.
Though Ray initially confessed to the crime, he later rescinded his admission and claimed there was a conspiratorial plot that involved numerous others besides him. This added further fuel to the fire of suspicion — one that later grew even larger when a despicable letter from the FBI was declassified.
The official document was undeniable blackmail on behalf of a federal intelligence entity desperate to silence King. It even alluded to illegally obtained surveillance of King's that would be leaked were he to refuse to comply.
It was later revealed that this witch-hunt was spearheaded by FBI director J. Edgar Hoover and that the all-hands-on-deck approach targeting King was part of the FBI's COINTELPRO efforts of the time. Only in 1975 did the Church Committee uncover the FBI's official efforts to neutralize King as a leader.
In the end, Martin Luther King Jr.'s assassination was only the beginning. It was the start of a decades-long reassessment of what exactly happened that day, how long the plot had been brewing, who the main co-conspirators were — and who stands to benefit from the continued secrecy.
Silencing A King
Martin Luther King's vehement anti-war stance was rendered no better than in the Riverside Church speech (also known as the "Beyond Vietnam: A Time to Break Silence" speech). Tragically ironic, he delivered it exactly one year to the day before he was murdered in cold blood.
According to History, the speech stated that the Civil Rights movement and anti-war movements were interlinked, and that the U.S. must cease all bombing of North and South Vietnam. He urged for peace talks, proposed a date of troop withdrawal, and suggested war was crippling our own people.
"The war was doing far more than devastating the hopes of the poor at home," he said. "We were taking the black young men who had been crippled by our society and sending them eight thousand miles away to guarantee liberties in Southeast Asia which they had not found in southwest Georgia and East Harlem."
His Poor People's Campaign, too, certainly ruffled the wrong feathers. Those benefitting from economic inequality and dividing people to fight each other rather than unite on common ground were presumably not pleased by King's focus on unification.
According to the King Institute, he announced it in November 1967 — less than half a year before he was gunned down. He sought a "middle ground between riots on the one hand and timid supplications for justice on the other," and for an initial mass of 2,000 poor people to march on the capitol.
He also demanded poor Americans receive unemployment insurance, a fair minimum wage, education for poor adults and children, and more. Unfortunately, the FBI had already begun to surveil him, form strategies to ruin his reputation, blackmail him, and neutralize him as an effective leader.
According to History, widowed Coretta Scott King said in 1999 that she and her family believed other people besides Ray were involved in the assassination. As we'll explore below, her statements were rather well-founded.
The Night Before His Death
King was shot and killed in Memphis at 6.05 pm. on Thursday, April 4, 1968. He arrived Tennessee the day before in order to prepare for the upcoming march supporting the striking Memphis sanitation workers.
According to The Guardian, he gave the last speech of his life at the Mason Temple that night, as a thunderstorm raged outside. Memphis minister Samuel "Billy" Kyles recalled King would flinch every time the gusts of wind banged against the auditorium's shutters.
"Every time there was a bang, he would flinch," said Kyles.
Another minister remembered King looking "harried and tired and worn and rushed." King had been under the weather with a sore throat and was severely sleep-deprived that night. In his speech, he said the nation was doomed, lest the government finally helped poor black Americans survive.
He then reminisced about the time a woman stabbed him in 1958, nearly killing him, and reflected on his mortality. He spoke of the death threat that forced his flight from Atlanta that morning to be delayed. He had heard of even more threats once he arrived in Memphis, he said.
His speech was unusually focused on death, stating firmly that he would accept whatever happened to him. He had, after all, seen the Promised Land in his mind's eye.
"I may not get there with you," he said. "But I want you to know, tonight, that we, as a people, will get to the Promised Land."
Reverend Jesse Jackson, who was in attendance, called his wife afterward to tell her of the maelstrom of emotions that night.
"Martin had given the most brilliant speech of his life," he said. "He was lifted up and had some mysterious aura around him. What I thought was so different about that sermon, I saw men crying."
Historian Joan Beifuss described the audience as being "caught between tears and applause," and that King was hesitant to do anything besides stay in that church, and surround himself with the people he had fought for so courageously all his life.
"He just wanted to stay there and meet people and shake their hands and talk to them," she said.
The Assassination Of Martin Luther King
King had just stepped out of room 306 and onto the balcony, intending to speak with members of the Southern Christian Leadership Conference congregating in the parking lot below, when the fatal bullet hit his face.
King was supposed to meet Kyles for dinner at his home, but was instead having his lifeless head cradled by Ralph Abernathy as he and other aides hopelessly tried to save him.
Several witnesses on the balcony pointed across the street, to the back of a boarding house on South Main Street, where the single shot had apparently emanated from. After a frantic ambulance ride to St. Joseph's Hospital, doctors pronounced Martin Luther King Jr. dead at 7.05 p.m.
President Lyndon B. Johnson subsequently called for April 7 to be a national day of mourning. Libraries, schools, museums, and businesses were all closed. Even the Academy Awards postponed their ceremony.
Coretta King led a march of thousands across Memphis on April 8, in support of the sanitation workers on strike — just as her husband would have wanted. His funeral was held the next day, with over 100,000 grieving supporters following behind the two mules pulling King's coffin through Atlanta.
After the extreme rioting that occurred in over 100 American cities following King's death, Ray, who was a 40-year-old fugitive who had to be extradited from Great Britain following the assassination, confessed. He was sentenced to 99 years in prison — though later recanted his confession.
The next few decades would prove there was far more to the tragic incident than initially seemed.
The Potential Conspiracy Surrounding Martin Luther King's Death
The FBI had been concerned as early as March 1956 that King was a Communist, according to the King Institute. In 1962, these investigations were undertaken by the Communist Infiltration Program — intended to investigate any group or person suspected of communist subversion.
Hoover told Attorney General Robert Kennedy that one of King's closest aides, Stanley Levison, was "a secret member of the Communist Party" that year. Hoover then deployed agents to find incriminating material on King, with Kennedy authorizing the wiretaps on his home to do so.
The letter left at King's doorstep was the result of this effort. The FBI had allegedly uncovered incriminating material that could substantially affect King's movement and warned him they'd release it if he didn't take matters into his own hands.
Widowed Coretta Scott King said in 1999 that there existed "overwhelming evidence that identified someone else, not James Earl Ray, as the shooter, and that Mr. Ray was set up to take the blame."
Ray had been arrested in London a month after King's death and pleaded guilty to avoid the death penalty. He backtracked once incarcerated and said he was part of a conspiracy. The King family believed him — with King's son Dexter visiting Ray in 1977 and campaigning for his case to be reopened.
Ultimately, a civil court jury agreed that King's death had, indeed, been the result of a conspiracy that involved someone else — Loyd Jowers — and more powerful entities than that.
"The jury was clearly convinced by the extensive evidence that was presented during the trial that, in addition to Mr. Jowers, the conspiracy of the Mafia, local, state and federal government agencies, were deeply involved in the assassination of my husband," said Coretta King.
Jowers claimed he hired a crooked cop to kill King in order to silence his activism. Despite the jury finding him guilty of partaking in a conspiracy to murder Martin Luther King, James Earl Ray was the only man ever convicted of doing so.
In the last half-century since King's death, a plethora of theories have been debated regarding motive and ability. The King family has spoken up publicly about these issues numerous times, and will likely continue to do so. They do make one thing abundantly clear, however:
The legacy of Martin Luther King Jr. should be the first thing that anyone who discusses his life or death thinks and talks about.
---
Next, take a look at these photos of the Kennedy assassination that most people have never seen before. Then, read about the history behind King's "I Have A Dream" speech.