Performance Of A Lifetime
Performance artist Marni Kotak is best known for turning her son's birth into an artistic performance. In 2011, at the Microscope Gallery, Kotak gave birth to her son in a live show she titled "The Birth of Baby X." The gallery was transformed into a birthing room for the occasion so that the performance would feel authentic.
Kotak's other works, which she calls "Found Performances," are based on personal activities or experiences including staged re-enactments of her own birth, attending her grandfather's funeral, and losing her virginity in a blue Plymouth. Since Kotak's son Ajax was born, she's approached raising him as if it were a work of performance art.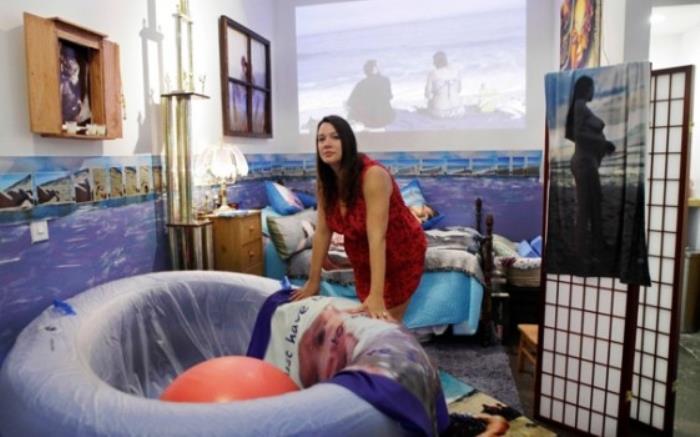 Bizarre Art: Animal Tendencies
Damien Steven Hirst, member of the esteemed Young British Artists that dominated the art scene during the 1990s, is an internationally renowned artist often cited as one of the richest living artists. His earnings are said to be over $300 million, and he is known as a connoisseur of sorts, as he is an artist, art collector, restaurateur, and more.
Though Hirst creates a variety of works, including spot paintings and spin paintings, one of his most intriguing exhibits was the "Physical Impossibility of Death in the Mind of Someone Living" in which he preserved a tiger shark in formaldehyde in a vitrine. The work was created in 1991, and the shark specimen was replaced in 2006 due to deterioration of the original.
Hirst created similar exhibits using other preserved animals such as a cow, zebra, and a calf with gold horns and hooves that he titled "The Golden Calf". Hirst also used thousands of butterflies in his project titled "In and Out of Love". Sadly, the artist passed away in 2012.