Sometimes its hard to know when to compliment a woman you've never met before on her appearance. Except it's not.
"You know, I'm automatically attracted to beautiful — I just start kissing them," Donald Trump once said of attractive women. "It's like a magnet. Just kiss. I don't even wait. And when you're a star, they let you do it. You can do anything."
And when you're the president, those same imaginary rules apparently still apply.
When greeting Brigitte Macron, the wife of French President Emmanuel Macron, the leader of the free world was clearly taken aback by her physique. He decided to share his compelling thoughts on the subject with Brigitte, her husband and the entire Internet.
"You're in such great shape," Trump can be heard telling the First Lady as she and Melania Trump greeted their husbands before touring a French museum.
"She's in such great shape," he repeated to the President of France as though Brigitte wasn't still standing right there.
"Beautiful," he added.
This is sexist.
In an effort to help our Commander-in-Chief — and maybe some of his fearless Twitter defenders — learn when it might be an appropriate time to utter these creepy words, Reebok has considerately made a helpful chart. Perhaps Melania can stick it on the White House refrigerator?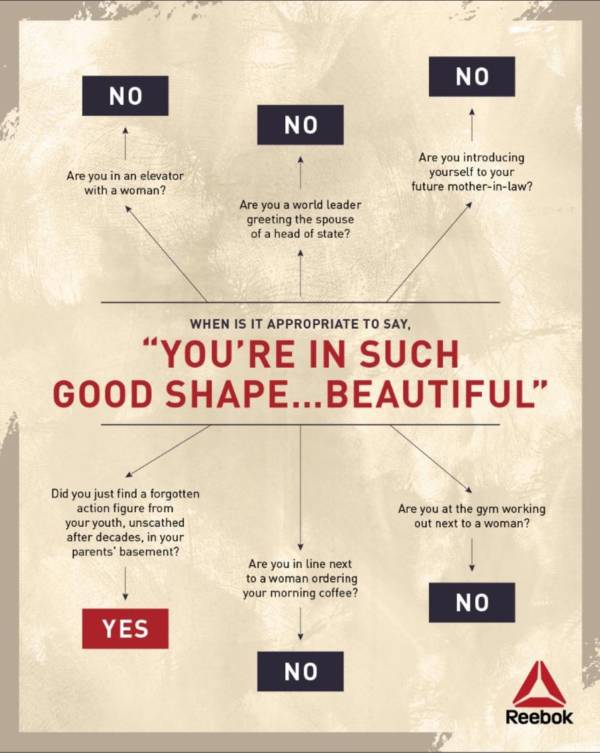 If you carefully trace the various scenarios, you'll see that it's almost never ok to say these things about a woman's appearance.
It is totally acceptable, however, if you're chatting up a remarkably preserved action figure.
Many online commenters disagree with the athletic company's analysis and are trying to start a boycott.
He was just giving a compliment, they say. It was so nice!
But you'll notice that the president has never shared his musings on Justin Trudeau's biceps, or Putin's horseback-riding toned chest. In fact, Trump has yet to compliment a single man on his appearance. Weird!
The comment is like catcalling — never about beauty, it's about power. It's a reminder that #Trump and men have power over our bodies. 3/

— Alex Berg (@AlexfromPhilly) July 13, 2017
He has, however told an Irish reporter she has a beautiful smile:
He also said his daughter has a nice figure:
So perhaps Reebok needs to expand it's chart to include a couple more scenarios.
When should a man say anything about a woman's appearance if he's not either dating her, casting her for a modeling gig, or a trained medical professional giving her an examination and seeing that she has a weird rash?
Never.
---
Next, check out the 26 most unbelievably sexist ads you've ever seen. Then, the perfect response from a movie theater to the men outraged at women-only "Wonder Woman" screenings.